A Gorgeous Fete
Montreal, Canada


Today, brides and grooms to-be, we're so excited to share with you an in-depth interview with Montreal based wedding planner Maxine Bertrand of A Gorgeous Fête, a one-stop-shop wedding boutique that offers everything from full-service planning to floral services and custom stationery design. Read on for some insider's info on the wedding-planning world as we dive deep into Maxine's journey to becoming a serious triple threat when it comes to designing stunning soirées!
Tell us about your path to becoming a wedding planner.
I've always had this thing for planning dinner parties and really putting the time and effort to prep a pretty table and set the mood. Whenever one of my friends would be getting married or their parents would be celebrating their wedding anniversary, I was always the one they'd tap to help them create a magical atmosphere, regardless of the type of event. People would come ask me if I did this for a living and would ask for my card. That's when I thought to myself, "Why don't I give this a try? What do I have to lose? I can do this on the side."
In addition, I studied management at Concordia University and became a project manager in the corporate world. I guess the skills I gained through that position have come in handy today! It definitely gave me an edge when it comes to task management and budget. That was almost six years ago—how time flies!
What is a typical day like for you?
I'm up at 6 am Monday through Friday. I start with a lemon-infused glass of water and a couple of sprays of B12 for a quick boost of energy. I then get a quick workout in, whether that's a run or a yoga session.

I move on to my Emily Ley Simplified Planner where I move any undone tasks to my new day for immediate completion and then write out any new tasks by priority. I check my emails once in the morning and complete any tasks related to those emails (respond, set a reminder, delete or file). I then settle into my tasks (client by client and other business-related tasks). I also like to schedule a daily meeting with my assistant coordinator to see where she is with her tasks, determine what I can delegate to her, and discuss any client specifics.

We then break for lunch and upon my return, I hit my inbox once more to repeat my email tasks. I move back onto my tasks and checklists. I close up shop at 5 pm and try to spend the rest of the evening with my boyfriend. (Yes, you heard right, I'm J-Lo from The Wedding Planner, minus stealing the fiancés!)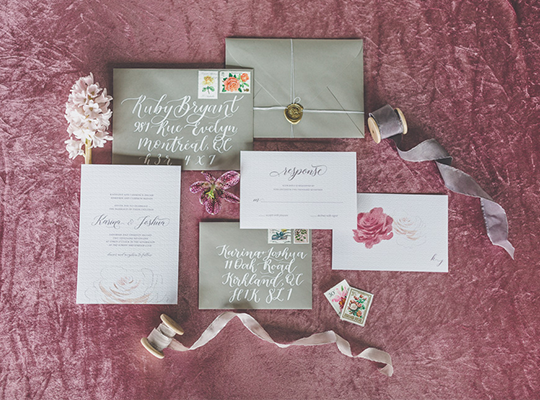 Photo courtesy Montreal wedding photographer Juno Photo
In addition to offering planning services, you offer both floral and stationery design. How do you make time for all of that?
I wish I could answer that, but I have no idea! Just kidding! When I initially started offering florals, I was doing all of it by myself: providing proposals for planning and design, managing floral proposals, setting up on the day-of, and creating beautiful centerpieces—I was behind of all of it. Needless to say, it was absolutely draining. I didn't get much sleep at all.
I now have a great team. Lana, our in-house floral designer is a definite asset. Once I've worked out the entire wedding design style, I then hand it off to Lana to work on a floral proposal that fits the style the hosts are looking for. She has a great eye and comes up with fun and stunning recipes for centerpieces and bouquets. This now leaves me a bit more time to work on the stationery design for my clients.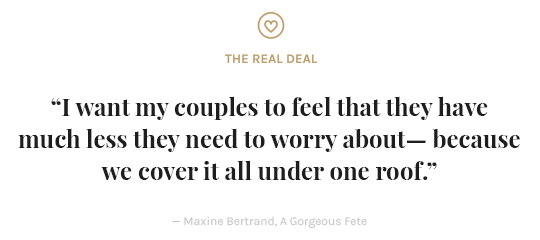 What led you to become a "triple threat?"
I absolutely love playing around with Adobe Suite and found myself designing menus for my own dinner parties. What's 150 to 200 more!? I've always want to offer a kind of "one-stop-shop" wedding boutique service. I wanted my couples to walk in and feel there was that much less they needed to worry about—we cover it all under one roof.
What are the benefits of working with clients on all three?
I feel like it offers a sense of comfort for my clients. They can trust one team to handle everything, which often means less gets lost in translation than if they were working with a number of different vendors.
What are the challenges of working with clients on all three?

I'm not certain that I see any true challenges anymore. My biggest challenge was definitely handling every aspect of design (wedding décor, florals, and stationery). However, with my expanded team (florals designer and assistant coordinator), I feel like we finally have a smooth, seamless flow.
How would you describe your style?

Romantic, elegant, and timeless.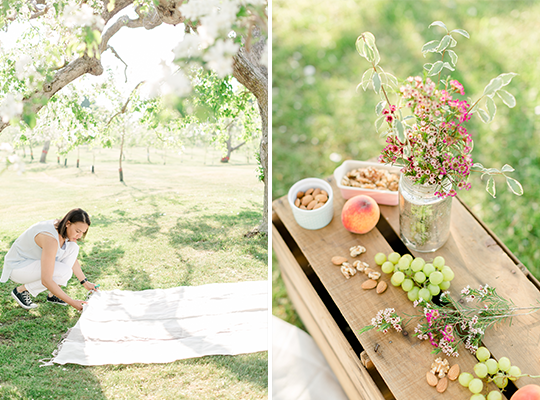 Photo courtesy Montreal wedding photographer Lisa Renault Photography
Do you remember how you found out about Aisle Planner? What were your initial thoughts about it?
I do! I actually was watching a live video (I can't remember if it was on Facebook or Instagram) and someone asked Rhiannon Bosse (at the time, known as Hey Gorgeous Events) what she used to manage her clients. Her response was Aisle Planner. I was a big fan of Asana. It's really a great project management tool, but it definitely lacked in certain aspects when it came to managing weddings. Aisle Planner is really more centered towards our industry and is becoming a better tool with each passing day. Thank you for this!
How do you use Aisle Planner to stay organized? Are there tools you use more for one service than the other?
So far, I've been using it for weddings and creative photo shoots. But I would definitely love to start using it more frequently for my blog scheduling now that I have a bit more time with the down season coming up. I'm going to take the time to catch up on all your blog posts, videos, and webinars I missed during the season.
Any fun projects you are especially excited for in the coming months?
I'm starting to work on our rebrand (for which I will try to use Aisle Planner to organize the project). We all know what a rebrand consists of—it's quite the extensive. I also have a few new creative shoots up my sleeve.