Alejandra Poupel Events
Paris, France


There are few things we love more about our job at Aisle Planner than getting to tap into the expertise of wedding-planning gurus and event-design geniuses across the globe. And the star of today's interview is the epitome of both. We're so excited to share with you our one-on-one interview with Alejandra Poupel of Alejandra Poupel Events, a luxury wedding-planning agency based in—where else?—Paris! Read on for an inside look at Poupel's journey to becoming one of the most sought-after wedding planners in Europe.
Tell us about your path to becoming a wedding professional.

I was born in Nicaragua—my Latin side—and I grew up in Miami and fell in love with a French man, so I moved to Paris 24 years ago. I worked at the famous Christie's Art Auction House in the impressionist and 19th venture department and then took a pause to raise my children. Once they were older and I knew they were going off to college in a few years, I decided to venture into private and corporate event planning. I had done a lot of charity work voluntarily planning events, and it was something I was passionate about

Why did you start Alejandra Poupel Events?

Living in Europe, we are lucky to have so many incredible, breathtaking, jaw-dropping venues, and I knew I could create exceptional experiences at these places. I love the fact that all of my clients are international, so they all have their own customs and traditions which I get to learn from and can then transmit to my other clients. We mix cultural and gastronomic experiences, which are so refined in France.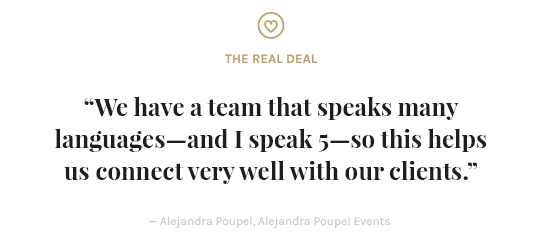 What did it take to build your business/brand?

We've always given 100 percent and made sure that each event was completely unique and of high quality—focusing on client experience and event quality really helped to define our brand as luxury wedding planners. We've also worked hard to have high quality vendors as partners that allow us to bring our clients dreams to fruition. Our world class service—and the fact that we speak a combined seven languages across our team to cater to clients of all nationalities and backgrounds—has allowed us to create a seamless process for our clients.
What is an "Alejandra Poupel Events couple" like?

Our clients are international—from Lebanon or Saudi Arabia— or American, looking for a dream few days in Paris, the South of France, or Italy. They want a-to-z planning, and are seeking 5-star hotels and cultural venues (such as museums and chateaus) that are open to the public but can be rented out privately. They love French food and want jaw-dropping event design. They love authenticity and, while they may want something elegant, they still love the fun, "wow" factor.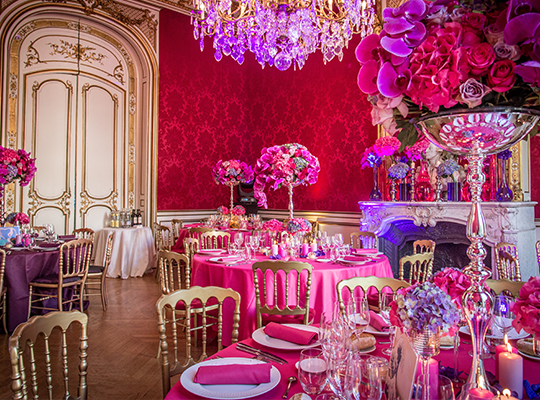 Photo courtesy Libra Comme L'art

Tell us about your planning process.

We have a team that speaks many languages—and I speak 5—so this helps us connect very well with our clients. Once our clients have decided to work with us, we have a Skype or personal conference meeting in which we ask them many questions to get to know them as much as possible. We ask things like which hotels they visit and what kind of fare they prefer. Then, we show them venues that work with their individual preferences, style, and event needs. Once we choose the venue, we send our clients presentation packages every Friday (so they can see them during the weekend—since most couples work and are very busy Monday-Friday). Usually on the second visit, they come and see event decor and have a catering tasting. We use things like WhatsApp, FaceTime, and Aisle Planner's wedding planning tools so we can seamlessly share timelines and day-of details with ease.

What is your favorite Aisle Planner feature? (And why do you love it?)

The timeline feature is extremely user friendly and practical—it allows us to create clear, color-coded, and multiple outlines with such ease.

Anything you are particularly excited about working on this year?

I would love to organize another event at the Chateau Vaux Le Vicomte—our last one was so magical with the versailles gardens and video mapping on the facade. Plus, the fireworks were unbelievable. The guests got to enjoy them while visiting the Chateau privately.