42º North
New England


We love sitting down with wedding pros at Aisle Planner—they're such an invaluable resource when it comes to offering couples tips and insight into the world of wedding planning. We're so excited to have the chance to chat with Francie Dorman and Britt Cole, the talented ladies behind 42 North, a full-service planning and design firm based out of Massachusetts and beyond. Read on for their biggest piece of wedding-planning advice for the modern couple and some behind-the-scenes insight into the world of planning the perfect affair.
Tell us about your path to becoming a full-service wedding, event planning and design firm.
Britt: We both spent years in boutique catering and venue management before working together. I worked for Timothy Hopkins Catering where I honed my skills in sales, menu writing, floor plan development, event logistics, planning and management.
Francie: I spent much of my early event career working for a young restaurateur in Boston. That experience taught me so much about how to run a successful service business but also sparked my curiosity in events. I then spent time at an event planning firm and also directed celebrations at a private historic estate just north of Boston. Britt and I had worked together at various moments throughout both our careers and together, realized we were drawn to something much larger. We created 42 North out of years of experience and a deep enthusiasm to work with clients who dream big.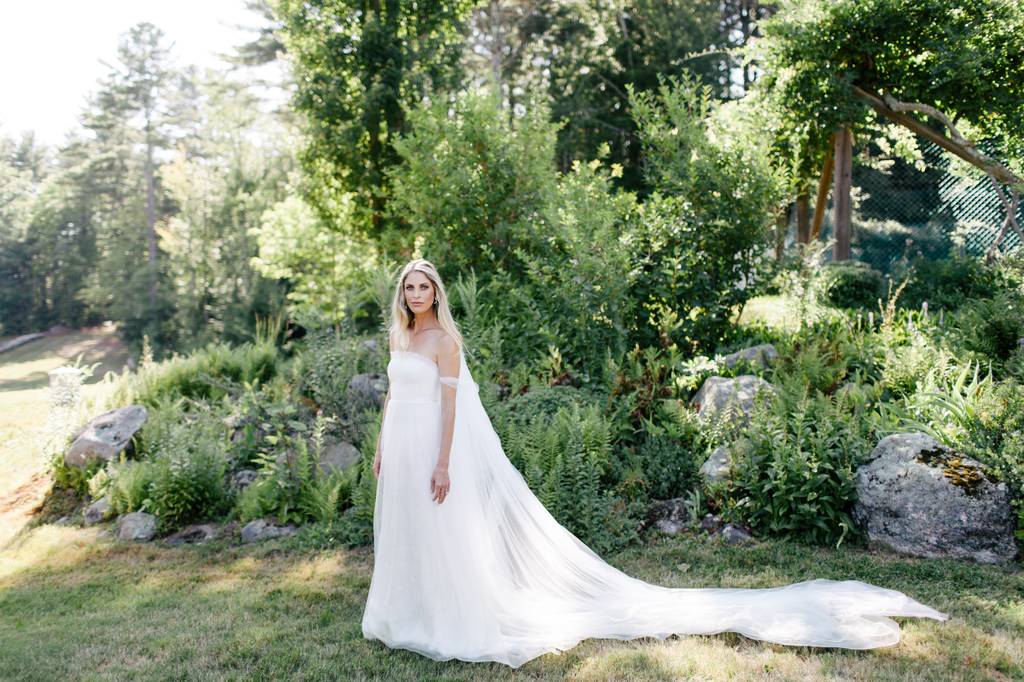 Photo courtesy Shannen Natasha
Why did you start 42 North?
Francie: At the time we were dreaming up our company we saw a real hole in the market, specifically in Boston, for a younger generation of planners. We felt there wasn't really anyone around pushing new ideas forward or even providing the level of service we had imagined. We also knew that no one was using technology - we wanted to offer our clients 3D renderings of their space during design presentations, and make their information available to them at all times by keeping it in the cloud rather than in a three ring binder, or even in google drive. As our business has grown and time has gone by, we are constantly looking to how we can automate certain aspects of planning to integrate into our clients busy lives.
Britt: At that time, we also knew there were event planners and event designers - they were separate things (and still can be). We wanted to create a firm that offered both in a very cohesive way. We also had not seen many teams made up of partners, and we were excited to bring that edge to the market. Working with both of us gives our clients a very holistic experience to their planning.
42 North specializes in distinctive weddings at private estates and non-traditional venues, how did you narrow in on your unique specialty?
Britt: New England (and its many coastal islands) has always offered us endless space to create - and we are both drawn to that. In fact, we rarely do city weddings in Boston because there's so much beauty elsewhere. We feel similarly about the wooded landscape of upstate New York and other untapped corners in the country. Because of our combined background, we understand the smallest of considerations that go into building a unique event from the ground up.
Francie: Our clients appreciate the knowledge we bring to them and want to give their guests an experience they've never had before. And many times, that means transforming a space that may not be thought of as a wedding venue into one extraordinary environment. We conceptualize each unique event from the ground up, interpreting our client's taste for a thoughtfully designed and flawlessly executed celebration.
Britt: Along with the vision, we are also able to offer the logistical expertise required to plan and execute weddings at a non-traditional venue. My catering background gave me all of the tools to build out satellite kitchens, power plans, rain contingency layouts, and more. Together, Francie and I can marry the design with the logistics to make sure it all happens!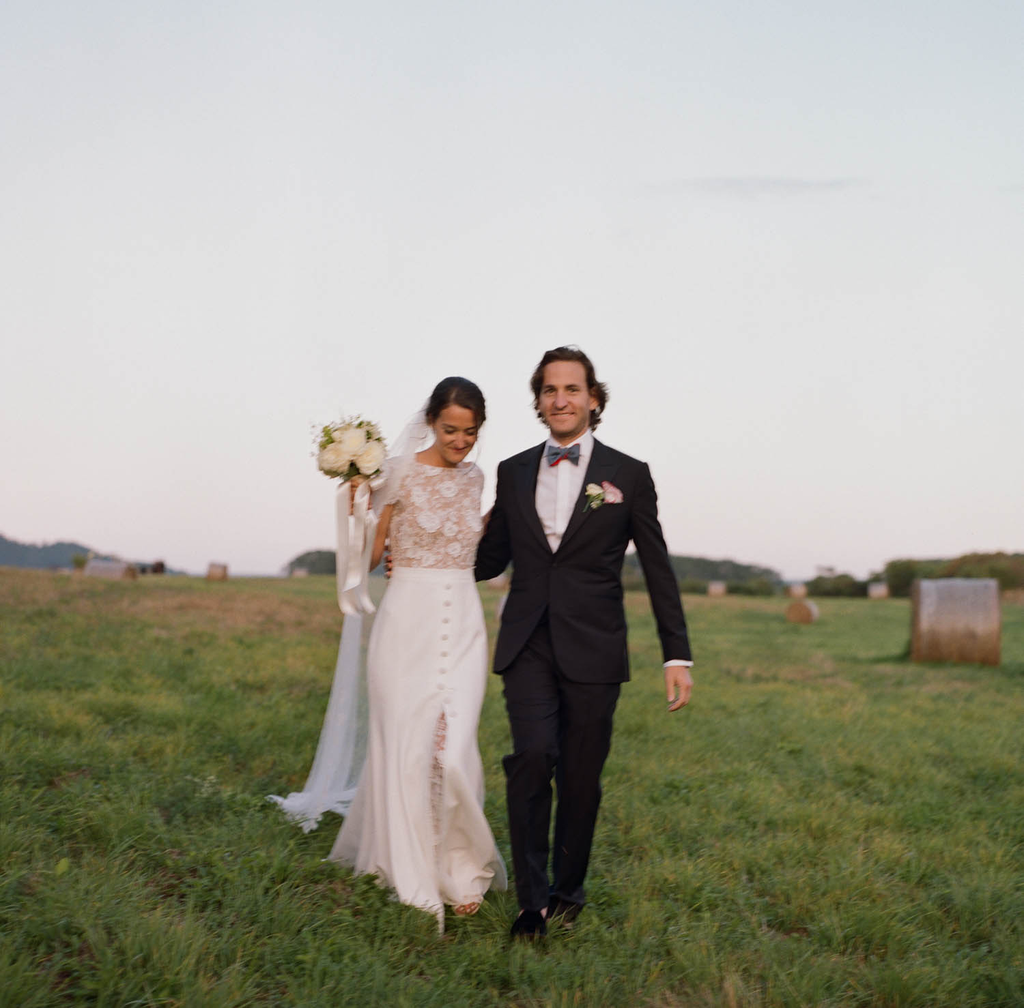 Photo courtesy Meredith Heuer
Tell us a little bit about how the two of you use your strengths to your advantage through every couple's planning journey?
Francie: We have always felt that offering comprehensive event planning and design was such a big job for one person, particularly when you're creating a wedding at a non-traditional venue over an entire weekend. We feel it is an advantage that our firm give clients two experts with one shared vision.
Britt: We work together on big picture concepts for a couple, but Francie handles the details such as designing the entire invitation suite down to the texture of the paper, to the smallest touch points of the ceremony's design and the salt & pepper display on each tablescape. I am behind the scenes making sure that vision can be accommodated by the logistical pieces and partners we bring on board. I also handle the back end of the business such as working with our PR team on deadlines for publications, overseeing accounting, etc.
Francie: Since I am driving the design process, clients tend to spend more one on one time with me on the phone or during design mock up meetings. So, over the years I have taken over a lot more of the client-facing stuff. Britt then checks all of the boxes to be sure all of my design ideas are executed correctly - she handles the rental orders, oversees the tent production, works with the catering teams and lighting crews, etc. Like marriage, we consider ourselves a dynamic duo - and every event has us both very much interwoven into its creation.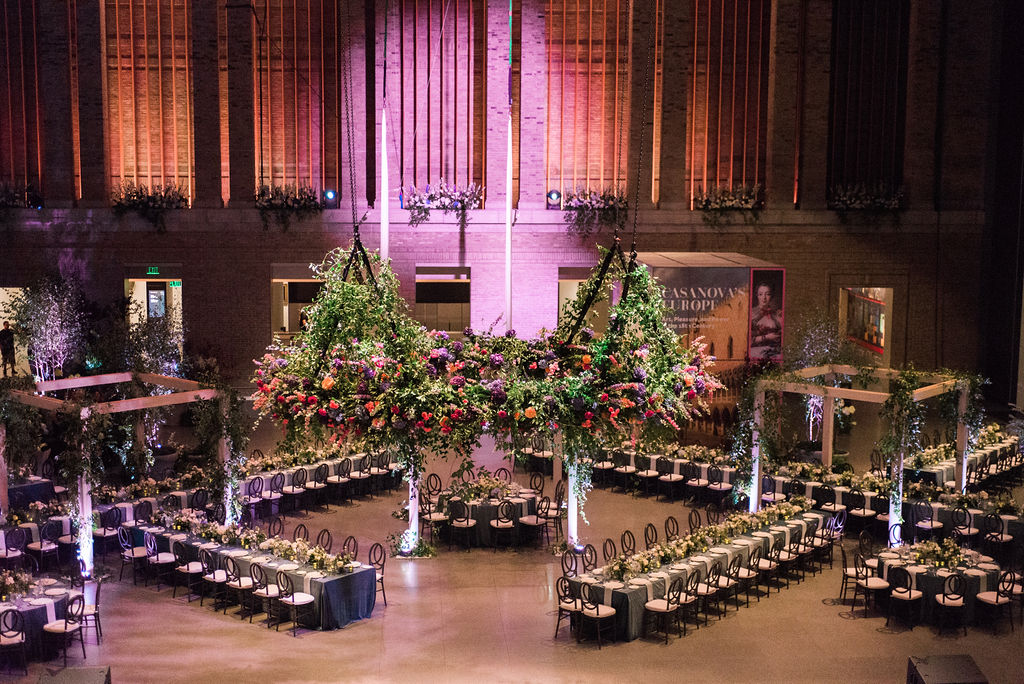 Photo courtesy Judy Pak Studio
What is a "42 North couple" like?
Our clients typically lean older than the millennial crowd - and with that, have accumulated life experiences that have shaped their perspective on life and celebration. They want their wedding to tell that story and to reflect their style, taste and personality. Many are leaders in their profession but also recognized and appreciate leisure time with friends and family. Our clients are generous in spirit and enjoy entertaining at home. Above all, our clients are deeply committed to one another and are excited at the prospect of treating their guests to something unexpected and completely memorable. And we love that!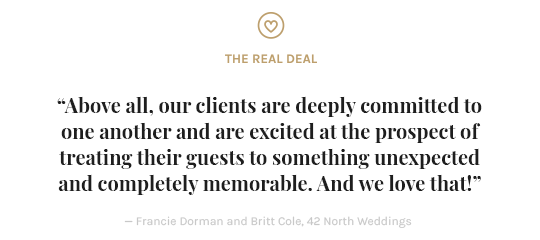 What are some of your all-time favorite wedding day looks?
Valerie Macaulay wore a stunning custom Thakoon gown that flowed effortlessly for her and Michael's wedding in the woods of New Hampshire (see it in Vogue).
Becky wore a Berta gown with floral appliques for her wedding to Gavin at the iconic Museum of Fine Arts in Boston, MA. They host only 4 weddings a year at this incredible landmark!
Polly Hackett (and her handsome groom, Brad) met while living in NYC. They were married on a private estate in Ipswich, MA and she wore a stunning Rime Arodaky gown with buttons up the front that reminded her of a chic suit.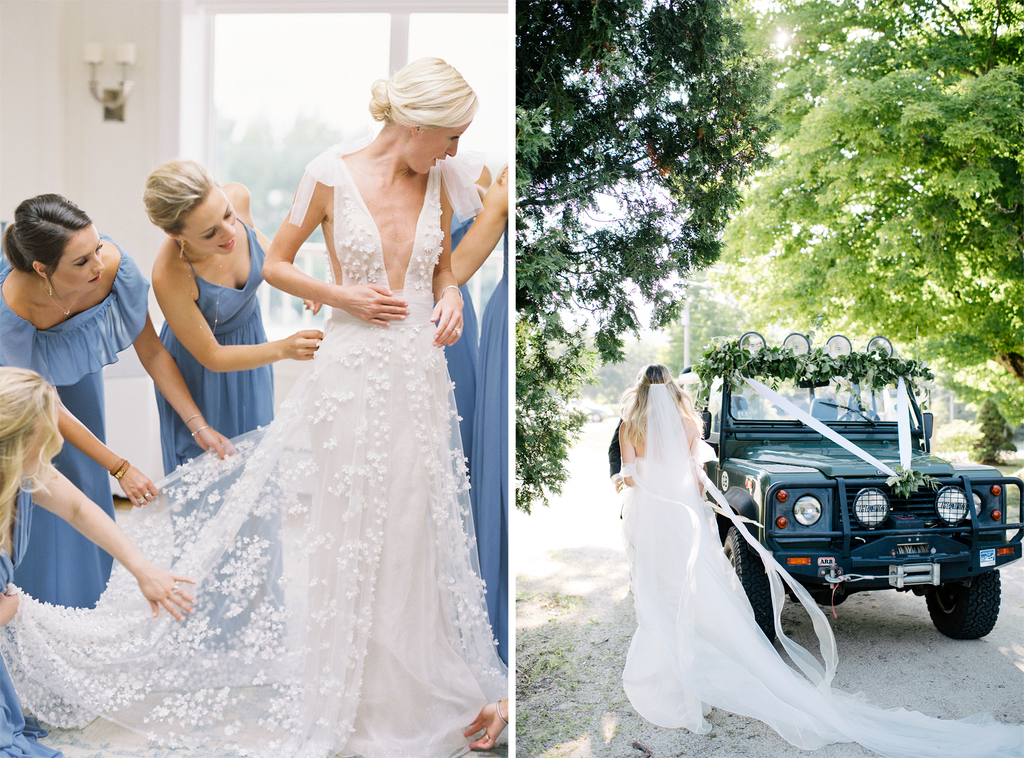 Photo courtesy Judy Pak Studio (left) and Shannen Natasha (right)
Anything you are particularly excited about working on this year?
Francie: We are so excited to be launching a sister company, Mavinhouse Events. We are passionate about mentoring the new generation of women in the events industry, guiding new planners and other creatives to a more transparent and business-like environment. We created Mavinhouse Events to modernize the planning process for couples through a transparent and streamlined experience. At the same time, we hope this model encourages more business-savvy practice for the industry on the whole.
Each of the four expert planners of Mavinhouse Events have been hand-selected for their diverse expertise and enthusiasm for design and production (they are incredibly talented). Stay updated for more this summer by following @mavinhouse_events.
What's the craziest thing you've ever done to ensure a wedding goes off without a hitch?
Britt: We have seen and done it all! One particular day that comes to mind is Valerie + Michael's wedding day in New Hampshire. With torrential thunderstorms in the forecast we had to scramble to ensure we had everything we needed to pull off their open air hillside dinner. We knew the rain would be short, so we didn't want to switch to the full rain plan and sacrifice the beautiful starlit dinner. We sent assistants out to every home depot within a 20 mile radius to buy out their umbrella supply. On that same day, we had arranged for a vintage Land Rover defender to be brought in as their ceremony getaway car. It had a finicky clutch which stalled out often, and the seat wouldn't move up - and I drove it from the reception site to the church sitting on a rolled up yoga mat so that my feet could reach the pedals. It was an adventure!
What design tips would you give to the modern couple planning their wedding?
Francie: Less is more! We think the days of an Instagram/Pinterest/Etsy wedding are behind us. At some point in time it became a requirement to "check the boxes" on every "wedding accessory" known to man, such as: welcome signs, favors, matching robes and dresses for your bridesmaids, custom cocktail napkins, drink stirrers, photo booth props, etc. We find our clients are more interested in creating a guest experience through entertainment, food, wine, and overall environment rather than with all of the little accoutrements. Our design instinct says to choose one area you want to highlight and make a statement there. Not every corner of the room needs to be dripping in flowers and decor. We also feel very strongly that the days of matching bridesmaids dresses are behind us; we'd rather see the girls each in a dress that is perfect for their body and personality.
Just for fun
Three things you wouldn't board a plane without?
Britt 1. Headphones (and a few podcasts queued up) 2. Snacks 3. Hand sanitizer
Francie 1. Headphones 2. Hand sanitizer 3. Bottle of water
I'm dying to take a trip to…
Britt Greece
Francie Barcelona
Favorite book of all time?
Britt East of Eden, John Steinbeck
Francie A Widow for One Year, John Irving
On my days off you can find me…
Britt Hanging with my kids at the park or out on the boat
Francie At the beach
If you catch me out and about I'm always wearing…
Britt Sneakers, I have a very extensive sneaker collection and where them with absolutely everything!
Francie Levis