Blush Botanicals
San Diego, CA


We're always so grateful to be part of a community that's full of the best wedding pros in the world–from the most talented calligraphers to the most sought-after cinematographers. And at the top of her game, Alexandra Wise, owner and lead designer of San Diego-based boutique, full service floral and event design company Blush Botanicals, is certainly no exception. Specializing in the luxury market, their intense attention to detail, unique approach, and innovative designs, Blush captures the couple's vision and takes it to the next level (and the outcome is nothing short of perfection!). With their work featured in every major wedding publication, we are so honored to have sat down with Alexandra herself to talk about her path to the wedding industry, favorite design trends, and tips for the modern couple planning their wedding.
Tell us about your path to becoming a luxury floral and event designer.
I grew up in New York to an entrepreneur father and an artist mother. I knew some day I wanted to own my own business, but I wasn't sure of what type of business I wanted to own. After graduating from USC with a degree in business, I worked at Merrill Lynch, where I quickly realized that finance was not for me. During my time there, I designed a party for a friend's mother and fell in love with floral design. The entire process from choosing the flowers to designing them and working closely with the client. I knew that this was the career for me. I quit my job and quickly jumped into the world of floral design. In a few short years, we grew from a small garage space to a large 4,000sqft facility and I've never looked back.
Why did you start Blush Botanicals?
I started Blush Botanicals to find fulfillment and joy in what I do. We spend 80% of our time on this planet at work and I wanted to LOVE my work. Truly, each day feels like a dream come true. I get to work with the people I love in an environment that is creative and beautiful. I love my clients and work very closely with them to design their dream wedding. For me, the reason I do what I do all comes together the moment my clients walk into their fully designed space and are able to see the magic that we created just for them. This moment is priceless and it drives me. I am so lucky to be able to say I love what I do and so grateful to my clients for trusting me and for choosing to work with me and my team.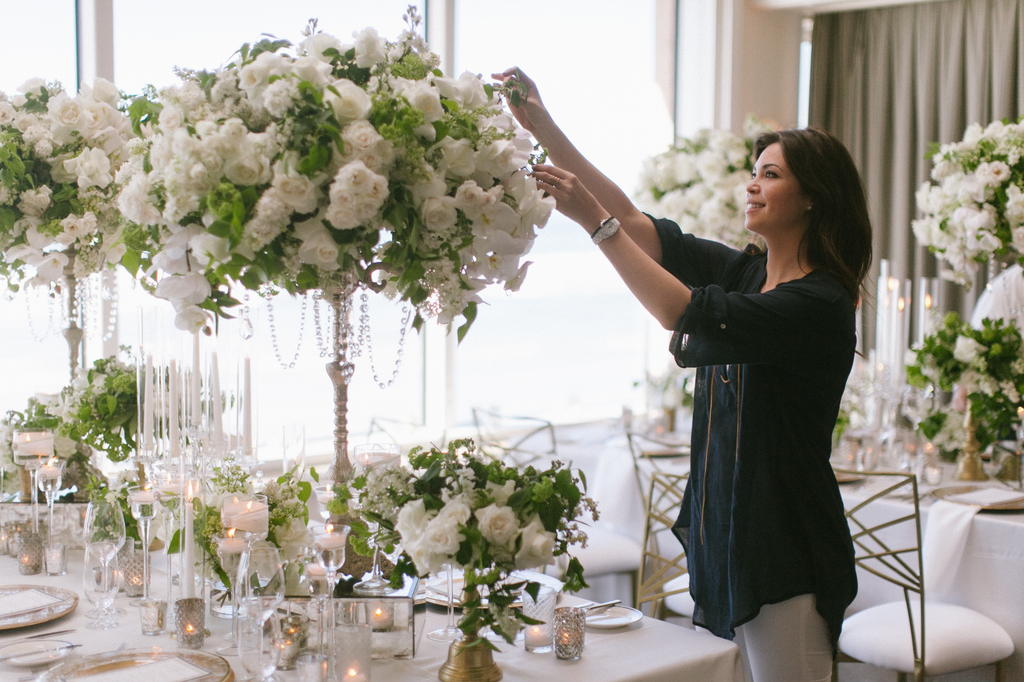 Photo courtesy Bryan Miller Photography
What is a "Blush Botanicals couple" like?
The Blush Botanicals couple is high-style and sophisticated. They want to make a big impact on their wedding day that leaves their guests talking about it for months (or years)! Our clients know the difference between quality and quantity and prioritize with quality in mind. Our clients trust us and trust our process and want to have a stress-free experience, where they are comfortable and confident in our ability to lead them through a design process that is unique to them and very detailed. Our clients know that they want to not only enjoy their wedding day, but enjoy the process leading up to it. Our clients know that they are taken care of, cared for, and are choosing to work with the best in the industry.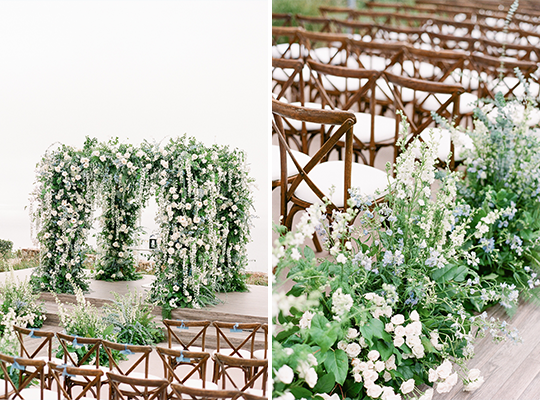 Photo courtesy The Grovers
What is your favorite Aisle Planner feature?
I love the internal timeline so that our team is all on the same page and we are ultra-organized. I also love the notes section so that everyone on our team can peek in and know exactly what is going on at all times.
What are some of your all-time favorite wedding day looks?
I love an environment that makes everyone that walks in FEEL something. This could be a room dripping in a glowing candlelight or a tent with such an impactful installation that the guests feel as though they are eating in a completely unique space that they've never seen before.
What design trends do you hope to see more of?
Suspended flowers or installations in general– I can't get enough of them! I think designing overhead is something that really impacts a space.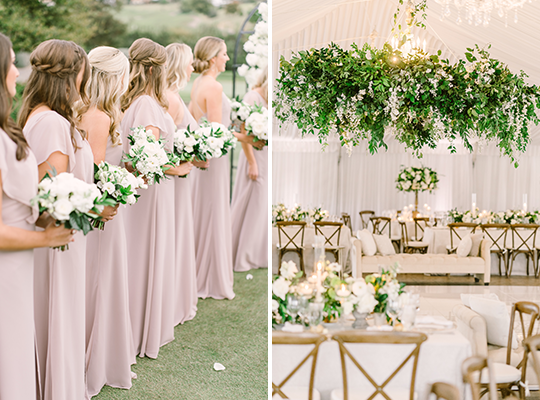 Photo courtesy Garrett Richardson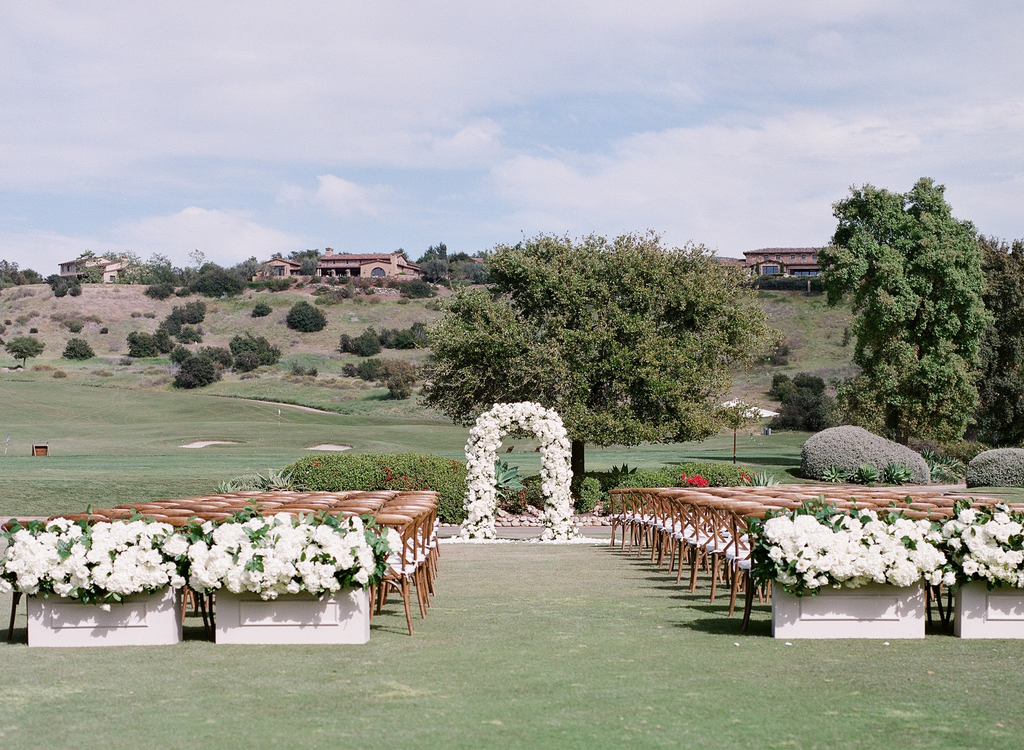 Photo courtesy Garrett Richardson
Anything you are particularly excited about working on this year?
I can honestly say I am extremely excited for each and every one of my events this year! We limit what we take to 10 per year so each one is unique and very detailed!
What design tips would you give to the modern couple planning their wedding?
Don't get caught up on comparing vendors by price-point. You'll see that when it comes to design, you can't possibly compare apples to apples so instead of doing this, book a vendor that you REALLY trust and enjoy. The process of designing the wedding is as important as the day itself. Choosing the wrong vendor can make a fun process stressful or overwhelming.
Fun Facts:
Three things you wouldn't board a plane without? Eyeliner, cell phone, and toothbrush

I'm dying to take a trip to… Japan for it's cherry blossom festivals, known as hanami

Dogs or cats? Dogs, I've got a great dane named Parker
If you owned a restaurant, what food would it serve? French – love me some fancy foods

Any weird food combinations you enjoy? I probably enjoy all of the weird food combinations… all depends on what your idea of weird is
What's your go to casino game? Blackjack

Favorite book of all time? Atlas Shrugged by Ayn Rand



View Listing