We had the pleasure of sitting down with Founder of Intrigue Events, Chelsye Harp, and we can't wait to share her story with you! Chelyse and her team are all about cultivating meaning in every moment of your special day in order to ensure that you and your guests will have memories to cherish forever. Whether you envision your wedding on the coast of Charleston, in the mountains of Asheville, or on the rooftops in a city, they're here to assist you through the process. Intrigue offers virtual wedding planning and design consulting, as well as partial or full wedding planning, and will work to create the perfect fit for you. Keep reading to learn how Chelsye got started planning events, her favorite wedding day trends, and how Aisle Planner helps make collaboration and communication easy and transparent for clients working with the Intrigue Events Team!
Tell us about your path to becoming a wedding professional.
Entertaining has always been a passion for me. Since I was little, I've loved planning parties with my mom and sisters, and I'd come up with any reason to decorate or host a social event. I traveled a lot with my parents for their work, and at a young age I was able to experience events on a different level. I definitely wasn't your typical teenager. I would assist my dad with his charity events, and at nineteen I designed and executed a sponsorship tent on the eighteen hole at the Heritage Golf Tournament which set what would become Intrigue Events in motion.
Few know this, but Intrigue wasn't the first company I started. When I was a sophomore in college, I joined up with a talented graphic designer, and we built an amazing graphic design and marketing company on Hilton Head Island. We were two young girls who knew what they wanted, and were scared of what society would say. I won't lie though, never once did I ever bring up my age or that I was still attending college. We worked with some of the best developers, hospitality groups, golf courses, and beverage companies on the island.
After about 4 years into the business we started getting a lot of requests for grand opening events, product launches, and social branding events. We were assisting our clients the best way we knew how, and outsourced a lot of the planning to local companies. After a few months I realized how much I loved this aspect of the business, and wanted to make this my career. I ended up leaving our marketing company to my partner and within three months decided to make the move to Charleston, SC to chase a dream in the event industry. Intrigue was then established in 2008, and we've been creating unforgettable memories and events ever since.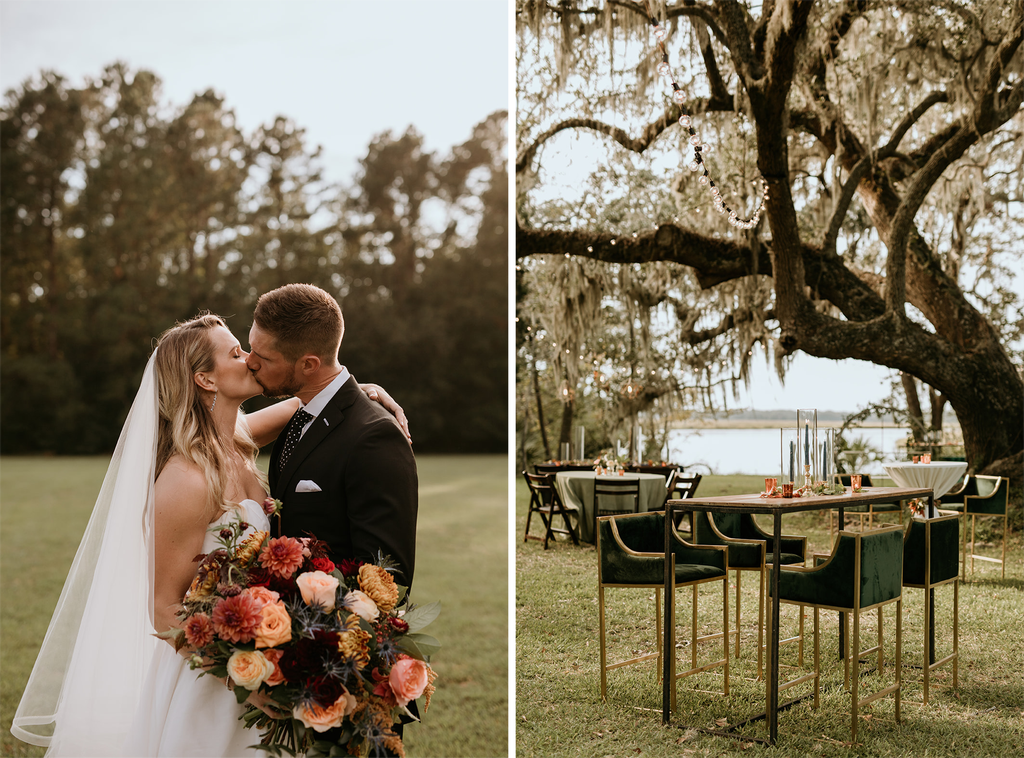 Photo courtesy of Amanda Seifert Photography
Why did you start Intrigue Events? ​
There's such an emotional connection that you have with your couples that'll carry on forever. My career in event planning started with social and corporate events and then developed into weddings when one of our corporate clients asked us to plan theirs. I was a little shocked by the request, since I had never in my life planned a wedding, but because I knew them very well, it was an honor they had asked me to be a part of something so special and sacred. Well, if them just asking wasn't enough of a shock, the fact that I was given three weeks was!
Long story short, the wedding was the most romantic and rewarding experience I'd ever had up to that point. There were a million moments that touched me that day, but the two that stand out are when he saw her for the first time as she walked down the aisle and then when they stepped into the reception together and saw that their wedding vision was now their reality. Knowing that I had a part in creating that moment for them was everything, and why Intrigue has done weddings ever since that day.
What's an "Intrigue Events couple" like?
This is a tough one because all of our couples needs, personalities, and styles are so different. Our couples have been from India, Australia, Mexico, Hong Kong, and of course the U.S., so you can imagine the diversity there. However, and I say this all the time, we're so lucky because all of our couples have been incredible people. Our team at Intrigue is full of life and we love working with clients that have the same outlook. Every time we chat with a new couple that we have a connection with, we're thrilled and honored when they feel the same and pick us to be a part of their special day.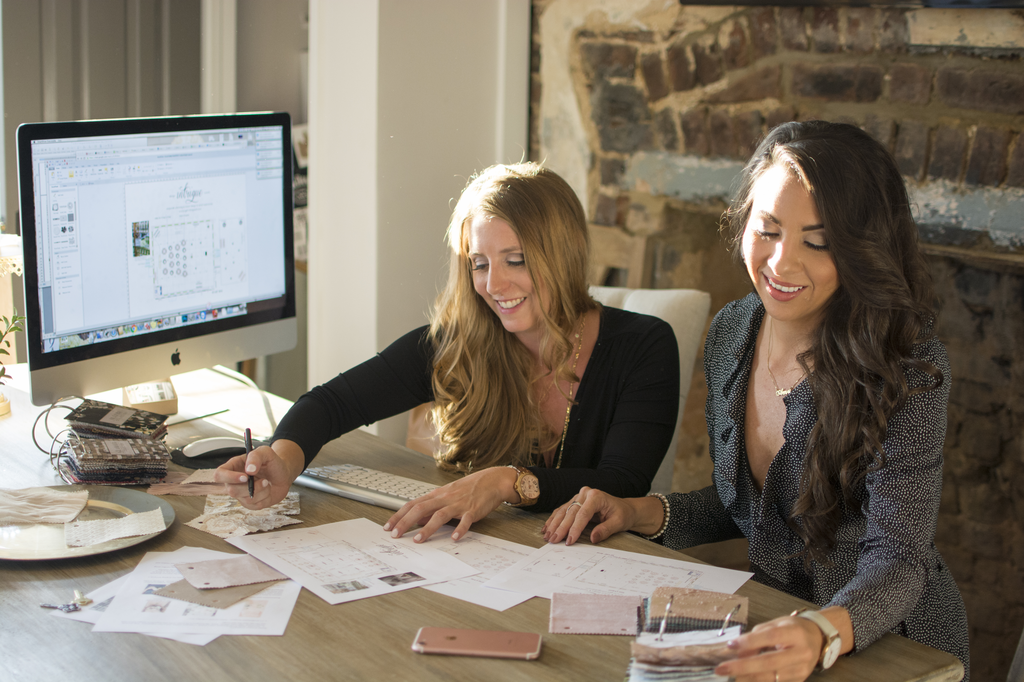 Photo courtesy of Port City Media Co.
Tell us about your process.
As an event designer, you're always looking to push the boundaries and keep your designs fresh, innovative, and timeless. As a wedding planner, you look to create a design that's based around the couple, their personalities, style, and overall vision. We spend countless hours and meetings finding out what is unique about them, what are some of their quirky traits, and how they imagine their wedding day.
From there we have many internal conversations about what vendors would be a good fit for them, and how we can all partner to achieve the overall design. We're not your typical planners, and I'll never do the same wedding design twice. I'd describe us as a team of chameleons, where we can change our colors based on the situation. We're highly focused on the needs of our couples, and the commitment they're making to one another.
How does using Aisle Planner help you deliver the client experience you want to? ​
WOW, was Aisle Planner a game changer or what! We started using AP about two or three years ago, and have loved the impact that it's made on the way we're able to communicate with our couples. Our couples are based all over the world so AP allows for us to stay connected and continue to keep our couples updated in real time. I consider it as having your wedding planner at your side 24/7.
We understand the value that AP offers and with everything going on in the world today are now even offering Virtual Wedding Consulting to other couples that may not have a planner. This gives them access to a wedding expert as well as the tools that AP offers, which is surely a game changer and stress reliever for them.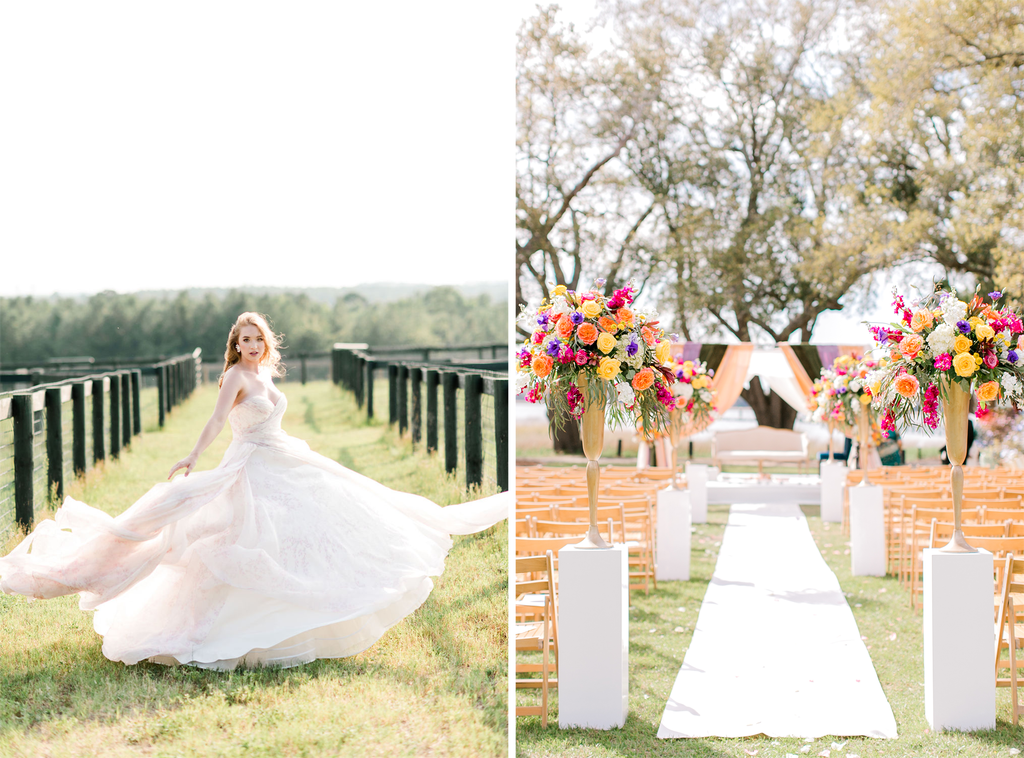 Photo courtesy of Dailey Alexandra (Left), Jessi Nichols (Right)
What design tips would you give to the modern couple planning their wedding?
So many couples are nervous to think outside the box because they get caught up in the trends, or celebrity weddings, or what others are doing around them that they lose sight of this being THEIR wedding. Don't be scared to add in personal details. If you love the idea of a classic greenery garden wedding​, but you also love color, then add in a pop or different textures into a fun lounge area by the bar. If Taco Bell is your favorite late night snack then have them delivered and passed out on the dance floor. If you love gelato more than cake, add a gelato bar instead of having a cake cutting. Just be yourself, embrace it, because some of the most memorable moments we've had at an event was with unexpected surprises.
What's your biggest piece of advice for planning a wedding?
I'd say, "Take a deep breath, and remember why you're planning a wedding in the first place. Your best friend has asked you to marry them, and you said YES! The details will all fall into place, and your day will come. If you should get overwhelmed, come back to that moment of why you're here."
What are some of your all-time favorite wedding day looks?
We love the unexpected and COLOR! We did a fun tropical ombré design in the Bahamas last year that was magical. Another design we loved was creating an outdoor wedding reception design around a beautiful oak tree, using fall colors, jewel tones, with a mixture of textures using lounge furniture, gold high top community tables, and modern chandeliers. Then just for fun we had the opportunity to work with Miracle Pop-up, which is a national cocktail bar takeover, and decorated a restaurant from floor to ceiling in everything Christmas. We spent over 60+ hours in four days working through the night like Santa's little elves.
What are three things you never show up without on event day?
We always have our plan A,B, & C! Our top three must haves for event day would be our emergency kit which also includes extra champagne flutes and a cake serving set. Second is an extra set of clothes—you just never know what the night might have in store. Third would be a cooler of snacks and refreshments. Running around all day, especially on warm days, it's easy to get overheated or even forget to eat, so we always like to have an emergency stash just in case. Diet Cokes, goldfish, and sour patch kids are some personal favorites of our team.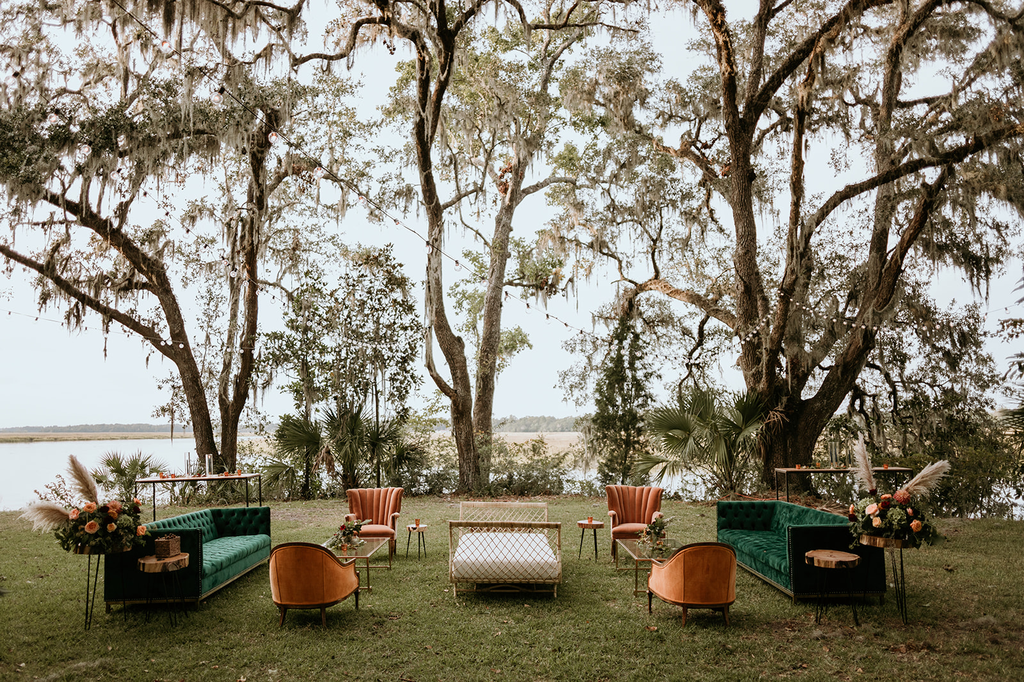 Photo courtesy of Amanda Seifert Photography
Just for fun
If you could plan any celebrity wedding, whose would it be?
Jenny from the Block would be a dream! J.Lo and A-Rod are amazing with one another, and their connection exudes passion, love, and respect. J.Lo's ability to creatively think outside of the box allows for endless possibilities, and A-Rod's style would add romance creating a modern, unexpected, and timeless wedding.
What's the most used tool in your emergency kit?
I'd say our sewing kit. Whether we're hemming pants, fixing a strap, or sewing back on buttons, it surely always comes in handy.
I'm dying to design a wedding or event in...
Our world offers so many beautiful places, but I'd say one of my top locations would be Ireland. I love the architecture, stone castles, rolling hills, and the endless views where the cliffs meet the ocean. You can't help but feel the romance in the air, and combining the countryside with modern elements would create an unforgettable design.
What's one trend you hope to see more of?
Wedding Weekends! We're loving that we're planning more wedding weekends for our couples. Don't worry, this won't break the bank! We're creating weekend itineraries giving our couples more opportunities to see their family and friends that have traveled from afar. A popular one is an intimate rehearsal dinner followed by a welcome reception. This can be as lavish or informal as they'd like, but it's a great opportunity to see all of the guests and have conversations prior to the wedding day.