Whim Events
Boston, MA


We're so excited to share with you our interview with Moira Thompson and Natalie Pinney, the brilliant minds behind Whim Events. Since their founding in 2011, Whim Events has blossomed into one of Boston's leading full-service wedding planning, event design, and floral studios. "Inspired by the art of stage production, natural and organic design elements, and all around awesome times had by all, Whim works behind the scenes to bring your event to life, so you can joyfully get lost in the moment." Read on for an inside look into their journey to becoming wedding professionals, their number one piece of planning advice, and how Aisle Planner has helped their business succeed.
Tell us about your path to becoming a wedding professional.
We started Whim on a beautiful day over coffee. Moira had arranged the florals for Natalie's wedding, which Natalie promised to repay with marketing help. We had only met once before, but there was an instant spark of mutual goals as we learned more about each other. We were both unfulfilled in our current roles and wanted to do something more creative. Moira attended art school and found floral design an art she naturally loved. After seven years of working in floral shops, she developed her own floral philosophy and started a small flower business. Natalie spent five years in corporate marketing and events. She wasn't fulfilled and wanted to use her creativity in a more personal way.
Why did you start Whim Events?
We knew together, we could create artful and personal weddings for others. We dreamed up a new company that would hire local artists for events, where couples could get lost in the moments of love and beauty behind their wedding day. On a whim, our company was born.
What is a "Whim Events couple" like?
Our ideal couple is madly in love and cares deeply about their marriage celebration. They value an experienced and trusted vendor team, thoughtful vision, well-chosen florals, personal sentiment, a hospitable weekend where guests feel treated, and quality design pieces that enhance their event and speak to their personality as a couple. They want their event to have life and meaning. Our ideal couple allows us to get to know them personally, has fun with the wedding planning process, doesn't put too much pressure on themselves, and completely trusts us in executing their vision.
Tell us about your process.
Our full-service process is unique to Boston—we are one of the only boutique planning firms in Boston that provides planning, design, floral design, and event production in-house! There are three of us on the team full time, and we work as one big team the entire way. Moira and Nat work together on the high-level planning and design. With over 20 years of shared experience in the Boston wedding industry, we have great relationships with local vendors and venues to ensure we curate the perfect team for our couples. Moira is our Master florist and designer and has worked for Winston's, Spruce and Hallie's Garden. Giovanna is our assistant in planning and design, with design training in interiors and curation at Restoration Hardware. We all have our hands in each wedding to ensure our couples have thorough attention and amazing planning and design.
Our design process is also unique. We love to learn about our couples on a personal level—what their homes look like, where they shop, what they did at family parties as kids. You can truly find so much inspiration in our daily lives! And, we are the only florists in Boston that take our clients to the New England Flower Exchange! We do not believe in making our couples select wedding flowers from a book. After 10 years in the floral industry, Moira found that getting to know couples personally is the best way to design their perfect wedding floral concept. Which is how she came up with her unique philosophy: take couples to the Flower Exchange and show them the beautiful variety Mother Nature has to offer. Moira notes what blossoms couples gravitate towards, notes favorite shades and textures, and see what makes them the happiest. It is an amazing and fun experience like no other!
How does using Aisle Planner help you deliver the client experience you want to?
Aisle Planner is an amazing tool for us because it strengthens the trust and communication we have with our clients. We meet with our clients monthly, but we update our Aisle Planner checklists, calendar, and budget daily, so if our clients want to know what we are up to behind the scenes, they can always take a look. The platform allows for them to feel confident on the tasks we have set forth for the month and year ahead, so that they can relax as we check off the boxes! It's also nice because we can set deliverable dates, so they know when to expect vendor research, design boards, etc.
What is your favorite Aisle Planner feature?
Honestly, the templated checklist and calendar. We tried for years to create planning calendars via Google calendar. It took FOREVER to implement a year's worth of tasks into a calendar per client—and AP simplified the entire thing. The customizable checklist template took almost eight hours of our work off our plates per clients, just in the set up of it. We also love that we can customize the templates to our process. It works so well for us and our clients.
Anything you are particularly excited about working on this year?
One of our most exciting projects this year is educating fellow planners in our area about how to hone in on their goals and how to scale their business. When we first started, we were offering so many different services and had so many different types of clients that we weren't truly doing what we loved. In the last two years, we have spent a great deal of time developing and observing our best work, understanding the couples we love working with, laying out our pricing structure, and setting our boundaries. It has allowed us to take on only 10 weddings per year to focus on our clients and enjoy our personal lives while being the most creative we have ever been. We enjoy training and teaching new planners and designers how to do this, as there is nothing out there for them! It took us 10 years to truly understand our company/brand and we are still learning every day!
What design tips would you give to the modern couple planning their wedding?
One of our biggest tips when it comes to planning/design is to take a moment before the planning begins to really check in with your fiancé. More often than not, newly engaged couples forget to talk to each other about what they both want. Yes, really. And, we totally get it. Once the ring comes in to play, it is easy to start looking for venues or vendors without taking a step back and really hearing each other. We know if couples start on the same page, the planning will be more joyful than stressful. A great way to do this (over a glass of wine of course!) is to fill out our free Planning Kick Off worksheet here!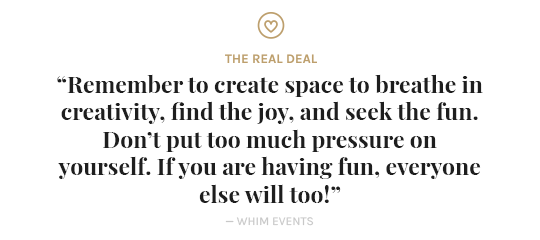 Fun Facts:
Celebrity Crush? Nat: Not a crush, per se, but I'm currently wishing David from "Schitt's Creek" was my bestie!

I'm dying to take a trip to… Nat: Lake Como! Dying to do a wedding there!

If you owned a restaurant, what food would it serve? Moira: An upscale Irish pub.
What skill would you like to master? Moira: Yoga

What song do you know every word to? Nat: Uptown Girl. I've been perfecting it since I was five.
Favorite book of all time? Giovanna: The Language of Flowers