A Monique Affair
Oakland, Ca


Today, brides and grooms to be, we are so excited to share with you an interview with one of our all-time favorite, endlessly badass planning pros: Chanda Monique Daniels of A Monique Affair, a boutique event planning and design company based out of Oakland, California. Founded in 1999 with a focus on delivering a sophisticated and glamorous "high design" event-planning experience, A Monique Affair established itself as one of San Francisco's leading event planners—instantly becoming a champion for LBGT weddings when others weren't—and has been serving couples in the Bay Area and beyond ever since. With an eye always on inclusivity and diversity, Chanda brings some seriously enlightening, inspiring, and empowering advice to the Aisle Guide today. Read on for everything from her top wedding planning tip for couples to an insider's look at how she got started in the industry (spoiler alert: it involved planning 20 weddings during the same semester she was graduating from college. Um, can you say hustle?).
Tell us about your path to becoming a wedding professional.
My journey to becoming a wedding professional was not an easy one! Since my first retail job at the age of 16 my mother instilled in me the idea I should always "keep a job with benefits." There was never really talk about what I loved to do. It was about having your own money and taking care of your responsibility. As a young mother at the age of 19, my goal was to provide for my daughter, Chloe—all decisions were based on that!
Jump to 1999, when I decided that I wanted to start my own business. I started thinking about what I really loved to do—and that was planning parties. I remember when I was 16 and I planned my own Sweet 16 birthday party. So, off I went to see what I could do—the funny part is, years later, my mom made a comment that I was always planning and very organized even as a little girl. (WOW!)
Once I got the business up and going, I hustled—big time. I was working a full time job, being a mother, and planning weddings, all at the same time. When Chloe was in high school, I decided to go back (to be an example for her) to school to get a college degree—so, yes, working full-time, being a mother, planning weddings, AND going back to school! Trust me—there were a lot of extra longs nights, but I knew I had a goal, and I was focused! Seriously, I don't know how I did it...but I did. During my last semester at San Francisco State, we had 20 weddings/events within that season! So at that point my wife told me to leave my "job", finish my last semester, and run A Monique Affair full-time. If I didn't have her support, I would have been nervous to take the leap and do this business full-time—I would have needed the net of a full-time job.
Overall, I'm making this very long story short, but I made mistakes along the way, questioned why I was doing this, took a break for a year, wondered about my age (But hey, Martha Stewart was 50 when she became famous). I say all this to say: your journey is your own. Don't judge your success on anyone else's, because you have no idea what they have been through. And based on my experience, I would advise everyone to pay attention to what makes you happy, that means passion! Follow that and don't waste your time on anything else!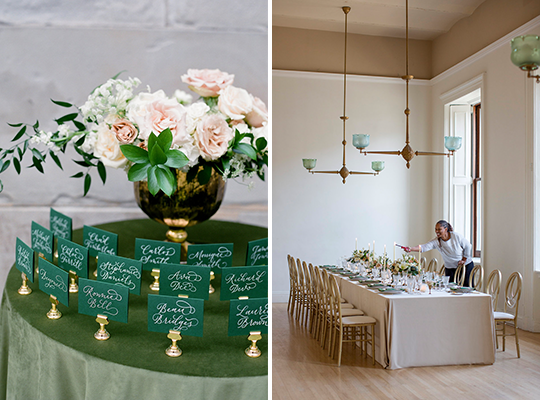 Photo courtesy Patrick Quezada Photography
Why did you start A Monique Affair?
I started A Monique Affair because, once I knew this was my passion, what made me happy, and what I could do well, I simply did it. There's always that one thing that you KNOW you do well—no matter what else in life that you do, this one thing is always with you! That's first and foremost.

Then, at the time, LGBT weddings were called "commitment ceremonies", but I never heard anything about them. I did more research and found out that some "vendors" didn't want to work with LGBT couples. (Yes, even in the Bay Area!!) Knowing personally what it feels like to come out to people you love and how stressful that can be—I decided right then and there that I DIDN'T want couples to experience that when planning their weddings. So, I set out to be the planner to represent my community with style and grace! Planning a wedding is an extra exciting experience—why should there be an added layer of wondering if you'll be accepted? Being a lesbian of color, my core values are inclusivity and diversity. Being represented in this industry as a planner of color and having the weddings I plan and design featured is huge. Engaged couples want to see other couples they can connect and relate to and a planner they have something in common with. I take my platform seriously and so do the couples who allow me to make sure their weddings are featured as inspiration to others!
What did it take to build your business/brand?
When I started in 1999, there wasn't much talk about "brands", it was simply: I want to plan weddings. And the only resource I had at the time was the small business association (SBA). I got certified by the Association of Bridal Consultants (ABC), put my ad in the paper, and was on my way! We didn't have social media so I didn't know who the other planners were if they were not in the yellow pages (LOL). My mentor and a few other planners were the ones who were written about in the papers, so that's how I knew about them. I was really focused on doing what I loved, and that was planning weddings.
It was not until later on when we started talking about niche markets and talking to "your" client that I focused on my brand and what I wanted others to say about me. I truly was all over the place—I knew what I wanted, but I didn't know how to do it. It was a lot of "marketing" money wasted, but I sure did learn a lot.
I always knew that I wanted to focus on attracting LGBT couples; however industry colleagues told me that I was limiting myself and it was a huge mistake—but, as usual, I didn't listen. Since that market has been my focus from the start, I'm now an industry leader when it comes to LGBT weddings! Now, I am learning that people who truly value diversity and inclusivity want to work with me because we have the same values! I show up as Chanda, authentically me. Other planners used to worry about whether or not they have their photos on their website...but I always wondered why you wouldn't! I just recently had a bride tell me that she loved the fact that I had locs. I've had couples who were of other ethnic backgrounds tell me they love the fact that I was a woman of color and they were highly invested in supporting me. It surely didn't happen overnight, but I have learned that being authentic in your business and brand will all pay off in the long run—it just takes time to discover who you are and how to articulate that. Just focus on your journey and appreciate each step!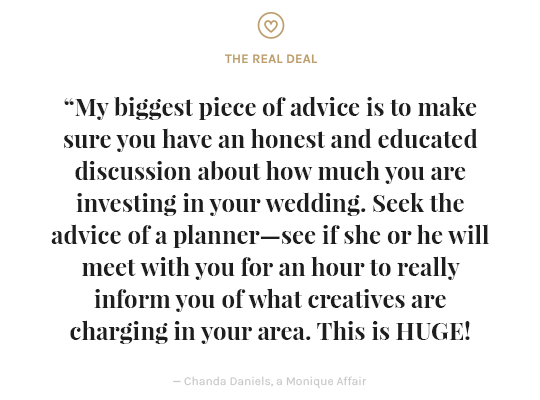 What is an "A Monique Affair couple" like?
An "A Monique Affair" couple is a couple who values diversity and inclusivity. And these factors are also important when selecting the creative team to produce their wedding. They want to create a wedding that's true to them—they want to pick and choose which "traditional" things they want to use. I had one couple describe the feeling as: "like we are joining our family and friends for a nice dinner, nothing performative".
A "Chanda Daniels" couple is the same as above; however, they want to invest in a highly curated wedding weekend experience for their guests.
Tell us about your process.
After being in business for 20 years, I have gained the confidence to say: wait, sure you want to hire me, but do we connect? Last season, I started setting up "Let's Connect" virtual meetings, before I invite potential clients to our office for the official "presentation" of our services. I have to see each partner and see how they feel about bringing a planner on board, seeing their facial expressions to the questions I ask is a very important part of that process. I've moved from the place of "I need to book this wedding" to "Would I sit down and have dinner with you?". It's only fair to both parties because most couples are with me for a year—how fun would the journey be if we couldn't connect on other levels? And this happens way before we talk about cost of services, because if we don't connect, the rest doesn't matter.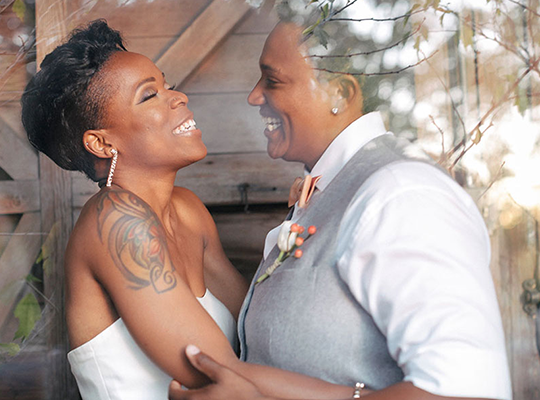 Photo courtesy Lauren Crew Photography
How does using Aisle Planner help you deliver the client experience you want to?
Aisle planner helps me feel coordinated in how I work with my couples! It really makes me feel like we are partners in this planning process. We get to see the budget together—in real time—and we all know where we are. They are not waiting on my updates, or trying to keep their own, separate records.
I also love that we have everything in Aisle Planner—from the design studio to creating the master guest list to guest seating! One of the things that used to give me anxiety was guest seating! But, with Aisle Planner, I print it out the day before the wedding to confirm, have extra copies for my guest experience team, and boom: anxiety over!
What is your favorite Aisle Planner feature?
My favorite Aisle Planner feature is the checklist. It holds everyone accountable. Plus, when clients feel they have nothing to do, I can ask how are they doing on their checklist items (knowing that I already know—LOL). I used to have a paper checklist, and, when clients would forget it during our meetings, it would get frustrating. Now, they can login from anywhere!
Anything you are particularly excited about working on this year?
In June 2018, we did a brand extension—one that speaks to the higher-end couples! It's called Chanda Daniels! I wanted to do an extension of the brand instead of doing a "rebrand" because A Monique Affair has been around for 20 years and our clientele and creative connections are strong—I didn't want to take away from that. However, I was also ready to move forward. And with the amazing support and encouragement of my mentor and fellow creatives, it all happened!