Planning a wedding can be overwhelming, and taking that wedding on the road can certainly add to that stress (think language barriers, unfamiliar territory, airfare and accommodations to book—the list goes on). But, as lifelong wedding planners, we happen to think that wedding-planning doesn't have to be synonymous with stress. We've learned over the years that hosting the wedding of your dreams is all about being proactive and prepared—and this is especially true for destination weddings. The more you're prepared for, after all, the less of a chance you have of something catching you off guard and shaking up your cool, calm demeanor.

To help you as you plan that far-away dream wedding then, we've broken down 7 challenges to keep in mind while planning your destination wedding. Read on, and get ready to keep the stress at an all-time low...and the excitement at an all-time high.
1. Currency and Exchange Rates
If you're leaving the good ol' U S of A to tie the knot, you're going to need to keep an eye on fluctuating exchange rates. This may increase or decrease the funds you have set aside for your wedding budget, depending on the locale you've chosen. It can be a good idea to consider building your budget in the foreign currency from the start. That way, when you receive quotes and final payment information, you'll be ready to pop those numbers into the budget straight away—and you'll know what you're spending from day one.
Be sure to ask ahead of time what the actual conversion of your money will look like—will you need true bills to pay out a vendor who doesn't accept credit, where can you withdraw this from, etc.? Does your bank have a sister-bank abroad? Is there a daily max that you're allowed to take out? Is it cost- and time- effective to convert your money in the States—keeping in mind the fee you'll be charged from your bank?
Your budget is the backbone of your planning process, and needs to be at the front of your mind at all times—keeping the conversion rate in mind from the get-go is key.
2. Communication and Language Barriers
If you're getting married in a country where English is not a primary language (and it happens to be your primary language), you'll need to consider the cost of a translator to assist with booking the various particulars. If you aim to find help with booking your vendors abroad, a wedding planner based in the location of the wedding could serve as a double bonus, as she or he will likely speak both English and the country's native language.
3. The Time Difference
Thanks to the internet, wedding planning has become less and less an over-the-phone and in-person job and can now be done almost entirely remotely. You can book nearly all of your vendors through email, which will allow each party to respond in a timely fashion based on their own schedules. Your event partner in X location can respond while you are sleeping, giving you a new list of tasks waiting in your inbox upon waking. The time difference comes into play as the wedding date gets closer, as jumping on a phone call is always the quickest way to firm up final details and ensure that the entire event team is on the same page. Add your wedding destination to your phone to easily check what time it is there, and spend a bit more time mapping out your call schedule to make these connections happen. Always double check a few days out to make sure your understanding of the time difference is accurate. There's nothing worse than getting a surprise call an hour early while you're still in a meeting with your boss.
4. Cultural Expectations
The hidden wedding cost that is almost always overlooked? Tipping. Yet abroad, many countries do not approach tipping in the same way we do here in the States. While a typical 15-20% may be expected at your favorite restaurant around the corner, a café in Italy may be used to rounding up a few Euro as an appropriate way of showing appreciation. This is where an abroad wedding planner can come in very handy, as she or he will be poised to let you know what vendors expect. This way, you'll discover what the norm is for each vendor you've hired, and be in a position to budget appropriately from the beginning.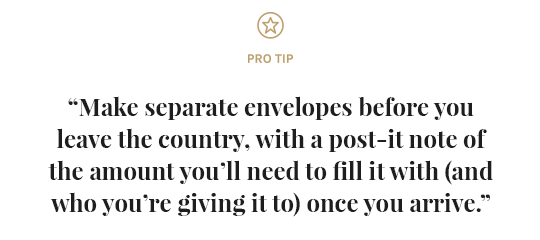 5. Making it Legal
You'll always remember that special moment when you and your fiancé say I do, bonding you for life. It may be official in your mind and in your hearts—but is it official on paper? When you get married in the States, the general course of action is to visit your local courthouse, pick up your marriage certificate, and ensure the necessary witnesses and signatures are captured on the big day. In a foreign country? This process is wildly different. Make sure you do your research. Some countries require your "residence" for some time before you're allowed to marry, some require a waiting period once your first application is provided to their government offices.

There may be visits to multiple offices, or even a requirement that you stay in the country for a few weeks after the wedding to pick up your certificate. Getting married in a holy place usually requires another layer of paperwork and applications. Your local venue coordinator or wedding planner will likely be able to navigate this process on your behalf, but be sure to work with them on this from the get-go, as it may require more travel than you've planned on (some countries will have you go to their stateside consulate for paperwork ahead of time as well). Sound like too much work? Consider a civil ceremony in your city before you leave, with the religious or symbolic portion of your wedding taking place abroad.
6. Special Holidays and Hours
You, your fiancé, family, and friends are likely taking extra time off for the journey to your destination affair, so it's a good idea to scout out a few activities to recommend to your group. Be aware of special holidays, holy days, or government closures, which may cause a museum, a fun restaurant, or a shopping district to post off hours, bringing your tour to a screeching halt. In Europe, for example, many stores and destinations close for a two-hour lunch period. The key is to plan these activities (even just roughly) ahead of time, and to get clear information on different destinations' hours and schedules.
7. Shipping
Getting married in your parents' backyard means you can store every token, every spool of ribbon, and on-sale votive you find for the months leading up to your wedding onsite. When you leave for your wedding across the pond, on the other hand, you may only have your allotted two free bags for international travel to accommodate the loads of decorations a wedding can accumulate. Consider the option of shipping items ahead of time to your venue —but understand that this will take an extra budget and extra time.
One item to always leave out of the pre-wedding postal drop? The dress. No matter how heavy or how much of a burden it is to carry, it's imperative you physically bring the gown on the plane. There's no room for error here— having to buy a replacement dress because of a lost bag or incorrect delivery address is a sure way to destroy your day. Talk to your friendly flight attendant on your trip, as they'll likely allow you to store it in the tall cabinets in first class or by the cockpit.

Keeping it All Organized
Overall, the absolute best solution we can offer for managing the above 7 challenges is to hire a local, on-site wedding planner who knows the area, its customs, and all of the ins-and-outs of saying I Do in their home country. As long as you get this relationship in place from the get-go, you'll be in the perfect position to plan your dream destination wedding. And remember, successful weddings can kickoff successful marriages—which really is the whole point, isn't it?

Photography Aubree Lynn
Wedding planner To La Lune