David Rothstein Music
Chicago, IL


What was it that got you interested in music?
I was exposed to music by my parents who used to take me to concerts when I was a little kid. I also have some very accomplished musicians in my family including my grandmother's sister who actually had Stradivarius violin (that's a big deal to a musician!).
When did you decide it was time to start your own thing?
I decided to start David Rothstein Music after playing many years with other top wedding bands. After playing in a couple different bands, I realized that they were pretty much doing the exact same wedding set for each client. I felt clients deserved to get something that was not only a band with great musicians but also something that was designed specifically around what they loved.
You do so much to put your clients at the center of everything you do. What motivates you to do that and how has it helped make DRM a success?
I feel that weddings are about people. It's about their stories, how they met and what makes their love unique. Everybody should have a wedding that reflects who they are — not just what the hottest trends are. People should try to make their wedding as authentic as possible. What motivates me is thinking of my clients as my friends and wanting to create something they and their guests will truly love. And that really sets us apart! By showing our clients how much we really care about them and that we are there to help them create the wedding that fits them perfectly (instead of making the wedding about us and showing everybody how amazing we are) has helped make DRM a wonderful success. There are so many variations for each wedding we play. That's what keeps me so enthusiastic, even after 17 years!
Tell us about your band.
We have a complete music company with a separate ceremony department. Clients can have a jazz trio for cocktails and then decide between continuing with the jazz trio for dinner or do dancing between courses with our 7-10 piece orchestras. Dancing is typically 3 hours and includes our 10-piece orchestra. We have additional specialists that can be added such as our Sinatra singer, strings, and even a Brazilian percussionist.
Introduction to David Rothstein Music by David Rothstein on YouTube.
What advice do you have on booking a live band?
There are a number of factors to take into consideration when hiring a band. It is important to consider their track record which includes how long they have been in business, the number and quality of reviews that they have, their live videos, photos of both the musicians and packed dance floors. If they have numerous recent awards, that can be helpful since it would show consistency. You also want to make sure whatever band you choose is more than just a bunch of musicians. Ideally, they should be supported by a full music company that can accommodate a wide variety of types of weddings. They should be able to accommodate any special requests you have and be eager to help you get exactly what you want.
When you first meet with a couple, how do you get to know them and how do you decide what type of music to play at their wedding?
Before we talk about their actual wedding, I spend time finding out how they met, where their families are from, just like how I would with anyone that I'm meeting for the first time. Once we get to know each other, we can talk in greater detail about what they need specifically for the wedding and how we can help them get it.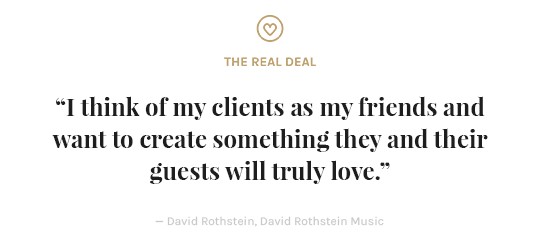 You go above and beyond what we would expect a bandleader to do. How did you get into donating the flowers from the weddings you get booked for?
My grandparents were married 71 years. They lived to 94 and 91. He used to make her breakfast in bed all the time and always brought her a flower from the garden. After they passed, I wanted to do a tribute to their incredible relationship so I started taking whatever flowers were leftover at the weddings and hand delivering them to nursing homes, homeless shelters, and rehabilitation centers. It has now evolved to become a program called Share Your Love where brides and grooms can donate their flowers and we will deliver them free of charge to those facilities. It's an incredibly rewarding experience for the couple, myself, volunteers as well as the patients who receive these gorgeous bouquets.
We saw on your website, "If it's important to you, it's important to us." That really says a lot about DRM. What are you most proud of with your team and your business?
I'm most proud that we're able to create meaningful moments on a very human level which hopefully they and their guests will remember for many years. In this high-tech world that we live in, nobody wants to be thought of as a username, password or account number. Everybody wants to be able to express themselves and that is what our company is all about, and always will be.
What are you most excited about for 2018?
I'm excited about a huge amount of new songs that we've learned, upgrades to our lighting and sound system, and more and more unique resources to make each and every wedding as fun and as personal as possible. The best is yet to come!