From gluten-free to dairy-free and pescatarian to paleo, keeping up with friends' and family members' dietary requirements and food allergies can be a struggle to say the least. Add a wedding to the mix and a need to pre-plan a meal for dozens (or even hundreds) of guests on top of that, and things can get really confusing, really quick. Today, then, we're breaking down our top tips and tricks for dealing with food allergies and dietary restrictions at your wedding. Read on, and get ready to call that catering manager.
Collect Dietary Requirements with RSVPs
Just like with all other things wedding-related, being proactive is key when it comes to dealing with food allergies and dietary requirements at your wedding. Collect this information beforehand by including a spot for it on your RSVPs and tracking it in your Aisle Planner Guest Manager. You may choose to either have boxes for guests to check for things like "dairy free," "gluten free," "allergies, please list," etc., or simply include a line that reads, "Please advise of any dietary requirements below," with space for guests to fill in any allergies or restrictions.
Remember, though, by leaving things open-ended and allowing guests to essentially "fill in the blank", you may get some guests who think, for example, that the fact they don't like raisins means they can write it in as an allergy. You can limit this by working with verbiage to ensure your guests understand that you're not asking about preferences, but rather about legitimate dietary requirements. Simply adding the word "serious" or "severe" can do the trick. (i.e. "Please advise of any severe food allergies" or "Please advise of any serious dietary requirements.")
Track Allergies and Work With Your Caterer
If you're collecting RSVPs yourself, be sure to include a note about any food allergy information you've received on the sheet or software you're using to track RSVPs (i.e. in Aisle Planner or on a column in a spreadsheet, etc.). If your wedding planner is collecting RSVPs for you, she or he will know to do this as well. Once you have a solid count of gluten-free guests, guests with allergies, vegetarians, etc., provide this information to your caterer so they know how many special plates they'll need to prepare in advance.
Provide Your Caterer with a Seating Chart
If you're having a seated, plated dinner (as opposed to, say, a buffet or food truck), print an extra few copies of your seating chart for your caterer and servers, and note where gluten-free, dairy-free, allergy-prone, etc. guests are sitting. This way, servers can ensure they're delivering the right plate to the right person. Make special notations for severe allergies (shellfish, nuts, etc.), as caterers will want to pay extra special attention to those.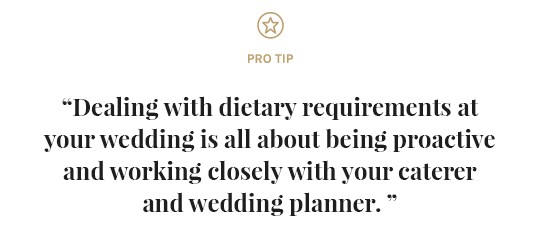 Severe Allergies Versus Food Preferences
Keep in mind that there's a big difference between preferences and allergies. While some people may choose to eat gluten-free as a lifestyle choice, others have an actual severe allergy to gluten. Among your guest list, for example, may be someone who prefers a dairy-free diet because dairy upsets his stomach, and a child with a severe peanut allergy. A child with a severe peanut allergy, then, is obviously a much more serious situation than someone whose stomach is made uncomfortable by dairy.
This doesn't mean you shouldn't take people's dietary requirements into consideration—but it does mean you'll want to pay much more attention to those whose allergies could actually severely harm them. Any severe allergies (nuts, shellfish, etc.) should be clearly provided to your catering manager/food vendors (or wedding planner to give to your catering manager/food vendors) ahead of time, along with that person's seating information. Oftentimes, people with severe shellfish allergies can't even touch a plate that's had shellfish on it, so you'll want to make sure your caterers know where these people are seated and are prepared to accommodate them.
Label Everything
For seated, plated dinners, ensure your menu is clearly labeled and each ingredient is listed. For buffets, food stations or food trucks, include menu cards or A-frames in plain view that list every ingredient of all dishes. You may have some menu or buffet items that are naturally gluten-free, vegan or vegetarian—it's a nice touch to include this information in parenthesis on the menu as well (I.e. Red Pepper Roasted Halibut (Gluten Free) ). Keep in mind, though, if an item is naturally gluten-free but wasn't prepared in a gluten-free kitchen, you'll want to note that on your menu, as those with severe gluten allergies could suffer as a result of cross-contamination.
Sweat it, But Don't Sweat It
It's normal to want your guests to be as comfortable as possible at your wedding, but don't lose sleep over worrying about people's dietary restrictions. Your friends and family are adults—and they know how to handle their (or their children's) dietary requirements themselves. People with severe nut allergies or religious views that don't allow them to eat pork, for example, know to let you know about these in advance, as they've likely been living with the allergy or restriction their entire life (or at least for quite a long time). Someone with a lethal shellfish allergy isn't going to show up and start eating every passed appetizer without thinking twice—they know to advise servers of allergies and to always inquire about what's in a dish before eating it.
Overall, when push comes to shove, dealing with dietary requirements at your wedding is all about being proactive and working closely with your caterer and wedding planner. Keep close note and careful track of severe, life-threatening allergies—and then work to accommodate those with dietary preferences as best as humanly possible, without letting it become too much of a headache or an all-consuming part of planning. Remember, your job as a host is to graciously accommodate your guests with dietary restrictions as best as possible within reason; their job as a guest with a dietary restriction is to let you know what they need ahead of time, and to be their own advocate on the day of.

Photo courtesy Jen Wojcik Photography
Catering by Root Cellar