Today, we're sitting down with Cassie, the creative mind behind Peanut Press Creative, to talk all-things wedding stationary. Whether you're into acrylic invites, are obsessed with velum or have your eye set on custom illustrations, read on for a clear idea of what the process of designing a custom wedding suite is like...as explained by the pros!


Getting to Know You
As a custom designer we strive to tell your unique story through paper and design. The more information you can provide your designer at the start of the process, the better—all of this helps to inspire us and help us to get to know you and what you are envisioning and allow us to design something that feels truly unique to you. Your stationery is the first peek of design that your guests receive for your big day to get them excited to celebrate with you!


We Do Some Counting
This is your overall number of suites. Remember that it is by household, not guest! Your overall quantity will help us to calculate your final costs for production.

From there, we go into the number of pieces in each suite (invite only, Invite + RSVP, Invite + RSVP + info card, etc). The sky is the limit and this can include anything from just a basic invitation card all the way to premium suites with plenty of additional bells and whistles or embellishments—from silk-dyed ribbon to wrap the pieces to custom envelope liners, tags and additional custom pieces, etc.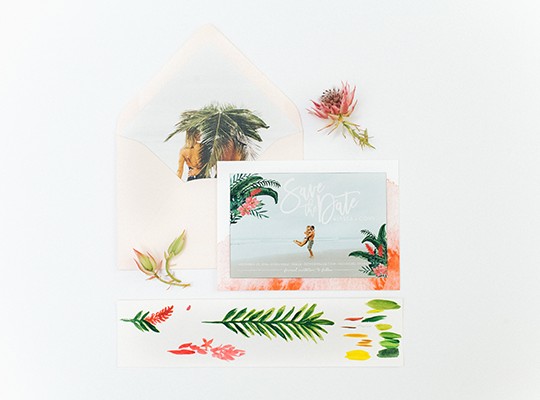 Photography by Jen Wojcik Photography
Talk About Printing and Paper
Some clients have a preference for a thicker premium stock and some do not have as much of a preference. Additionally, specialty print methods are always available to clients—foil printing, letterpress printing, mixed methods (foil + digital or letterpress + digital), screen printing and even large format printing or laser cutting + etching.
It's important to keep in mind that digital printing is your most cost effective method, while specialty print methods (while stunning) do add cost to your suite. Specialty print methods are more expensive because of the actual methods and time that goes into printing with them. For example, with letterpress and screen printing, the pricing depends on each color imprint and also includes the cost of the specialty print materials like a die for letterpress or a screen for screen printing. With multiple colors, you require multiple dies or screens to produce the end result and each piece is run multiple times. So, for example, if you are running a 2-color letterpress each card is run two times and imprinted with each color at a separate time with each die for the design elements in that color.


Figuring Out Timeframe
It's so helpful to establish timeframe with custom clients. We start from scratch with each project from information gathering to learning more about the client likes/dislikes and design preferences to creating custom artwork as appropriate to the client style—painting, drawing/illustrating, hand lettering, exploring typefaces and color palettes with and for the client. This all takes time, which is part of the reason the custom route is more expensive and time consuming than the typical pre-designed stationery out there.

A good rule of thumb is to allow for at least 10-12 weeks from the time you get your contract signed + deposit in for the project to completion. This allows you to work with your designer to create something truly unique to you from ideas and concepts to production and shipping!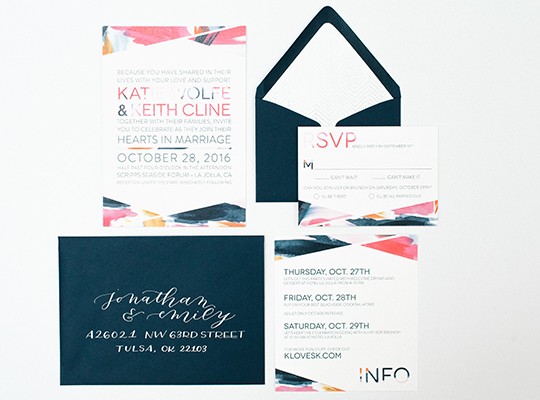 Photography by Jen Wojcik Photography
Setting a Budget
Budget is always something that can surprise people who are inquiring about custom work. While custom pricing varies by which designer you're working with as well as your quantity, print methods, and number of pieces, plan to allow for at least somewhere between $10-12/suite as a starting point with custom work. Sometimes prospective clients are surprised by this (and it definitely is an investment) but the reason that it is so expensive is because you are hiring a designer to work with you through a detailed process to create custom artwork and a final product that is completely unique to you and not on the market somewhere.
Purchasing pre-designed suites online through sites like Etsy, Minted, etc. is definitely a more cost-effective method because the intensive design work is already done and completed. With custom suites, it is a truly boutique process geared towards catering to the specific client design interests, aesthetic and overall design story.
In addition to that, we spend hours working with you to gather information and then create that custom design story through illustrations, watercolor or acrylic painting, hand lettering, etc. It is important to keep that in mind with regard to pricing and understand that. The design process is long and takes a large time investment on the part of the designer from information gathering to initial designs, revisions and then the production and assembly process. This is all tailored to the client when you go the route of custom design, and it is reflected in the pricing.

Plan to invest a standard 50% of the estimated approved project cost as your deposit. This is usually non-refundable, as it goes towards the designers initial time and materials to create your lovely custom paper goods!

How the Design Process Works
Once the client has provided detailed information about them as a couple, their story and shared more about their specific design interests and has approved the estimated costs and paid a deposit, we will jump into design itself!


We start with basics – color palette, design inspiration board, and a look at some suggested typefaces and lettering styles based on their expressed likes.


Once they have provided feedback on that, we start on initial drafts. This initial draft round is the most time consuming and often takes the longest since that is the area where we work to create custom inspired artwork to include in your suite (painting, illustrating, lettering, scanning, editing and exploring).


Initial drafts for feedback are sent to ensure we are on the right path and ask clients to provide targeted feedback on not only what they like about each suite but also what they do not like. I have found that the dislikes are often times just as important and helpful in the design process, if not more important. Through gathering the feedback on likes and dislikes, we're able to identify patterns and gain important insight into maybe even seeing a pattern of likes or dislikes that the client may not even be aware they had.


We take the feedback and conversation from the first round review and hone in further to the design that the client is most interested in. We work to further round them out and include any and all edits and changes that the client would like to see before sending a second round of revisions for review.


After the second round of revisions, each designer is different. Some have a specific number of rounds included in their design contract for each project which may cost more per round etc. This varies per designer.


Once we have honed in on the perfect design for the client, we work to set up a print release form for a final review and sign-off by the client to go to production, order materials (envelopes, ribbon, etc.) that are included in the finished suite. We then set up for a press check and then ultimately set up for the actual print/production run. It is a good rule of thumb to allow up to two weeks for production (again, this varies by the production methods chosen, production schedule, and quantity).


After your perfect pieces are completed by production, depending on the assembly required with your custom suite and the assembly your designer provides, that will be completed and then your custom lovelies are mailed carefully to you to send out to your guests!