Details, Darling
San Diego, Ca


From the most seasoned wedding caterers in the game to the most sought-after photographers across the country, we're always so honored to be part of a community that's chock-full of the best wedding pros in the world—and the stars of today's interview are no exception. Mackenzie and Aubrey, the chic sister duo behind Details, Darling—a boutique wedding planning and design company based out of Southern California—are on the blog today to share industry secrets, talk building a business, and chat their top tips for engaged couples. Read on for their invaluable insider's advice!
Tell us about your path to becoming a wedding professional.
Details, Darling is a boutique style wedding coordination and design company founded 3+ years ago by sisters, Mackenzie and Aubrey. We are based in San Diego and Los Angeles, but travel all over Southern California to plan and style weddings. We have talked about owning our own event planning company since we were little girls because we grew up with a mother who was always planning the most decorated, unique parties! Growing up with those creative genes, we imagined that we would eventually follow in her footsteps. When we moved to LA after college, we found it was extremely hard to get hired as full-time event planners. There were only part-time gigs here and there, and we couldn't make a living. We were assisting several coordinators and planning freelance events, but after working our first wedding together, we looked at each other and said, "This is what we were meant to do and we can do it." We created an instagram for Details, Darling in December of 2014 and things kind of took off from there. People really liked the fact that we were a sister business and responded well to our branding, which was super encouraging. We were also blessed with a great network of local wedding vendors who really helped us launch our business quickly by referring us to their clients and showing us the ropes.
Why did you start Details Darling?
Growing up in a Christian home, we've always been taught that loving others is the most important thing we can give to the world and the people around us. We started Details, Darling because we are loved by an amazing God and we feel like it's our calling to offer and celebrate that unconditional love in our couple's lives. It's really cool because a lot of our couple's don't share the same beliefs as we hold, but we all come together to create a day centered around love. We just hope to be that small light in our couples' and their families' lives. And, hey, planning pretty tablescapes for a living is one job you definitely can't complain about.
What did it take to build your business/brand?
A lot of networking, asking for advice from those before us, branding + rebranding, long days with no set business hours, and figuring out our niche in the industry. We are also learning how to delegate to others and ask for help. We hired on another planner, Alessandra, last year to take on "month-of" weddings, and it's been the best blessing to be able to hand off some responsibility to her.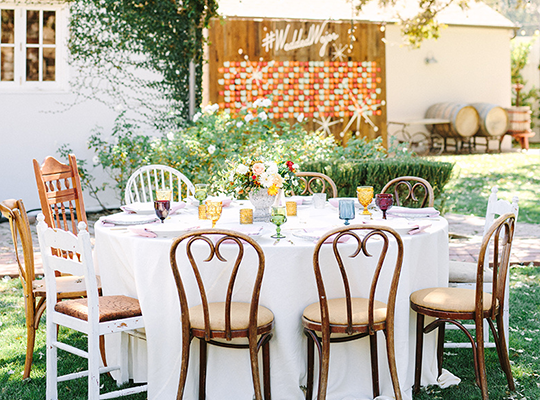 Photo courtesy Mary Costa Photography
What is a "Details Darling couple" like?
Our couples understand the magic in the tiny details. They would rather spend their money on ways to tell their story and show their personalities via the tablescape, favors, or seating chart display than have excessive, over-the-top roses exploding from every corner of the venue. Nothing wrong with that—but we definitely resonate with couples who want to have an outdoor, bohemian, romantic, tropical, modern, or chic wedding. We are desert dwellers who have an obsession with cactus + sunshine—so we have a hard time with ballrooms and glitter. Our couples really do become our friends, and I think that's the best part about what we do. At the end of the day, we'd be comfortable grabbing a bottle of wine with them and talking about our shared love for Soul Cycle, going to the movies, playing Settlers Of Catan, dancing at music festivals, or eating a never-ending supply of cheese boards.
Tell us about your process.
One thing that is unique about Details, Darling is that it is truly a family-run business. Although we ladies are the lead planners throughout the process, on the wedding day, you'll most likely have the whole Swift family involved. Our little sister comes to assist, our dad will be installing a backdrop that he most likely custom made for the day, and our mom will be making sure each place setting is perfectly styled.
How does using Aisle Planner help you deliver the client experience you want to?
Planning weddings can definitely be overwhelming, and there are a lot of moving pieces—but Aisle Planner allows everything to be super organized for our clients and for us. When you plan over 50 weddings a year, it is definitely hard to keep track of all the design details, notes, and budget for each client—this makes it much easier to track everything in ONE place! It gives everyone a peace of mind.
What is your favorite Aisle Planner feature?
We hate, hate, hate dealing with budgets. But, as you all know, it's a huge part of planning weddings and our job. Thank heavens for the Budget aspect of Aisle Planner because it keeps everything organized, is easy to manage, and we love the fact that we can see where we are falling in the budget throughout the entire process. Excel is not our thing, so the budget tool has been a real life saver.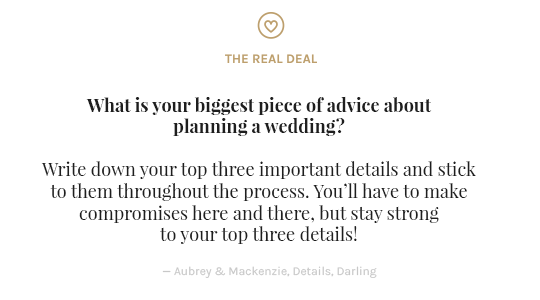 What is the biggest lesson you learned from being a business owner?
It's a constant learning process, and the work never ends! There is always room to grow as a business, and there are a lot of people out there who are willing to teach you. Being in a design industry, it's easy to get discouraged because you see other vendors' work and think: "I would have never thought of that!" or, "How are they that creative?" but you have to let that fuel your desire to step out of your traditional comfort design zones and find ways to be unique in the industry.
Anything you are particularly excited about working on this year?
This year we decided to fully sponsor a wedding for a couple from San Diego who couldn't afford to get married in a way they've always imagined. We call it "Project Darling." It's been a dream of ours to make this happen for the last two years, and it is finally happening! The wedding will be taking place at Sacred Mountain Julian this summer. We got the BEST TEAM of vendors to donate their time and services, and we couldn't be more grateful for everyone involved.