We know that deciding on seating arrangements for your wedding guests can be one of the most stressful parts of the planning process. While there's always an option for open seating, having an assigned seating arrangement can help lessen the potential for confusion, fill every table, and make it a whole lot easier for your caterers or venue banquet staff if you're having a plated dinner service. Here are 8 tips for creating the perfect wedding reception seating chart:
Sweetheart or Head Table?
As a couple, decide which seating style you prefer. This will assist you in knowing where your wedding party and their significant others will be seated. Sweetheart Tables are a fantastic design focal point for your wedding. Chances are the two of you will be up and moving around the room, so with a sweetheart table you won't feel like you're leaving your wedding party hanging. We're finding more and more that the wedding party is coming from different parts of a couple's lives. Seating them around the room with their friends and their significant others (and families!) makes it that much more comfortable for everyone.
Go To The Pros
Once you've decided on where you and your wedding party are sitting, talk to your wedding planner or venue coordinator, and ask for a basic seating chart. They will be able to share a scaled version of the event space and note key considerations like columns, walls, and the all-important dance floor. They will place tables symmetrically around the room with the needed traffic flow.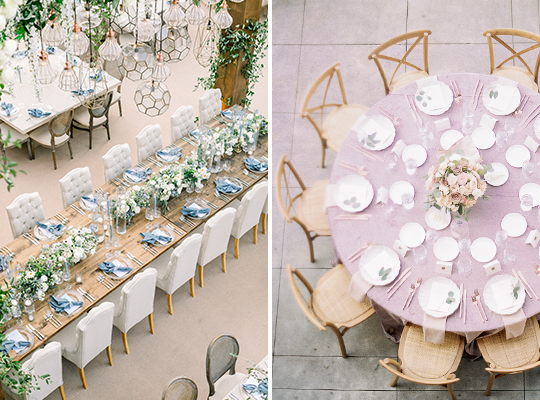 Photo Courtesy The Grovers (Left), Jasmine Lee Photography (Right)
Rectangular or Round?
Check to see what style of tables your wedding venue owns. There are some event spaces where a long rectangular table fits the maximum number of wedding guests. Renting other shapes of tables can be an option depending on your budget, design or décor.
There are ongoing debates about which shape of table are best for conversation. Many people feel that a round table enables you to see everyone. In theory, you can see everyone, but it really depends on the height and styling of the centerpieces. At approximately sixty inches across the center of the table, you'll hardly have an intimate conversation. Long tables provide guests the opportunity to speak to the people directly across from them and to either side. However, most rectangular banquet tables have about a thirty-inch width, possibly limiting the space down the center for flowers and décor once you account for your place settings.
Get a Second Opinion
There's no doubt you're going to have a lot of input on your guest list. As important a day as this will be for you, you'll want to make sure you have the right people there and seat them accordingly. Talk to your parents about some of the people they've invited and ask them to assist with grouping people together. Just as you may group childhood or college friends and coworkers, your parents will want to do the same. And, they can come in especially handy with some of those distant relatives.
Consider the Floor Plan
Whether you're working with a spreadsheet, digital seating program, or paper plates and Post-It notes, work to create groupings of family and friends, and then see where it flows best in the reception space. People who will be up dancing might be best suited for tables closest to the band or DJ, while older folks might be best seated away from the speakers. Also, try not to group all of your single friends together. They would be much happier mixed in with friends or guests with common interests.
You'll want to place parents and close relatives in a position where they can see your first dance and toasts. Even if you're not doing place cards to assign specific seats to guests, you might consider reserving seats for just your parents to make sure they're facing the action and won't miss those critical moments.
Are You Kidding Me?
If you've decided to host a kid-friendly wedding, there are a couple of seating arrangement options to consider. If there are just a few children - typically the flower girl and ring bearer, at least - seating them with their parents virtually guarantees happiness for all. If you have a larger number of children, however, you could create a "kids table" with separate décor and kid-friendly meal options. Age-appropriate or personalized goodie bags are always a great idea regardless of how many children are attending. Also, be kind to young teens. In most cases, they don't want to sit with smaller children and wind up becoming a built-in baby sitter.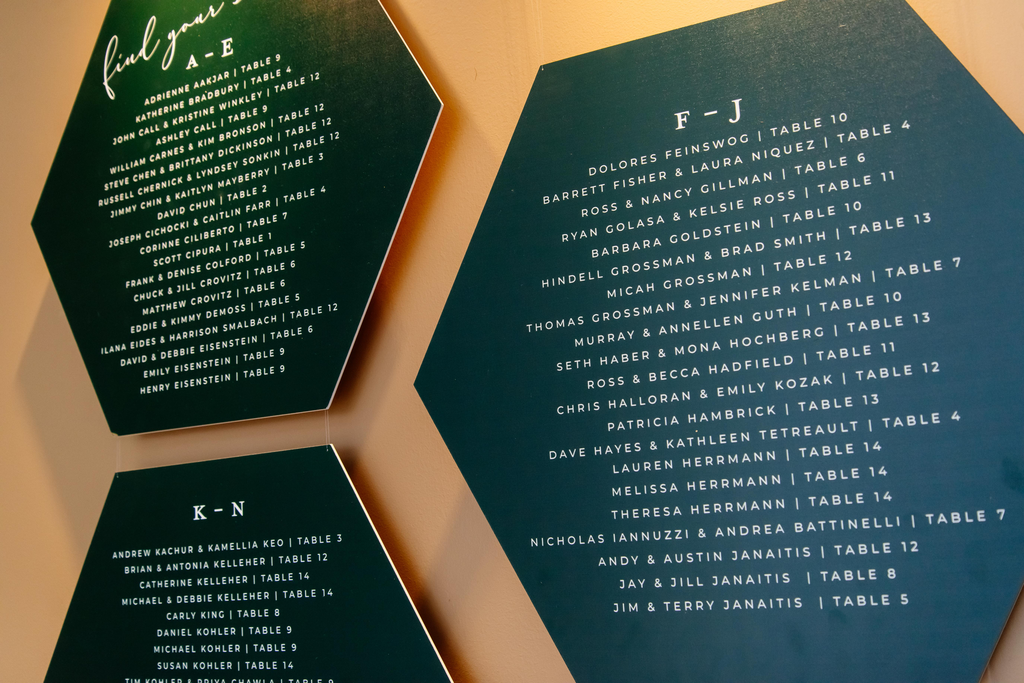 Photo Courtesy Rachel Smith Photography
Easy As ABC
Whether you choose to have escort cards or a seating chart, seating should be alphabetized by the guests' last names. Grouping them by table number, while cute, makes finding your name and assigned table complicated, and slows down the seating process. Unmarried couples or married couples with different last names are typically listed together and alphabetized by the first person's last name.
Making A Mad Dash
We'd be doing you a disservice if we didn't address the trend of open seating. It's gained some popularity in the last few years but it's very challenging. Wedding guests like knowing what's coming next, so itineraries, programs, and menu cards make everyone's experience less stressful. The same applies to assigned tables. People like to know that they have a place to sit and have family and friends close by. Choosing open seating instantly starts a buzz of confusion. Beyond that, as hosts, you typically need to add in ten to fifteen percent extra seating to allow for random tables with one or more empty seats. Guests will be hesitant to ask if they can squeeze between people they don't know.
An open seating plan typically requires having extra seating to account for the flexibility you're offering your guests. This will translate into extra costs in furniture if you're renting and certainly for extra linen and centerpieces no matter what. While it sounds like a fun idea, it almost always leads to confusion, uncomfortable guests, and added expenses.
Starting early on your seating chart, including working with your pros, getting feedback from parents, and plotting a clear path will help to eliminate a lot of stress and last-minute scrambling when it comes to planning seating for your wedding.

Hero Photo Courtesy of Black & Hue Photography