So you had the best intentions to DIY your wedding...but then—five botched seating charts and 10 attempts at a timeline later—reality rolled around and you realized it would take a pro to bring your dream day to fruition. Sound familiar? Not to worry brides- and grooms-to-be, we've got you covered. Today, we're sitting down with Kelly Strong of Kelly Strong Events to chat the ins and outs of hiring a wedding planner at the eleventh hour. Read on for Kelly's take on everything you need to know about different types of pros and their planning packages.

You're getting married in 2018 but haven't hired a wedding planner...and now you find yourself wondering: is it too late to start working with someone now? The short answer is no! It's not too late at all. The expertise that a planner brings to your wedding will ensure your dream day becomes a beautiful reality, and it's never too late to bring a much-needed pro on board.
It's important to remember that you can turn to a planner for various levels of support—not just full-fledged tip-to-tail planning. You can enlist their assistance for design and coordination or hire them for coordination only. Depending on the planner, they may offer a few different packages to support your specific needs.
1. Wedding Weekend or Month-Of
Perhaps you've really enjoyed the planning process so far and were able to nail down the large, overarching details on your own (you go, girl). You've already made the major decisions that will shape your day and have successfully contracted your favorite vendors. Now that you have the major components taken care of, you are looking for a little extra support. In other words, you need someone to hand over the logistics to for flawless execution. If what I just described sounds like you, you're a great fit for a Wedding Weekend Coordinator (also known as a Month-of Coordinator). A Wedding Weekend Coordinator is a pro who will start working with you a few months prior to your wedding to learn your vision, your vendors, and advise you on any elements that need refinement or completion. They're also there on the day-of to manage logistics and ensure that your entire wedding weekend is a great success.
2. Full Coordination
On the other hand, you might be a bride or groom who needs help from start to finish. You have no idea where to begin and need someone to guide you on vendor recommendations, negotiations, budget suggestions, and provide advice on design details. If this rings true for you, turn to a planner for Full Coordination. They will guide you throughout the planning process—providing expertise on everything from major vendors to the smallest of logistics—keeping you on track and relieving any stress. They will monitor your budget, communicate with your vendors, coordinate a seamless wedding day timeline, and be there on the day of to ensure everything goes as planned.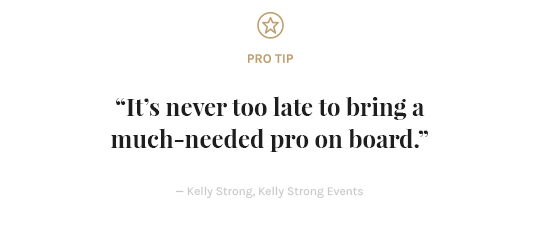 3. Coordination & Design
Lastly, there are brides and grooms who prefer to turn to a planner who can serve as their designer and coordinator. The main difference here being the addition of the aesthetic element—while a coordinator will only take care of logistics/execution, a planner who designs and coordinates will take care of overall wedding day design and logistical execution. Designers take the time to learn about you as couple, your vision, and your style preferences in order to design a beautiful, thoughtful wedding day on your behalf. They will build your dream day through décor, rental selections, floral design, and additional design details. It's important to place your full and complete trust in your designer to create the ultimate experience you're seeking for your guests.
Overall, when looking for a planner—even at the eleventh hour—it's so important you take the time to find someone you will enjoy working closely with throughout your engagement. Ask a lot of questions, be specific about what you are looking for, and take a peek at their social media channels to get a sense of their style and determine if they're the right fit for your vision. There is a planner out there for everyone—one who will be a perfect fit for you and your fiancé. (And remember, if they don't live in your city—that's ok! Be open to a planner who lives elsewhere if you feel like they are great fit for you and your wedding day.)
Regardless of the level of service you enlist, a wedding planner will provide valuable advice, vendor relationships/access, and the industry experience necessary to take your wedding to the next level. Best of all, hiring a planner comes with the invaluable peace of mind of knowing every detail will be taken care of promptly and properly. So go ahead—hand over your worries to your planner and simply enjoy being engaged!

Photo courtesy O'Malley Photographers