Oftentimes, engaged couples put off finding a wedding officiant and opt to focus more on the design details of their big day—but we can't put enough emphasis on the importance of taking the time to find a wedding officiant who's right for you. He or she will be in a majority of your ceremony photos—and they're the person tasked with communicating your love story to your guests, ultimately setting the tone for the entire party that's to follow. Sound like a big job? It kind of is! And that's why choosing the right officiant is so crucial when planning your wedding. Today, then, we've tapped the expertise of Bethel Nathan of Ceremonies By Bethel to talk some of her top tips for where to find a wedding officiant, and what to consider when hiring one.
Where to Look
Your wedding planner: "Once you click with an experienced wedding pro, ask for their help in finding other pros, as we all know who really comes through for our couples," Bethel says. Start by talking to wedding pros (like your planner) whose opinion you value. If they've been in the area for a while, they'll likely know a majority of the different officiants and can tell you who they do (and don't) recommend. You can also reach out to your venue for a list of recommended officiants.
Online listings: Check out online listings like the Aisle Planner Marketplace for trusted officiants in your area. Having an online listing on a trusted wedding vendor marketplace means your officiant cares enough to spend time and dollars ensuring they're advertising where you're looking. Use online listings to narrow your search down (choose your top 3-5 officiants), and then dig deep into online reviews for each to get a feel for what other couples experienced when working with a particular officiant.
Married friends: Ask your married friends where they found their officiant and what they thought of her or him. Even if they didn't get married in the same locale your ceremony is planned for, friends often have tons of honest insight when it comes to the overall process of finding an officiant—they'll tell you what to look for, what to ask, what they wished they'd considered before hiring theirs, etc. Aside from industry pros, your closest married friends are often your best resource when planning your big day, because you can always rest easy knowing you can trust their opinion.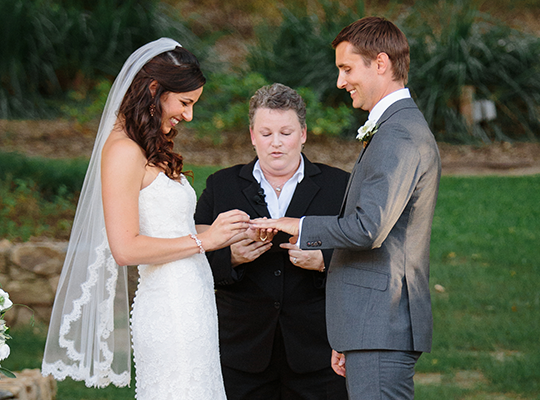 Photos courtesy Shane and Lauren Photography
Things to Consider
Cultural Traditions & Religion: This is obviously a no-brainer. You and your spouse-to-be should chat about how much (if any) religion you want brought into the ceremony. Are you looking for a completely religious ceremony, do you only want a bit of religion sprinkled in to appease your religious grandma, or would you prefer no religious references during your ceremony at all? "Different officiants," Bethel says, "will likely be a better fit for one of these than equally good at all three." Also, are there cultural traditions that are important to include? If so, make sure you find an officiant who's versed in these specific cultural traditions and can easily weave them into your ceremony in a seamless and meaningful way.
Personalization: Certain officiants will be better with prewritten "scripts" (that they slightly tweak for each couple), while others are great writers and work best with total personalization (a script they've written just for you). Are you good with a simple 1 Corinthians "Love is patient, Love is kind" kind-of thing....or do you want a completely personalized script tailored to your love story? Read online reviews and talk to different officiants to get an idea for how much personalization they do (or don't) offer.
Priority: "Is the ceremony very important to you, and do you want to allocate more time and money to this? Or is it something to just get done in order to get to the party?" Bethel asks. "Because different officiants will likely be better for one or the other." If you and your spouse see the ceremony as more of an obligation and care more about the reception/party, then perhaps you can cut back on the time and money spent finding an officiant. On the other hand, if you see the ceremony as the absolute most important part of the day, you don't want to cut corners when it comes to spending time and resources to find a wedding officiant you're happy with. And, either way—whether you're obsessed with the ceremony, or simply want to get it over with so you can move on to cocktail hour—it's important you choose an officiant you click with above all else. Remember, this person will be a part of your love story forever, and it's their responsibility to set the overall tone for your event—they may have only one (fairly quick) job—but, in so many ways, it's thee most important job of the entire day.
(Psst...don't know where to start when it comes to your ceremony reading? We offer up tons of inspiration for wedding ceremony readings here.)
CONTRIBUTOR