Fogcutter Catering
San Francisco, CA



Wedding food tends to get a bad rap, but that doesn't mean the noms you serve up on your big day have to be anything but extraordinary. To prove our point, we've sat down with Natalie Nesbit and Caroline Hummer, the pros behind Fogcutter, to talk food philosophies, wedding menu writing, ingredient hunting, and recipe inspiration. Read on...and prepare for a growling stomach.
Tell us about your path to becoming a caterer.
Surprising! If you had told me 10 years ago that I would own a wedding catering company, I would have thought you were crazy. I have always loved food, and grew up going to weekly farmers markets with my mom. That gave me an early focus on and experience of seasonal cooking.
When I graduated from college, I knew that I wanted to own my own business, and slowly began to realize that I would be happiest if I was working with food. I've always loved hosting parties, but it was still a surprise when my first business slowly transitioned from a food truck, to pop ups, to a restaurant kitchen, to catering. Looking back it now makes complete sense that I would have found myself in this niche of the hospitality industry, but it's still mind blowing that life brought me here! - CH
I'd been a professional chef for over 10 years in the Bay Area, but never did much catering before connecting with Fogcutter. The vibe of the staff and events was very much my style, so I've worked hard to make myself an asset! - NN

What are your philosophies about food?
Like most other food professionals in the Bay Area, our main focus is on seasonal cooking. When you work with seasonal produce, you don't have to do much to highlight the quality of the ingredients. Surprising, light flavors drawn from many different cuisines help our ingredients shine. - CH

Know where it comes from, like what you're making, and educate clients when possible. - NN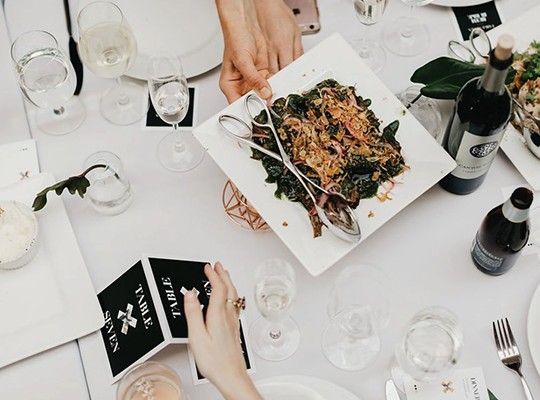 Photo courtesy Fogcutter

The bay area's local/slow food movement game is strong. How do you decide which vendors to partner with?
Taste, taste, taste! We look for farms, ranches, and bakers who take their product as seriously as we do. - CH

How do you approach menu writing?
It's an exercise in compromise—you have to consider what the client is looking for, what's in season, balance trends with the approachable and familiar, have each dish make sense in itself and to the entire menu, and stay within budget. It's fun, but always a challenge. - NN

How do you guide a couple through it? Especially when they have different taste than each other.
We encourage couples to find dishes that represent them both as a unit and individually. While there may be a lot of guests at a wedding, the two most important people there are the two getting married. With a complete menu, we always make sure that the couple is ecstatic about the whole thing. However, there may be one dish on there that is more for the bride, another that is more for the groom, and one more that might be to cater to a group of guests with a less adventurous palette. - CH
Caroline says it best—at the end of the day, we want the couple to love their menu. Sure, everyone wants their guests to be happy. But it's your moment as a couple to let your menu say something about you. Be adventurous. Maybe your guests will try something new and be surprised they like it! - NN

This might sound silly but, how do you tell stories about the couple through their menu?
Great question. I think some couples already know they want their menu to tell a story about them—either through their family background, countries they've visited, a place they fell in love, or with food they enjoy eating. If anything, I notice clients want to pull from too many areas of culinary inspiration. I urge people to focus on one or two things that make sense and go from there. Stay true to what moves you, but keep it simple. Embrace the "less is more" ethos. - NN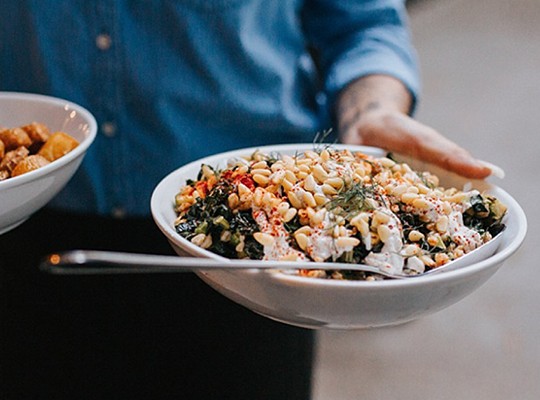 Photo courtesy Fogcutter

Describe a typical "shopping trip" for a wedding. Is it a divide and conquer approach?
We actually have most of our products delivered to our kitchen, so we're able to focus on careful prep and production. When we do have to go out shopping, it's generally our chef Guillermo who goes out to pick out the perfect baguettes / cheese / whatever extra we need. Chef always knows best! - CH

You also offer floral services. How did that come about?
When we were running our bar kitchen program, I would go to the Ferry Building Farmers Market every Saturday to shop for ingredients for our Sunday brunch. A high-school friend of mine was working for a flower farm who sold at the market, and he would give me free flowers every weekend. I would craft arrangements for the bar using these flowers, and it was a fun challenge to make new and interesting floral arrangements using products from only one purveyor. Making these arrangements was my favorite part of my week, and as our catering business grew I realized that I wanted flowers to be part of it. I've just continued learning through experience over the years, and our floral department has naturally flowered (forgive the pun) into what it is now! - CH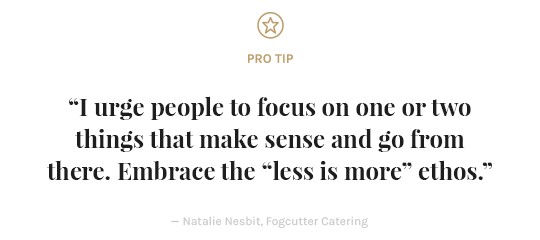 How do you find inspiration to continually develop new recipes?
As someone who has always been a food lover, and someone who loves to eat as much as she loves to cook, it's easy to stay inspired in the Bay Area. We have access to incredible fruits, vegetables, cheese, meats, seafood, small batch, artisanal, etc. And the folks who run these different enterprises are always looking for the best products to meet the demands of the local market.

The cynic in me believes that there's nothing new under the sun, that it's all been done before. However, if you can take something familiar and put your own twist on it, people can get excited about it all over again. There's a reason that our mac & cheese is always in demand. - NN

What are you looking forward to the most in the coming months?
Summer produce! Summer is my favorite time of year for fruits & veggies, just because there is so much variety. A few of my favorite Fogcutter dishes (Heirloom Tomato Panzanella; Summer Succotash) hit rotation June-September, and I look forward to eating them all year! Having access to local stone fruit, strawberries, corn, good tomatoes, squash, etc all at once is heaven for me! - CH
Summer produce! Summer is my favorite time of year for fruits and veggies, just because there is so much variety. A few of my favorite Fogcutter dishes (Heirloom Tomato Panzanella; Summer Succotash) hit rotation June-September, and I look forward to eating them all year! Having access to local stone fruit, strawberries, corn, good tomatoes, squash, etc all at once is heaven for me! - CH
Word-for-word what Caroline said! - NN