The minute you see a soft pastel color palette of pale pink, sunny yellow, light minty green, and lavender most people's thoughts go to Spring.
Regardless of the fact the produce and flowers are, for the most part, available year-round from somewhere in the world, there are few things that can top fresh, local and seasonal.
Spring, whether you are coming out of a snowy cold winter or live in a location where cold is a relative term, brings an incredible number of fabulous fresh local produce.
Light and Refreshing
Working with your wedding caterer to develop a menu of light, delicious spring fruits, and vegetables, paired with lighter preparations and fresh herbs is sure to please your guests.
Welcoming guests to your wedding ceremony with refreshing infused waters is a fabulous touch any time of year. How about infusing water with fresh, brightly colored spring strawberries? And, lemons are at their juiciest from winter into spring.
Grapefruit, which are coming into season in California, Texas, Florida, and Arizona in late January but are at their peak of flavor in the spring, make fantastic signature cocktails. Paired with gin for a Salty Dog or Vodka and Cranberry juice for a Sea Breeze, grapefruit is an ideal spring mixer.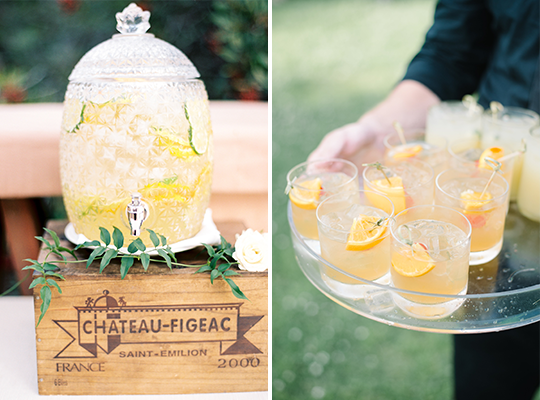 Photo courtesy Natalie Bray (left) and Aaron & Jillian (right)
A Light Start
Your cocktail reception is an easy way to infuse the flavors of spring. Toward the end of spring, fresh apricots pair beautifully with soft cheeses and meats like country ham.
Falafel with spring peas is a lighter twist on the traditional and the perfect cocktail food with a light garlicky dipping sauce.
Artichokes and leeks are also spring produce that are very versatile and lend themselves well to finger foods for your pre-reception.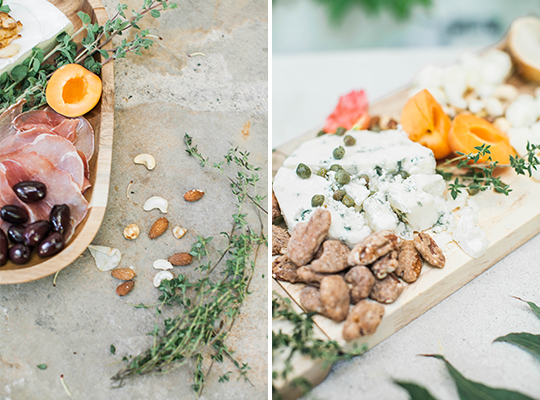 Photo courtesy Crystal Nicole Studios
Spring Salads
All types of fresh spinach, lettuce, spring onions, and sprouts add a fresh spring touch and mix well with any fresh fruits and vegetables.
Fresh fennel, grapefruit and shaved red onion with a sprinkle of extra virgin olive oil make a unique and refreshing salad course.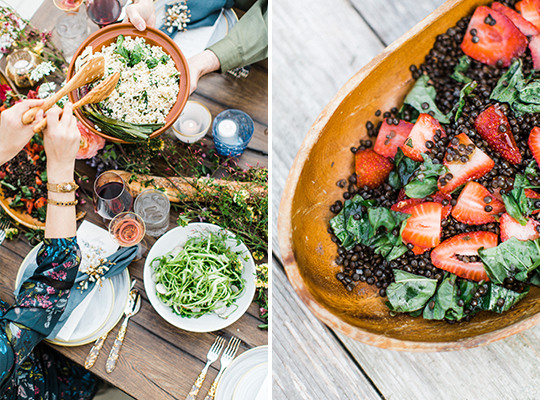 Photo courtesy Anna Delores
The Main Attraction
Spring lamb, roasted chicken with citrus and baby vegetables or sweet light, flaky fish with fresh herbs are all incredible options. Lightening up is the key, opt for fresh herbs, vegetable purees and bright pops of citrus over heavier sauces.
The skins of baby red potatoes are at their thinnest in the spring. Look to excellent fresh spring asparagus or baby carrots, leeks and rainbow chard for colorful side dish options.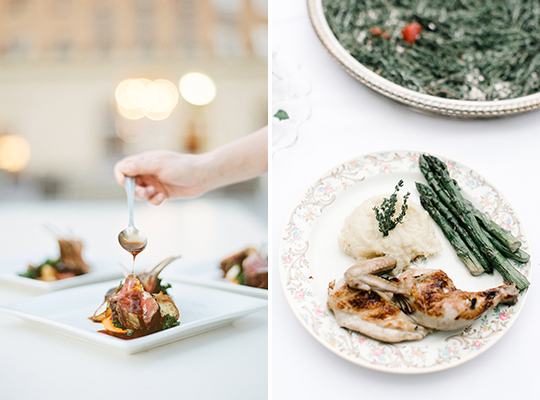 Photo courtesy Stephanie Brazzle (left) and Vienna Glenn (right)
Sweet Endings
Do not rule out the flavors of spring when it comes to the end of the meal. A hint of lavender with honey, fresh mangos, and even pineapple add bursts of freshness to wedding cake and desserts.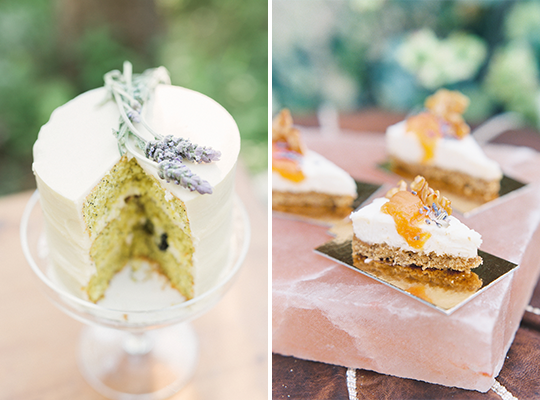 Photo courtesy Gideon Photography (left) and Kristine Herman Photography (right)
Fresh and seasonal spring foods are the perfect addition to your wedding menu as they are at the peak of flavor and often more affordable. Local ingredients and preparations are always a pleasant treat for guests traveling to your big day.
Psst...for more mouthwatering inspiration head to the Inspiration gallery, where you can filter by Bar & Beverage, Cake & Dessert, or Food.