Gather + Lounge
Bridgeport, CT


A specialty vintage rental and design company based in Connecticut, Gather + Lounge are the masters of curating spaces that are cozy, creative and down-right cool. Today, we sat down with Gather + Lounge's crazy-creative, über-talented founder to talk all things wedding planning and event aesthetics.
You originally got into the wedding industry as a job to get you through college. What was it that made you stay?
Well, I'd love to say it was the absolute passion I had for it...but I'd be lying—ha!
I graduated college in 2008, right when the economy crashed. The catering company I worked for in college closed probably six months after that. Finding a job right out of college during that time was not a walk in the park—it was more about getting by. So, I applied to pretty much every catering company in Colorado that I could find. Lucky for me, with experience under my belt, I got a job. Also lucky for me, I loved it. The thing I love about catering? A few things…
Team work. We're together a LOT—so we become one giant family. A catering team has to be a team or it doesn't operate effectively. We had each others backs no matter what.
There's never a dull moment. Whether that means putting out fires, literally or figuratively, or just getting to be a part of some really cool parties.
Learning. I love being in an environment that challenges me. I learned so much about everything—sales, food, cooking, management, design…the list goes on. In catering, you wear a lot of hats, and I got to be a part of a lot of cool projects.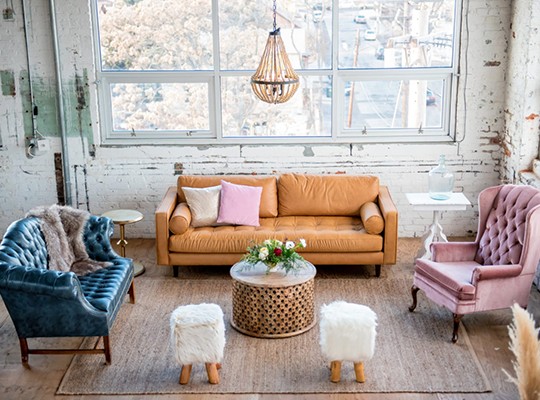 Photo courtesy Gather and Lounge
How are the worlds of catering and rentals different? Is there anything about the two that is surprisingly similar?
I'd say the event world is all very similar—but each business in our industry has "the grass is always greener on the other side " moments. I would say that the things I mentioned above about catering, I also love about the rental business. It's also definitely more hard labor…think: moving company—ha!
I certainly miss the catering hustle—the high you get after working an event. With planning, I really miss the fun design stuff…coming up with the big-picture design, then picking the linens, working with florists/cake artists/stationary and dreaming up designs, etc. I still get that with rentals, but on a much smaller scale. I do love when a planner sends me a design board and lets me go wild with the details. Then, when I show up to the wedding and we have the "nailed it!" moment—that's my favorite part of our industry, seeing everything come together.
When you relocated to Connecticut, did you already have plans to start Gather + Lounge?
It's not that I already had plans—but if I look back it was always sort of "in the making". When I moved to Connecticut, I knew I wanted to do something different. I had been a wedding planner for four years —but my passion was in the pretty stuff and not as much in the logistics. I've always wanted to do rentals, but it was something I always sort of glossed over in my head. I even started a "craigslist business" six years ago—flipping furniture. That turned out to be extremely time consuming and not really profitable, so I chalked it up to being a fun hobby.
I got engaged in November of 2015—and got to planning our wedding. I knew I wanted a really cool lounge at my wedding, and started searching for specialty rental companies in Connecticut. Maybe it was serendipitous, but there were none. By now, I had been thinking about rentals for awhile, but was a little afraid to say it out loud. One day I had said something to my now husband about doing rentals instead of wedding planning. His response was, "You want to do rentals?" To me it sounded like he was extremely skeptical…so I almost denied it. But then he said something to the effect of "yes!", "finally!", "do it!", "get it!", "what's first?". A good friend of mine was getting married a month before me, and I called her up and offered to do her lounge for her wedding. From there, it sort of just evolved.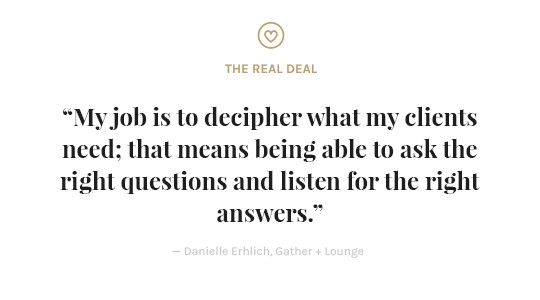 Tell us about what it was like to find your space?
I got extremely lucky. When I moved to Connecticut, my husband was already in his seventh year of business (he owns an event-lighting company). So for the first bit, I had his space. He was always on the lookout for a larger space, but when I decided to start doing rentals it put us on fast track to move. To make the process a little easier, we actually hired a commercial real estate agent. He had relationships that you just can't find online. He knew what was around, who owned what, when places would be opening up, etc. It took us a few months, and although a little rough around the edges ,we found a great place that fit our needs entirely. The second we walked in, we saw the amazing potential of the place. It was a huge blank slate with a lot of history. We put a lot of sweat equity into the building and now rent it out for photo shoots and workshops!
Where did you start when building your inventory?
The best part of being thrown into this business is that my clients sort of made those decisions for me. I listened to their needs and filled my inventory accordingly. For that first wedding, I asked for inspiration boards, color schemes, a linen order, anything I could get that gave me an idea of the vibe they were going for…and then used that as inspiration for what to buy. For the first year, I had a lot of really great people who trusted me with deposits and promises to purchase for their wedding.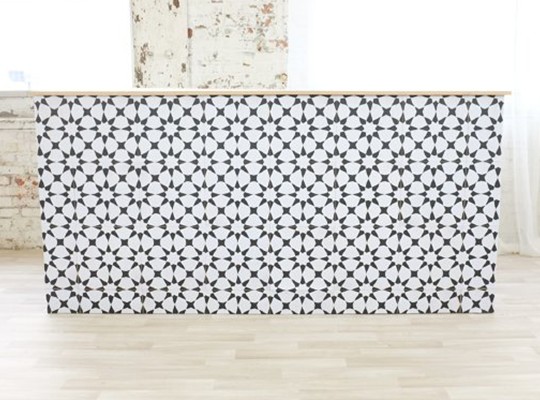 Photo courtesy Gather and Lounge
What pieces are you on the hunt for?
Always on the search for great coffee tables (hardest to find!), great vintage arm chairs that I can reupholster, light/muted rad rugs…I really want a Hollywood regency style, chippendale bamboo tall back settee, so if anyone finds one of these—send it my way! I'd "settle" for some matching arm chairs, too.
How does San Diego differ from Connecticut in terms of style?
I think San Diego style has more of a Spanish influence (which I love so much), casual elegance, and a little more color. A lot of Connecticut style is very classic American—think Colonial home—white house, black shutters. My favorite thing is when the Dogwoods bloom every spring. You'll see that being incorporated into a lot of weddings. I like to think that I bring a little San Diego style to Connecticut, while keeping it a little more zipped up and tucked in.
How does it differ in terms of food?
Swap Mexican food for pizza! Pizza here is so good! And subs. And the occasional lobster roll. Yum. But I do miss my Mexican food.
What about your experience as a planner helps you in the rental world?
A lot of times a client comes to me without knowing exactly what they want. I think a lot of my job is to decipher what the clients needs are, and also give them something that they love. That means being able to ask the right questions and listen for the right answers. Also, just having a general knowledge of event flow, timelines, load-in schedules, diagrams—what works and what doesn't.
What are you most excited about for Gather + Lounge?
The different opportunities! I am excited to see how this business grows and molds with time. Restaurant staging? Movie staging? Who knows! I'm not opposed :)