As wedding planners, we know: there's absolutely nothing more frustrating than guests who are late to RSVP. And, while it's one of the most frustrating parts of planning a wedding, it also happens to be one of the most common (major sigh). While there's no formula for ensuring your late-to-everything college roommate won't throw your invitation on the counter and forget about it until a week before the affair, there are some tips we can share for making RSVPing clear and easy for your guests—ultimately ensuring most (or, if you're lucky, all) of them get their response in on time.
1. Give Them Plenty of Time

It's important you send your invitations out in a timely manner so that your guests have plenty of time to RSVP. In general, wedding invitations should go out 8 weeks in advance (for destination weddings, you'll want to send out invitations 3 months in advance). Remember, wedding invitations are a two-way street: they require a response. The closer you cut it to your actual wedding date, the less time you'll have to collect RSVPs, build a seating chart, confirm your guest count with your venue...the list goes on. When in doubt, pad your RSVP-by date (if your headcount is due one month prior to the wedding, ask that guests reply two weeks prior to that).
2. Make the Reply-By Date Prominent

One of the biggest mistakes we see with wedding invitations is couples putting the RSVP-by date in size 6 font on the very bottom of the RSVP card. This is such an easy fix and makes a huge difference in ensuring you receive RSVPs on time. From your wedding website to your snail-mail invitations, make sure your RSVP-by date is easy to see, easy to read, and is prominent in comparison to other RSVP details.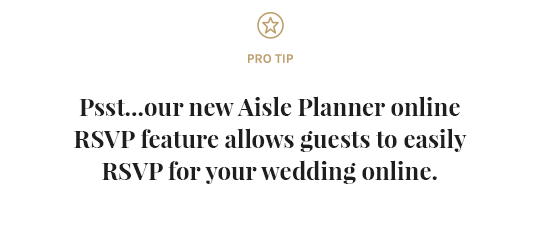 3. Make RSVP'ing Easy

Your invitations should include a reply card with a pre-addressed and stamped envelope. (If you're worried about all of that extra paper, we love the idea of doing a pre-addressed, stamped reply postcard instead of a reply card and envelope.) You also want to give your guests the option to RSVP online—in this day and age, a digital RSVP option is a must; it's so much easier for guests to RSVP online, and, oftentimes, an online options leads guests to RSVP nearly right away as they're checking out your wedding website...as opposed to a reply card which may sit on their desk or kitchen counter for months before they ever fill it out. (Psst...our new Aisle Planner online RSVP feature allows guests to easily RSVP for your affair online.)
4. Don't Hesitate to Remind Them

When all else fails, it's time to start following up. If guests haven't planned their own wedding before, they often just don't realize just how many things hinge on their reply. A gentle way to remind them of the importance of their RSVP would be to say something like, "Hey, I've got to get a final head count to my caterer by Wednesday. Just wanted to check to see if you and your guest will be able to make it!" Letting guests know that other aspects of planning depend on their reply is a quick way to get them to wake up from their RSVP slumber. Plus, the new Aisle Planner guest messaging feature allows you to easily communicate with guests via email—making it as simple as ever to shoot out a quick reminder to all of those late-to-reply invitees of yours.

Photo courtesy wedding photographer Vienna Glenn

Stationery by Smitten on Paper
Michigan wedding planner Rhiannon Bosse