Glass Event Boutique
Massachusetts and Rhode Island


At Aisle Planner, we love nothing more than the insider's access we have to a network of seriously accomplished wedding pros. From the best of the best in catering, to planners who are worth their weight in gold (and then some), we're constantly tapping into our favorite professionals to deliver you the best wedding-planning tips, tricks and tales. Today, then, we're so thrilled to have the chance to sit down with Elizabeth Lutz of G L A S S Event Boutique to chat about her wedding-planning history, experience, and brand vision. Read on for some industry-insider's info before you get to planning your Big Day!

Tell us about your path to becoming a wedding professional.

I've had a lifelong dream of working for myself. I grew up in an entrepreneurial family and dinner table discussions about the family business were my favorite thing. I graduated college and moved from my home state of Wisconsin to Massachusetts. I took a temp job as a legal secretary at a local law firm and would have never guessed that would be my introduction to wedding planning.
The owners of the law firm knew I didn't know a soul, and they introduced me to a boy living in one of their apartments. This is where I enter the wedding planning world—who knew? This boy, who was actually my future husband, lived above the shop of a local wedding planner. Life happened, and I found myself presented with the wonderful opportunity to shadow with her. I had no idea at the time, but she was one of the most sought after, well-respected planners in our area. She was beyond gracious and accommodating and allowed me to shadow and begin my career learning from the absolute best. This opportunity is a gift I will never take for granted. I was hooked instantly.
Fast forward a bit—I then went to work for the largest, most established caterer in our region. No one knows how to run an event like a caterer, and I was learning from the best in our region yet again. I held numerous roles from event planner to management to marketing to new-venue start-up. After four years, over 400 events, planning with over 300 couples, and serving 19,000 guests during my biggest sales year there, I felt it was time to live out my lifelong dream. I started G L A S S. There is NO comparison to my days of catering vs. wedding planning. The learning curve was steep to say the least.

I was prepared to some extent and welcomed the challenge, but to say no one has a single clue as to the actual scope of a planner's work until they've stepped in those shoes is an understatement! I took it slow, was conscientious every step of the way, nurtured all of my industry relationships, soaked up every single bit of knowledge I could from everyone around me, revised my process as I went along, and this year, I am so honored to be named the Best Wedding Planner and Designer in Rhode Island. I could have never done it without my fabulous mentors along the way.
What is the shortest amount of time you've planned a wedding in?
Just under 3 months, but I could do it quicker ;)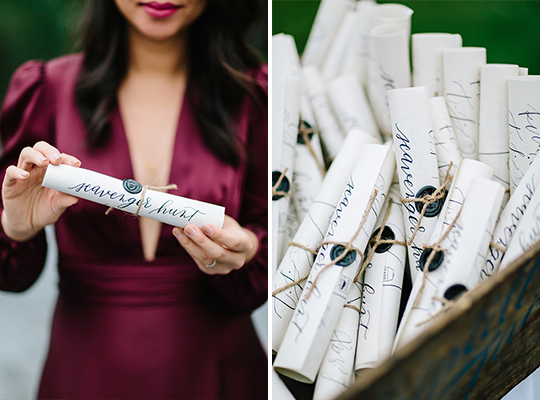 Photo courtesy Studio 1208

Why did you start GLASS Events?

I started G L A S S to fulfill my own dreams, but it has turned into so much more. My clients have shown me gratitude that I could never imagine. I wish I could gift wedding planning to every couple. I quickly learned how valuable a planner is, and my reason for G L A S S shifted. Today, my reason is to provide peace of mind, wealth of knowledge, emotional support, and partnership to my couples during this fun (but often stressful) time in their lives. I'm also very fortunate to have the flexibility that goes along with being self-employed, and that benefit is not something I take lightly,
What did it take to build your business/brand?
Time! When I first started, I felt like I had to "prove" to everyone I could do this—and prove it instantly. You know what I learned? It takes time: time to hone your craft, time to earn the trust of vendors and clients, time to build your portfolio, time to learn the ropes. There will always be quickly rising stars, but there is nothing wrong with slow, controlled growth—that kind of growth allows you and your brand to grow simultaneously and in a sustainable way.
What is the biggest lesson you learned from being a business owner?
Get your business happenings in order first and foremost. Learn general bookkeeping, put systems in place, research tax codes, speak to an accountant, etc. That is a learning curve above and beyond the actual practice of wedding planning and one that can make or break your success.
What is a "GLASS couple" like?
Oh my gosh, my clients—I'm spoiled. They are the absolute BEST! They are driven, smart, organized, respectful, fun and stylish.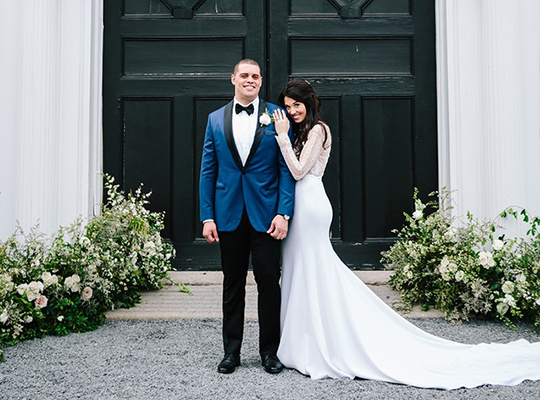 Photo courtesy Studio 1208
Tell us about your process.
That is what makes a planner valuable, right? My overall process is one that is very personable and customized with a focus on the actual planning experience as much as the wedding day. We will plan for months, and it's so important to me that the overarching feeling is one of ease and enjoyment during the entire planning experience.
My clients are discerning and seek an elevated experience. They travel, they carry heavy roles at work, they are committed to family and friends, and due to all of that, their spare time is limited. We begin by defining their work flow and then I tailor my planning approach to meet their needs. I maintain a commitment to a small number of wedding clients each year—only about five! It allows me to get to know them on a level no other vendor has the opportunity to do, and it allows for a greater awareness of all the moving parts of their big day and unparalleled attention to each client.
My planning approach is flexible, yet no detail is overlooked. I'm creative but highly organized and I'm always transparent with my couples. My services have grown to offer Full Planning + Event Design and Day-of Styling. It's all housed under one roof, and there is a very tried-and-true process to accomplish it all! And, when it comes to any and all wedding details, my clients know they can approach me with anything and everything. I also have a very strong commitment to taking care of my vendors and venues as much as I take care of my clients.
How does using Aisle Planner help you deliver the client experience you want to?
It has changed everything. A hallmark of my planning is I make sure the planning process is enjoyable. A huge part of that is how I manage my communication with clients. How do I keep things organized without overwhelming them with information and tasks? The answer is Aisle Planner. I could sing your praise for the next 10 pages...not to mention the clean aesthetic of the site and its tools is visually appealing and also lends to an uncluttered workflow.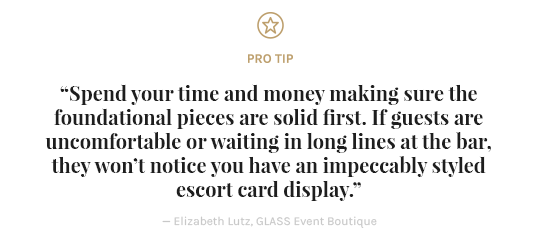 What is your favorite Aisle Planner feature? (And why do you love it?)
You can't make me pick one! I think, for clients, the Style Guides are the best feature. They allow us to speak to each other via photos. I learn so much about them from our Style Guide discussions. They are a huge part of my design process. For me? I truthfully would have to say the "Contacts" section. To be able to load everything from proposals to budget and payment info, special notes and all general communication for each vendor in their own area has been a game changer.
Anything you are particularly excited about working on this year?
Yes! At about this time every year, I start to see my weddings really start to take shape. It's beyond exciting to see each client's vision start to come to fruition. I'm excited to see them all come to life. Also—a rebrand! I began G L A S S the very same day we found out we were going to have our first baby. I was an instant hot mess and remember just needing to move ahead. I picked the name G L A S S for many reasons but never conveyed that through branding (which is a total shame because I'm a business and marketing graduate and know all of my marketing faults!). Not to mention, I was in such limbo that my branding, and even the name of my company, is inconsistent on my social channels, etc. Time to make it all cohesive!