Are you and your significant other hungry for some spontaneity and adventure? Maybe you're both a go with the flow, casual couple whose romance burns vibrantly but you want to save some money and invest it in your futures. Eloping feels like a very in the moment whimsical thing and you may be imagining writing your vows on a menu and sneaking into a museum with a few of your very eclectic friends to elope just like Channing Tatum and Rachel McAdams in the movie, The Vow. Or possibly you had a traditional wedding planned all along and a pandemic or another unexpected thing happened and eloping is starting to sound really good right about now. However you've reached the decision to elope or if you're weighing your options, we're here to fill you in on what eloping actually entails. Hint: It does require some planning.
The Merriam-Webster definition of eloping is as follows: To Run away secretly with the intentions of getting married usually without parental consent. Not to say that eloping never aligns with this idea but this is an outdated definition. Eloping used to be stigmatized as a secret marriage at a drab courthouse and that's just about it, but eloping is actually very common now and can still be a very special and beautiful way to say "I do."
1. Who Are You Inviting?
Modern eloping doesn't mean you can't tell your family and friends. It's up to you and your partner whether or not you want a small group of the most important people in your life there or not have anyone there at all. It's also your decision whether or not you want to notify people. We encourage couples to share the decision with those closest to them to minimize hurt feelings. Whatever you choose, know that it's your day and your choice matters and should be respected.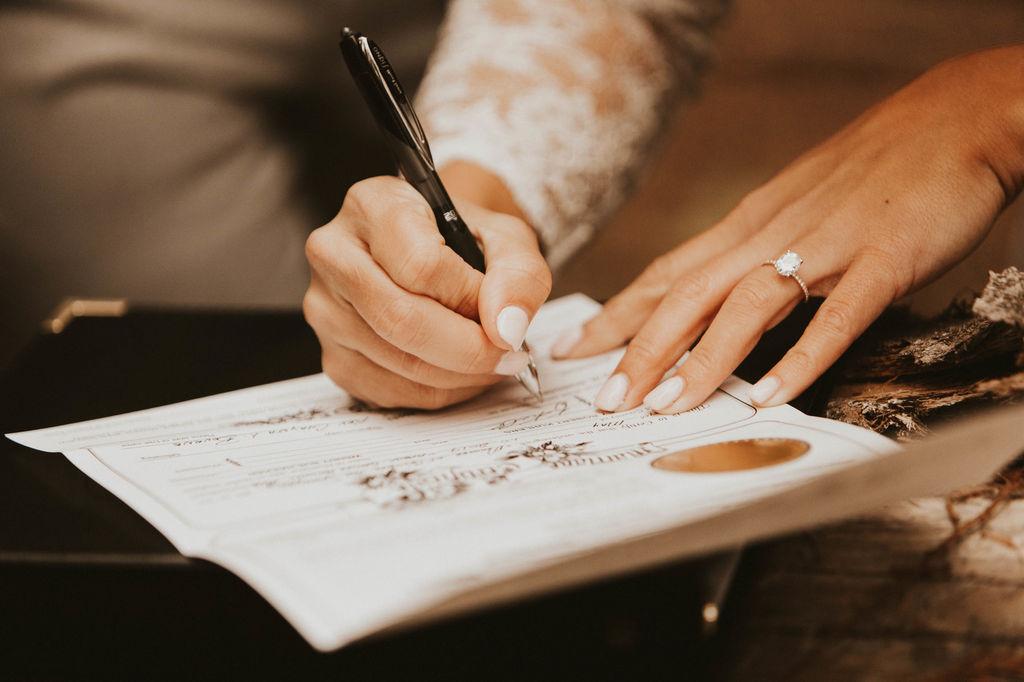 Photo courtesy of Tayler Ashley Photography
2. The Legalities of Marriage
Marriage is a legal agreement after all, so before you decide to do a destination elopement and go to a different state or even country, carefully go over the legal requirements for marriage at whatever location you're looking at. Brush up on the United States Marriage Laws. Wherever you are, you'll likely still need an appointment, officiant, a witness, and a marriage license. Make sure you figure out the legalities before getting to the fun stuff.
3. Planning the Ceremony
A little planning can go a long way. Talk with the officiant so they're on the same page as you and everything goes as planned. You can still add traditions to your ceremony. Planning the first look, walking down a makeshift aisle to a special song, writing vows, exchanging rings, and having a champagne toast to cheers your marriage. Read more about 7 Sweet Wedding Traditions to Include in Your Elopement.
4. Vibe & Theme
Just because you aren't doing a traditional wedding doesn't mean you can't choose a look and feel. Think location, color palette, décor, wardrobe. These are things that can also be included in an elopement, not just a traditional wedding. It's these little details and finishing touches that'll really make it memorable.
5. Budget
Although it's significantly less than a traditional wedding, you still have to think about budget. This is still your big day with your love! You need to come up with a budget to organize it and have it authentically represent your union.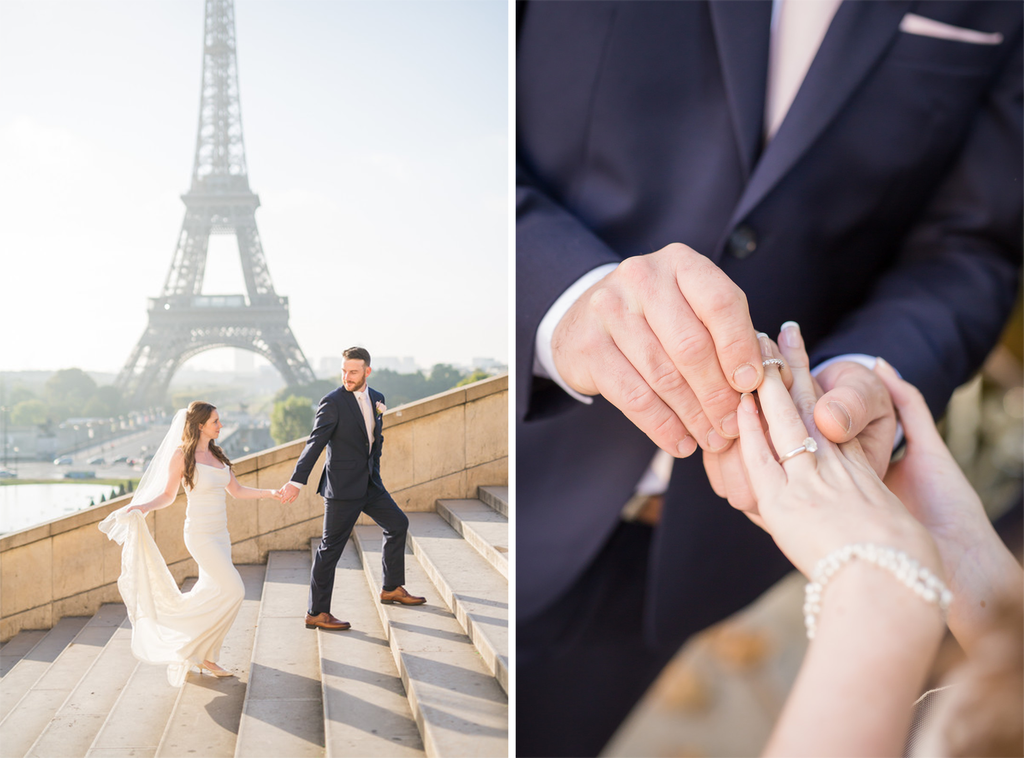 Photo courtesy of Paris Photographer Pierre
6. Traveling & Vendors
Choose a romantic location to fit your desired theme. It could be a place that's special to you and your partner, where you met, or where you shared a date you loved. Do you want it indoors or outdoors? At what time of the day? These are all questions that'll help you figure out what you need to book ahead of time and how you can plan accordingly with vendors.
Do you want food?
Your makeup and hair done?
A florist for a bouquet and some small moveable arrangements?
A photographer?
We recommend hiring a photographer and videographer to document your special day. This is such an important part of eloping, especially if you choose not to invite family or friends. That way they can feel included and still get to be a part of it.
7. Reception & After Party
You eloped and you can still party if you want to! Maybe you and your now spouse want to party just the two of you at a special location with dinner and dancing. Or you want to have a small reception with the people you love. Where will the reception be? A backyard? A beautiful park? A venue? These are all things to plan ahead.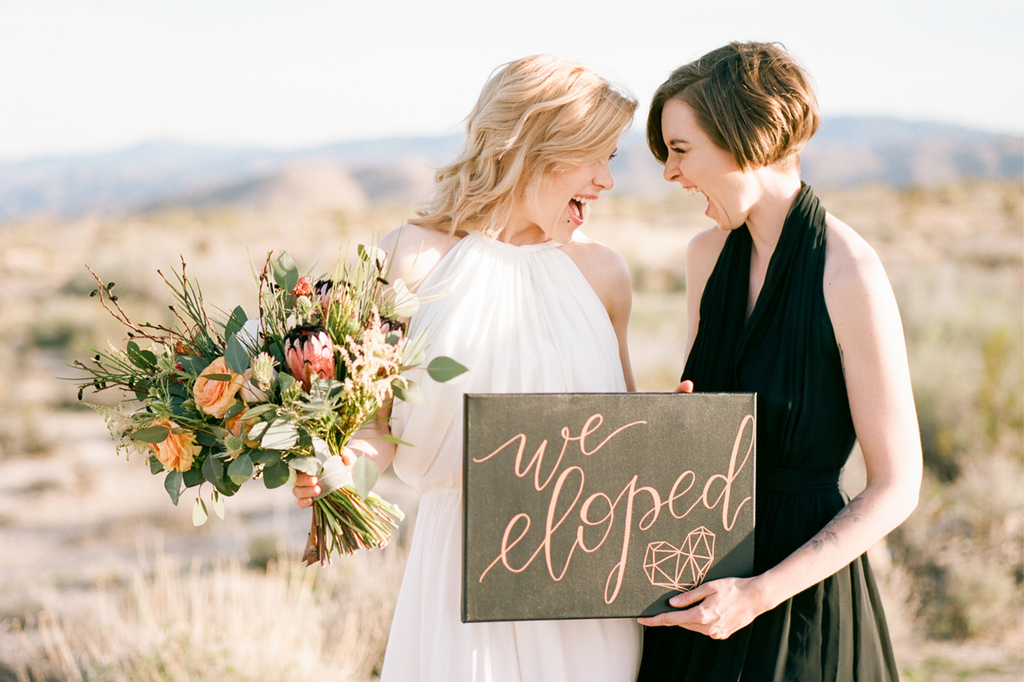 Photo courtesy of Jessica Schilling Photography
8. Wedding announcements
Your elopement was intimate and unique, now others can still be a part of it when you share the good news with them! Send an announcement with some gorgeous shots and you'll get the congratulations that are in order and some of those beloved wedding gifts in the mail.
Your elopement can be anything you want it to be. The possibilities are truly endless.