Grit & Grace
Washington D.C.


Today, brides- and grooms-to-be, we're so excited to announce we've got the genius minds behind Grit & Grace on Aisle Planner to chat about everything from their wedding-planning process to their biggest piece of wedding-planning advice for couples. Seasoned event planners and designers Laura Ritchie, Christie Yerks, and Brittany Hagaman of Grit & Grace bring together their broad range of backgrounds (in everything from fashion and film to catering and hotels) to plan, design and execute seamless, stunning soirées for their clients...with a focus on event customization and très chic design aesthetics, and some serious creativity. Read on for the full Grit & Grace story and some seriously savvy pro tips.
Tell us about your path to becoming a wedding professional.
In a weird way, I always knew I was going to be a wedding planner. With a background in fashion show production and a degree in fashion merchandising, I loved the dynamic between logistics and design. After graduating college, I worked in hotels and catering for about five years before starting my own company. This base line for space, food, and vendor relations was the cornerstone for being successful today.
Why did you start Grit and Grace?
We started our company out of a need for an accessible, relatable, and unique wedding planning experience. We were always much more than just a coordination team, and fulfilling that niche for the fashion forward, slightly quirky, envelope-pushing designs that can be found in memorable events was a path we wanted to pave. We love pretty, we love flowers—but we want those oohs and ahhs from guests at every single turn, from invite to send off.
What did it take to build your business/brand?
A lot of guts, a big leap of faith, and networking like a boss. Quitting my day job initially was really hard, but having a few major personal hurdles in front of me helped me make the choice to just leap. There is never a good day to quit your job, so you just do it and figure it out. I then spent an entire year weaseling my way into every networking event, taking every client, and never saying no. It was being humble and hungry that paved the way to where we are today!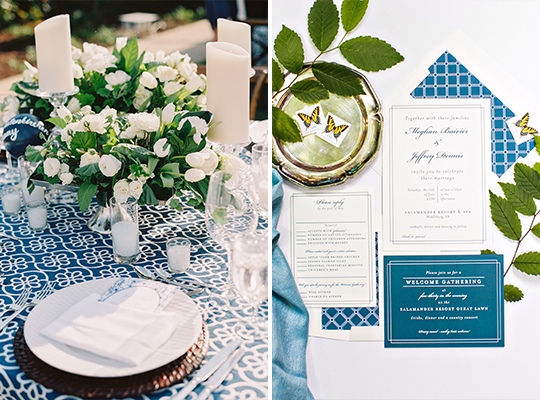 Photo courtesy Katie Stoops Photography
What is a Grit and Grace couple like?
Our ideal couple is happy, focused on their marriage, and is trusting. We are professionals and we want our clients to trust that we have their best intentions, budget, and design at heart all the time. We love thinking out-of-the-box, and ideally our clients can't seem to find their wedding on Pinterest or in a magazine already….that's because it will be unique and creative and just for THEM!
Tell us about your process.
We work in a very purposeful order and have developed an effective cadence to the way we plan and design. We first set up their timeline for planning around their schedules and what's necessary, then we create a budget based on what's important to their vision as well as what's normal for our area. Secondly, we get to work booking our vendor team. Much of the first months of planning deal with getting vendors interviewed and booked. Lastly, we work on the overarching design elements. With typically around 12 months to plan, it's not always jumping into design at month 10 when really themes change, colors evolve, and new rentals become available. We try to stave off the true nitty-gritty design until much closer to the wedding date itself so it's fresh and exciting for all!
What is the smallest budget you've worked with? The largest?
$40k-$700k
What is the shortest amount of time you've planned a wedding in?
Three weeks!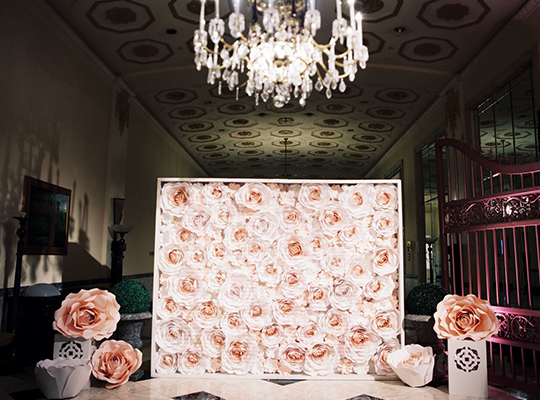 Photo courtesy Abby Jiu Photography
How does using Aisle Planner help you deliver the client experience you want to?
Aisle Planner has been a huge saving grace for our team and our clients. We use it has visual aide for all members of the client and vendor side as well as a place to hold us accountable for actions. We love the easy-to-understand dashboard and enjoy sharing this virtual deliverable to our clients.
What is your favorite Aisle Planner feature?
We love the payments notifications and budgeting feature. It really helps put into perspective where money comes and goes to and, when we're pushing and moving the mula around or holding decisions accountable, it helps keeps things on track. I love that we can assign jobs to different people and set reminders as well.
Anything you are particularly excited about working on this year?
We are so excited for some of our designs for this year—we're really stepping into some more modern aesthetics that bring our love of interior design full circle.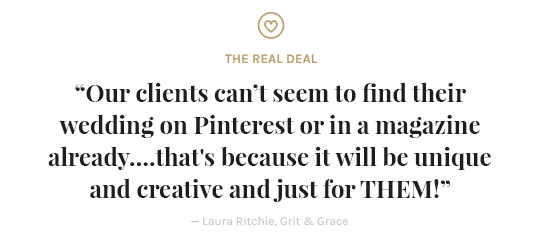 What is your biggest piece of advice about planning a wedding?
Quality over quantity across the board. Choose the best and most confident vendors, narrow down your headcount to your main crew, and, design-wise, go big in high impact/high touch places instead of lots of little DIY that ends up being thrown out after all.
What is the biggest lesson you learned from being a business owner?
Having processes and the back-of-the-house in order makes the front end work more efficiently. Also, being a small business owner comes with a TON of highs and lows. Creating time for work and time for play keeps our brains fresh. For example, we don't do work on Sundays—period.