Deciding on a wedding cake is not always as simple and delicious as it sounds. There are many things to consider when trying to fold out the cake batter of your special day but there are some creative ways to make sure that your cake suits you and your partner. Consider having a cake that matches your invitations, the bride's wedding gown, or a specific element of the reception decor design. When budgeting for your cake or dessert, it might not hurt to be a bit more generous than you'd planned. Some say you should count on spending about $5.00/person for a full slice of wedding cake. Flavors should be decided upon in unison, and it's crucial to be aware of any health and allergy concerns!
Your cake is more than just a fancy centerpiece for your special day. It is one of the main additions that reflects the beauty of your ceremony and the enjoyment of your beloved guests. The AP editorial team have rounded up some of our favorite cake and setting pairings, along with helpful tips and tricks to inspire creativity and make this seemingly daunting wedding task just a little bit sweeter!
Classic Cool
For more traditional weddings, cakes are usually 3 tiers or more depending on your guest count and budget. To stay in line with a classic theme, your cake decor should be guided directly by your wedding details. Strong, elegant designs such as floral elements and gold lacings may be the way to go. They may not be edible but consider adding real flowers to the cake that match the bridal bouquet. Roses, pearls, lace, and other grace-filled design elements can add a romantic and almost vintage feel to your cake. For a topper, consider the newlywed figurines, ribbon, lace, or a bow. Long standing tradition is that the bride and groom save the top/main tier of the cake for their first anniversary. If you are partaking in this tradition, be sure to check with your baker about freezing options.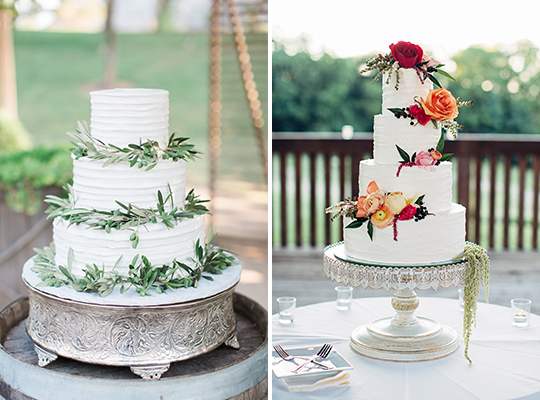 Photo courtesy Jenna Joseph (left) and Brooke Courtney (right)
The Adventurers
Bye-bye to the days of a traditional white cake! Say hello to a new millennia of colorful desserts. This year, some of the top trends of wedding cake design include traditional cake with accoutrements that provide personality, as well cakes with non-traditional ingredients or decor, such as doughnut or cookie cakes. If you're considering a non-traditional or more adventurous dessert, make sure that the type of dessert you choose reflects your theme. You can also have additional cake snacks such as petit fours, or even a full Viennese table with miniatures.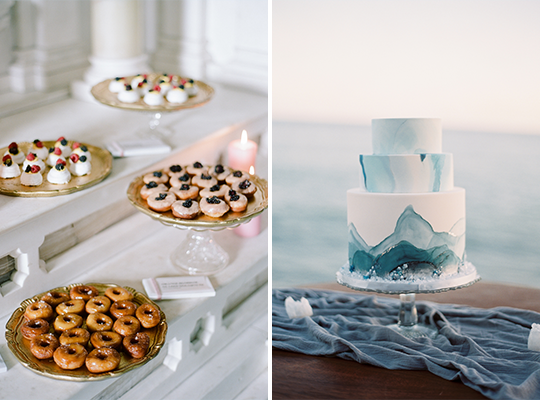 Photo courtesy Rebecca Yale Photography (left) and Blue Rose Wedding Photography (right)
Regal and Rustic
Go naked! Another recently popular trend we've discovered is the fully naked or semi-naked wedding cake. Scandalous, we know. These types of cakes allow for the natural, earthy baked brown of the cake to show through, creating a great canvas for earthy florals, fruits, succulents, and butterflies to adorn your dessert. Speak to your baker about cake flavors and cake elements that cater to both you and your partner. Fondant possibilities are endless and experienced cake designers should be able to create as best they can a cake that suits your desires and designs within your price point.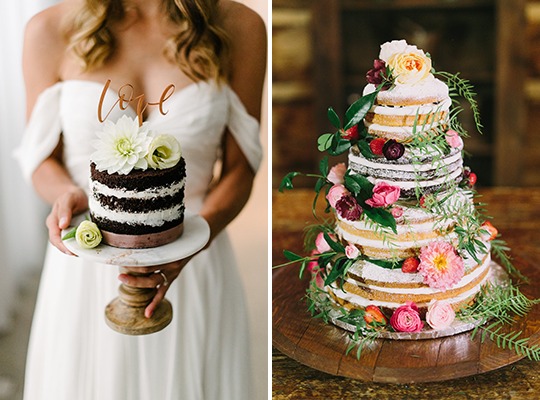 Photo courtesy Jasmine Nicole (left) and Jake + Necia (right)
Trusty Themes
If you are searching for a way to link your dessert with your ceremony or reception directly, a themed cake is a great idea. Consider your wedding's inherent merging of cultures, interests, and styles to reflect both of your personalities. When speaking to your baker, it can be helpful to use an inspiration board that features your color scheme, a monogram, your floral arrangement or invitation style. If you are going for a more whimsical look, have fun by adding characters or iconography from movies, shows, songs, or albums.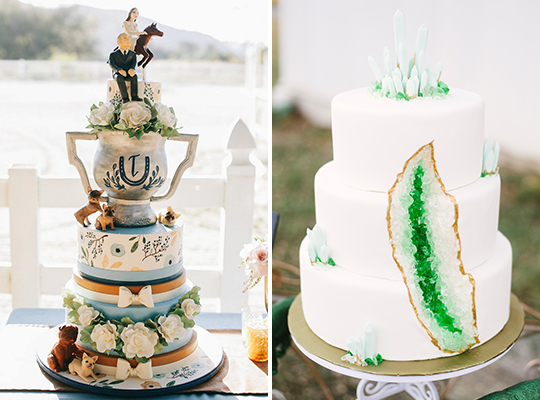 Photo courtesy Brandon Kidd (left) and Alicia King Photography (right)
Psst...want more? The Aisle Planner inspiration gallery is full of mouthwatering inspiration from cakes to doughnuts to cookies.