We're willing to bet that reading online reviews of wedding vendors has played a big role in your search for your wedding dream team. There are dozens of incredible professionals out there pursuing almost anything you could want for your special day. Reading reviews of previous couple's real life experiences will help you find the vendors that best fit your style, personality, and budget. All it takes is one good review to say, "That's exactly what I'm looking for!" or "They sound awesome!" to commit and book that vendor. So make sure to pass that good karma along after working one-on-one with them yourself.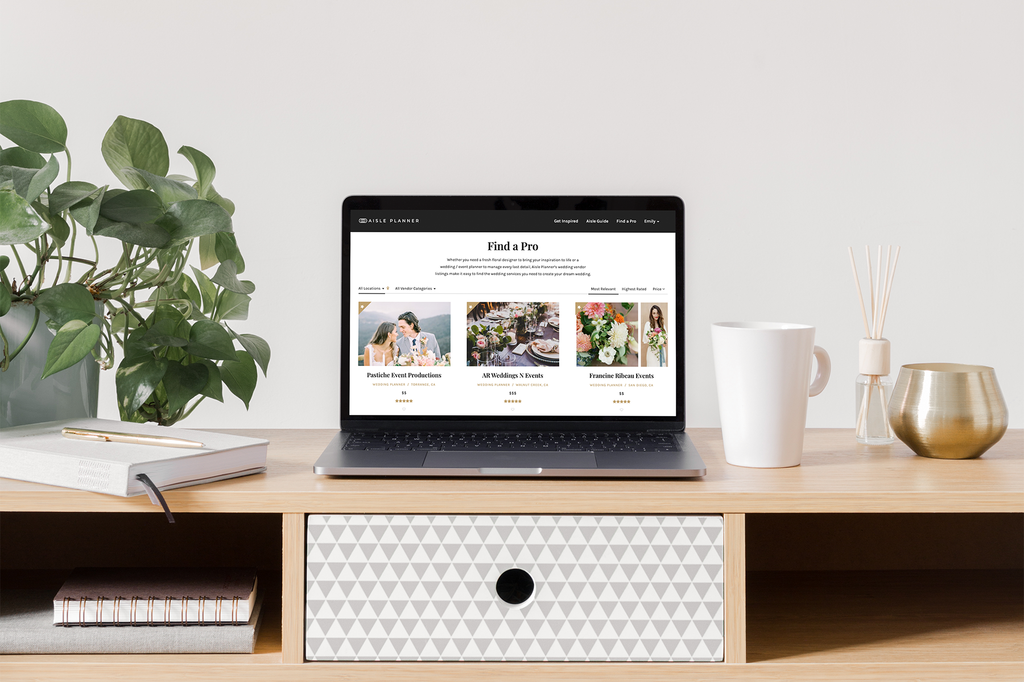 Find your wedding dream team in the Aisle Planner Marketplace!
By the time you get back from your honeymoon, your wedding day will be in the rearview mirror. You'll go back to work and life will get busy. But, there'll be other couples out there looking for the most up-to-date information on the wedding pros you worked with. Try to leave your reviews as soon after the wedding as you can to not only help other couples, but say thank you to the amazing vendors who turned your dreams into a reality! Reviews are extremely beneficial to supporting their businesses and helping them grow. But, before you jump right in, here are a few pro tips for making sure your reviews are both constructive and beneficial to the ones reading it!
Be Specific
It's really important to give examples of what your team did to make you feel welcome, important, and any significant moments that proved their expertise. Was it their diligent responsiveness, or the fact that they were proactive and guided you through the process? Maybe they offered quality that went above and beyond other people you looked at. Or, perhaps it was the way they took the time to listen and get to know you, so your personality was woven into every aspect of your special day.
Be Honest
While it's extremely valuable to give your honest opinion, it's important to be polite while doing so. Not everyone is worth five stars, and if there were a few missteps or something you wish they had done better, it's okay to offer constructive criticism. While you want to touch briefly on it as part of an overall positive review, you may also want to follow up with them privately to discuss it in more detail.
Also, remember that everything you write lives on the internet forever. Be sure to double-check your contract if you're considering writing a negative review about someone, because you might've overlooked a clause prohibiting you from writing any negative public criticism.
Edit for Clarity
Sometimes we get so excited about sharing the amazing details of our special day that we gush! We get writing in that stream of consciousness and ramble about details other people might not understand or relate to. So before posting, do a quick read through to make sure that what you wanted to say is clear and comprehensible.
If there's anything you're passionate about, positive or negative, be careful about writing in all caps. It has the potential to make you look like a bride or groomzilla rather than making a valid point. At the end of the day, you want to make sure your review would be helpful to other couples who might be considering hiring them.
Shout Out Names
Giving a shout out by name can be super beneficial to future brides and grooms! Perhaps that wedding planning company they didn't think they could afford gets a shout out for a rockstar junior planner that's right within their budget. Or, it can be something as simple as knowing that one specific stylist at the bridal salon has a great way of putting nervous brides at ease. Knowing who to request can make all the difference in wedding planning.
Pros have all had both positive and negative reviews. As long as they're fair and honest, they'll appreciate and respect your criticism. Just as importantly, couples who'll soon be in your shoes will genuinely appreciate your time and honesty too.