Keen Events
Portland, OR


It's always a treat for us when we get the chance to talk shop with our community members. We draw so much inspiration from their unique perspectives and extraordinary events they create, even more so when it's done with global impact in mind! We're talking with Elise Handler, owner of Portland's Keen Events - a boutique wedding planning service - and Oregon's first Green Certified Wedding Planner!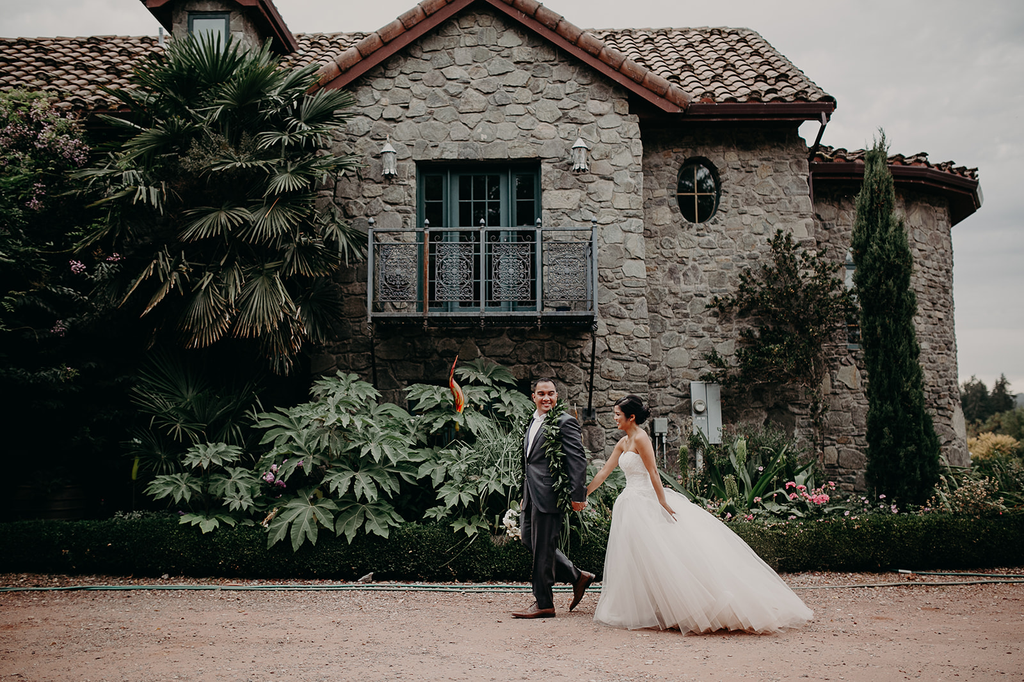 Photo courtesy Emily Turner
Why did you start Keen Events?
I've always been a creative, detail oriented, and timeline driven kind of person, so when I was lacking creativity at my 9-5 desk job, I started to look for an outlet to channel those skills and interests. When attending weddings, I always found myself observing the details and helping however I could. I would notice things like guests walking around not quite sure of where to go or what to expect next. I realized there's something to be said about a couple who puts thought into their guest experience and who wants to ensure their day runs smoothly. Often much of the day-of details are put on friends and family and I realized the importance of a wedding coordinator.
I'm passionate about helping couples simplify their planning process for this major life event. That's why I started Keen Events. Whether you're getting yourself through nursing school, working a full-time job, or just not the planner type, planning a wedding can be a burden and major stress on life. Being able to help couples execute a flawless day drives me and fulfills me. My couples are all incredible in each of their unique ways, the wedding professionals I've worked with empower one another, too, and it's made me feel part of our local community. I truly believe I needed my couples as much as they need me.
What is a "Keen Events couple" like?
My ideal couples are happy. They understand that although this is one of the biggest days of their lives, their wedding day is only the beginning of the foundation of their marriage. I've never been one to base an ideal client profile off things like occupation or education level. My ideal couples value each other's feelings and input, make others feel good, and want to create a day unique to them as individuals and as a couple. When I have my initial consultations with potential clients, I can tell by their tone, their questions and their focus whether they are the right fit for the services I provide. I am exceptionally grateful for the clients who put their trust in me for their big day - my couples are the coolest people.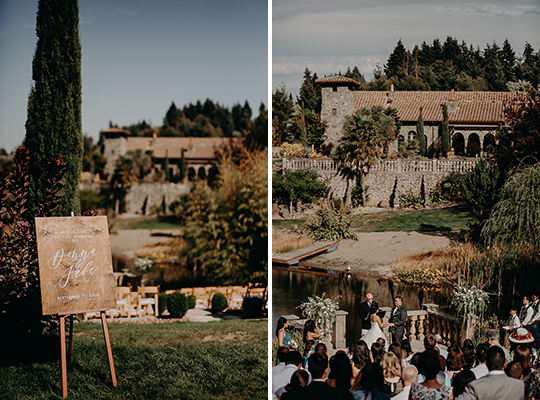 Photo courtesy Emily Turner
Based in Portland, Keen Events is Oregon's first Green Certified Wedding Planner - congratulations! Was that always the plan for Keen Events? If not, what was your motivation to become a Green Certified Wedding Planner?
I knew very little beyond the basics of recycling before getting certified. After I coordinated my first wedding, I was astonished by the amount of trash stacked up at the end of the night so I started paying attention. I coordinated a wedding where guests left their trash and plastic water bottles all over the place. I also coordinated a wedding where folks searched a park until they located the remnants of a single popped balloon. I observed both situations, and how they made me feel. As I did some research, I quickly learned that the average wedding produces 400 pounds of garbage – the wedding industry produces over 1 billion pounds of garbage per year. I am constantly giving advice to my couples, so I wanted sustainable practices to be a topic I included in my consultations. I felt it was my duty to educate my clients, and to do this well, I needed to educate myself first. That's when I found the certification program.
Have you always been environmentally conscious?
Not nearly as much as I am now. Things like trash on the beach always bothered me, but now I feel a call to action, I'm compelled to do something about it. In all aspects of life, it's a pretty good philosophy to leave a place better than you found it. Living in Portland, we have a lot of resources that make being environmentally conscious super easy and I'm hoping other cities will soon follow some of the practices Portland has in place.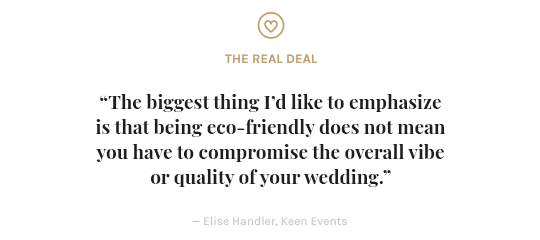 What are your favorite eco-friendly elements to incorporate into your couples wedding design?
Almost every aspect of a wedding can incorporate eco-friendly practices, from invitations to honeymoon,. The biggest thing I'd like to emphasize is that being eco-friendly does not mean you have to compromise the overall vibe or quality of your wedding. While awareness is growing, I still think there is a stigma that eco-friendly means a backyard wedding with all DIY décor.
One of my favorite couples of 2018 brought all their own rugs from their home which both looked incredible and provided a very personal touch. It was so special for them to get married on a rug that will forever be in their home. In addition to using a couples home as inspiration, I always love curating beautiful rentals and of course candles (lots of eco options) always make a wedding more romantic. The more you reuse and re-purpose, the more you can save planet and your budget.
Awareness and appreciation for sustainability are increasing in the Wedding and Events industry. With that, what changes in design or execution do you hope to see more of this year?
As awareness increases, I'd really like to see more couples working with their florists to ensure minimal waste. Flowers are such a significant part of a wedding day design and vibe, and I think it's crucial to talk with your florist about green practices. There are creative ways to re-purpose your floral arrangements, both on your wedding day and after. Example: move your floral installations from ceremony to reception and create a beautiful photo backdrop for your guests to take those all-important selfies. Ask your florist if they provide pickup services so any reusable stems, greens or supplies can be reused. Do a little research to see if your colors can accommodate flowers and greens that can be dried and used in soaps or a wreath. Find a local hospital, nursing home or other deserving party and donate your flowers. And, of course, ask about flowers that are compostable. Flowers usually consume a large portion of a couple's budget so I'd like to see more thought into this area.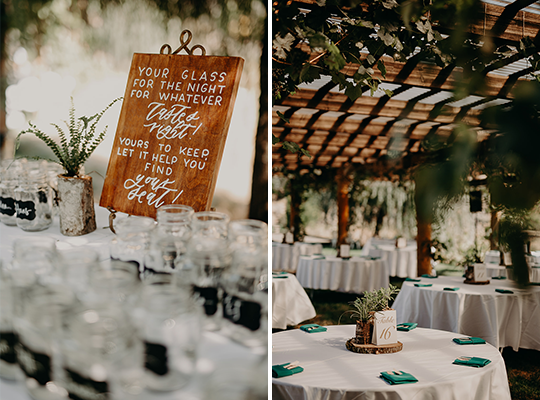 Photo courtesy Emily Turner
What advice do you give couples who want to incorporate sustainability or environmentalism throughout their wedding design but are unsure how or where to start?
In short: ask questions.
When you're considering your venue, think of your guests' transportation. Can they walk to the venue from their hotel? Can they use ride sharing services? Selecting a venue that is easily accessible and one that can accommodate both ceremony and reception is one of the easiest ways to implement green practices. Feel empowered to ask your caterer about their ingredients. Utilizing local, organic, and seasonal ingredients in your menu will make your wedding more unique, higher quality and, of course, sustainable. Ask your florist what inventory they have available – they may already have things that you can use instead of going out and purchasing them on your own. Not only can it save you money but you also won't need to worry about storing or reselling the items you purchased if you reuse decor from your vendors.
What are three easy ways couples can make their big day better for the planet without giving their planners an even bigger headache?
Share "going green" with your guests! On your wedding website, include a note about why and how you are hosting an eco-friendly wedding. By bringing this to your guests' attention, they are more likely to be mindful on your wedding day. Something as simple as guests reusing their wine glass will cut down on the amount of water wasted when cleaning.
Reduce waste in any area you can. Instead of a favor that is wrapped in single use plastic and ribbon, opt for an edible favor that doesn't need wasteful packaging. I always think it's classy when I see couples forgo favors altogether and make donations to a charity close to their heart instead. There are some amazing eco-friendly organizations who would appreciate a donation.
Purchase carbon offsets. There are companies who you can work with to purchase carbon offsets which help balance the carbon footprint your wedding leaves and will help support the planet.

Hero photo courtesy Mela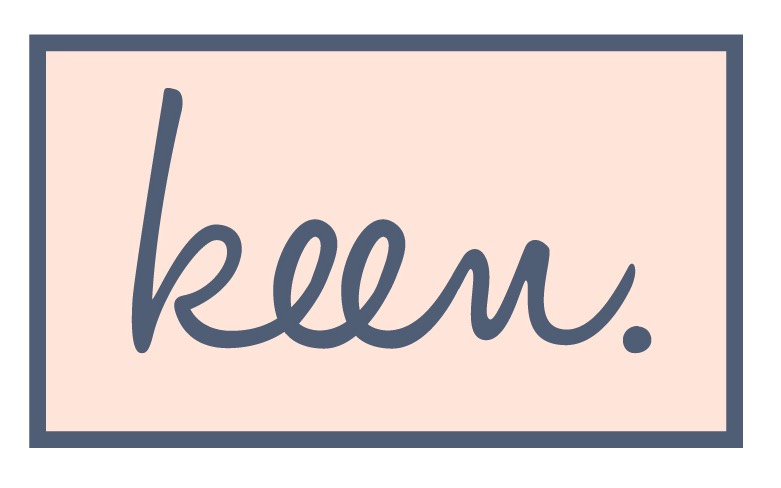 View Website