Outdoor summer weddings are an absolute blast—but there's one major thing couples hosting outdoor weddings in the sunshine worry about: how to keep wedding guests cool on a hot day. After all, no matter how stunning your ceremony or fun your reception, if guests are drenched in sweat and crazy uncomfortable, they'll likely be itching to leave faster than you can say air conditioning. Today, then, we're breaking down our top tips for ensuring guests stay cool, comfortable, and ready to celebrate (sans sweat stains) on your Big Day.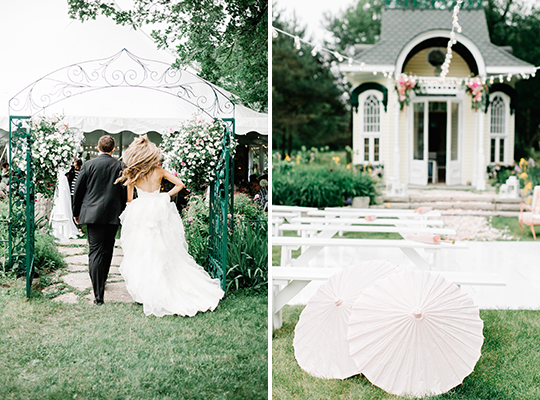 Photo courtesy Vienna Glenn
1. Parasols
If you're getting married under clear skies on a bright day, placing parasols at the welcome table can be a great option to ensure your guests stay shaded while they wait for the ceremony to start and, later, during cocktail hour. For a budget-friendly option, have your planner look into paper parasols in your wedding colors. For those with more budget to spare, opt for decadent fabrics, pretty prints, or even embroidery on your parasols. Major bonus: these can make for stunning photographs. Pro Tip: Make sure you include a note attached to each asking guests to close them during the ceremony if you don't want the look of opened parasols in the audience to crowd your photos or take away from your overall wedding aesthetic.
2. Spritzer Station
We're all well aware of water and iced-tea stations at weddings, but what about a station with refreshing facial spritzer bottles? Set up tiny spray bottles on a table that guests can fill with an array of aromatic options (like pre-made lavender, eucalyptus or tea-tree ice water, divided up into giant glass mason jars with faucets—like the kind you'd pour lemonade or iced-tea from—with petals throughout each for an added level of pretty). You can also purchase travel-sized bottles of a great rosewater facial spray (or purchase a few big bottles and have your planner divvy it up into the smaller take-away bottles for guests ahead of time). Another great option? These tiny bottles of Evian mineral water facial spray make things easy on you and your planner (you won't have to worry about making the facial spray yourself), and they feel like absolute heaven on a hot day.
3. Frozen Treats
We all know the quickest way to your guests' hearts is through food. A great way to ensure your guests don't get grumpy under the sun, then? Through frozen treats. We love the idea of a snow-cone station, an ice-cream truck, a sundae station, or even a popsicle stand. From frozen candy (think: a freezer or ice-chest full of Reese's, Kit-Kats, M&Ms, etc.) to frozen adult beverages (hello, margs!), the options for keeping guests cool with yummy treats is absolutely endless.