So, it happened. That special person in your life asked you the big question. Whether that be your sister, family member, or bestie, you've had your maid of honor proposal and you're feeling over the moon happy because it's the highest honor! You have been chosen because of your bond with the bride and will be given the opportunity to showcase your support and flex your planning and problem-solving skills. But with great power comes great responsibility. Being a maid of honor is no walk in the park. It's more like an exhilarating and absolutely rewarding run. You'll be the glamorous hero that will be the bride's backup at every twist and turn.
At this point you may be feeling a little overwhelmed and unsure of what being a maid of honor even entails. Your feelings are totally normal, and lucky for you, many have been in your shoes. We've got you covered and have concocted a checklist of everything you need to know about your duties as the MOH throughout the entire wedding process.
Before the Wedding
1. The emotional support
The moment the bride said "yes," a long to-do-list was formed in her mind. The wedding is going to take up a lot her mental head space and it's your job to check in on her and see how she is doing. Be there to listen and to take her out to help get her mind off things when needed.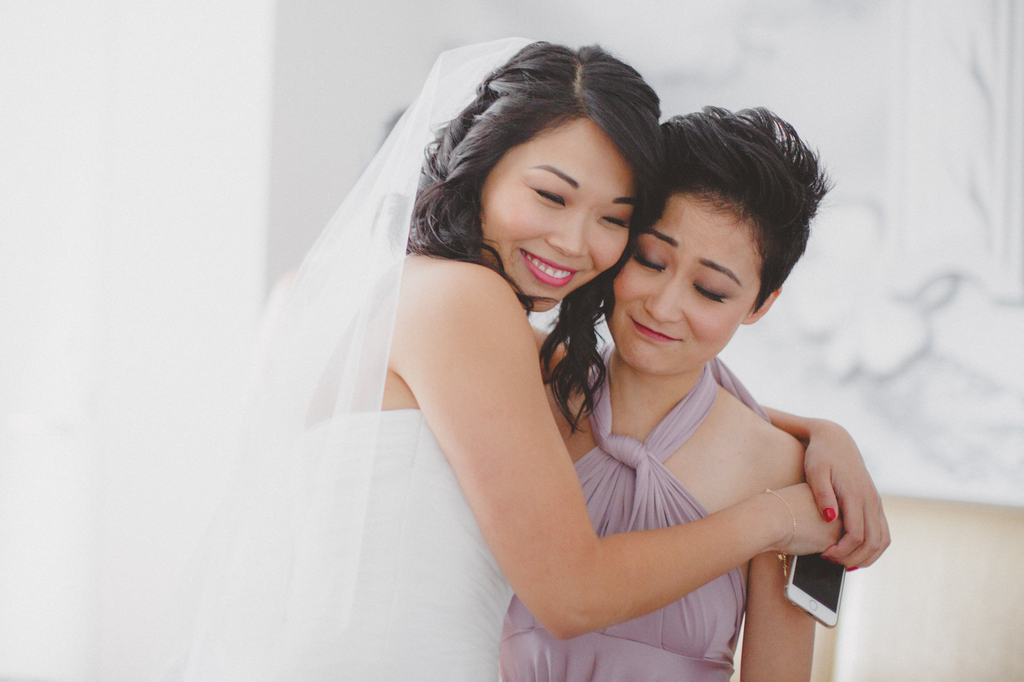 Photo Courtesy of Ty James Photography
2. Wedding details and DIY
The bride will likely come to you to get your thoughts and feedback during the wedding planning process. She may ask for tips on the cutest color scheme, wedding cake flavors, and décor, and she'll definitely want your input on the bridesmaid dresses! We are a generation of DIY, so if the bride is looking to make anything, prepare for the possibility of throwing a DIY party. You, the bridesmaids, and the bride can get together, put on your favorite tunes, bring out the wine, and tackle some DIY. This makes it less of a load on you and it's more fun!
3. Finding the perfect dress
You get to be there when she says yes to the dress! This is one of the most exciting parts. You get to venture through different dress shops and help the bride choose her dream wedding dress. This is the time to be honest and constructive, but kind and gentle. Be in tune with what the bride is expressing and notice what dress makes her glow and what makes her eyes sparkle a little extra. Always remember that this is about her special day and even if a dress is not your personal style, it may be the perfect one for her.
4. Peace keeping and communication
You're going to be spending a lot of time with the other bridesmaids and maybe even the bride and groom's family so make sure that you read the room and ease any tensions before they build up into something bigger. The last thing anyone wants is arguments to arise that could have been easily avoided. Most issues can be avoided with clear communication. You will be the master at communicating and knowing everything that's going on and keeping everyone in the bridal party in the loop.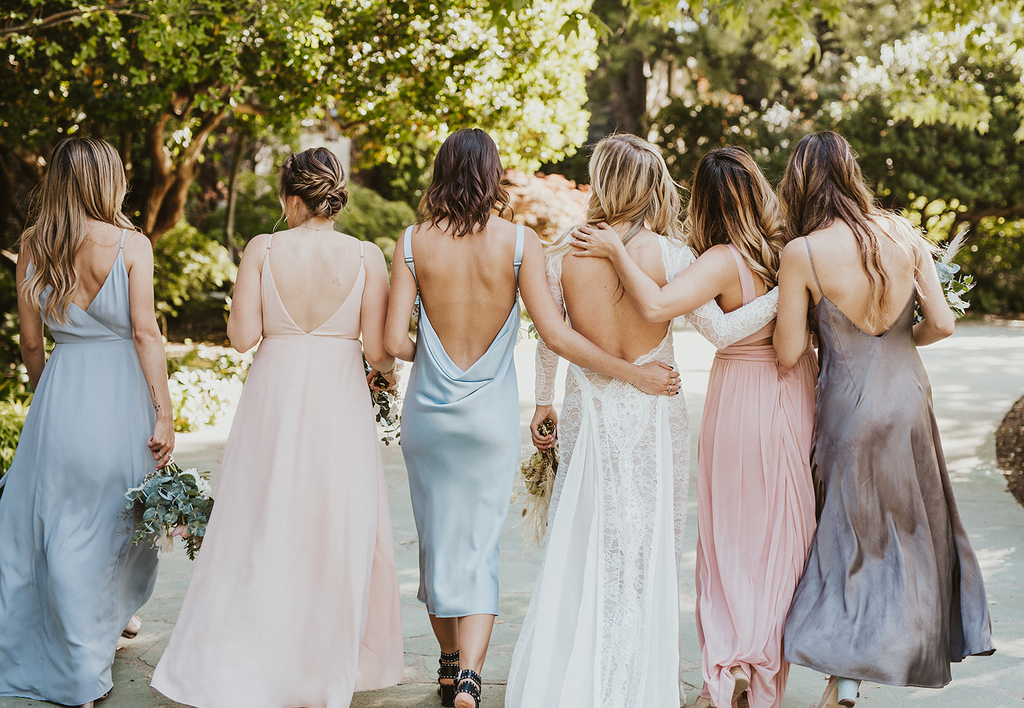 Photo Courtesy of Katie Edwards
5. Plan the bridal shower and bachelorette party
Planning the bridal shower and bachelorette party are the two larger scale duties the maid of honor has but they are not something that you have to solely to take on financially and logistically. It's your responsibility to delegate and ask the bridesmaids and family members to assist in the process. As you're planning both of these events, have the bride at the center of your inspiration. Think about what she would and wouldn't like. Chances are this is second nature to you and you're an expert on what your bestie likes.
6. Attend any pre-wedding ceremonies
If possible, try to attend all other pre-wedding events, like the engagement party, rehearsal dinner, and any other big gatherings before the wedding. This doesn't mean you are responsible for planning them, but it's important that you're there to support the bride as the wedding day inches closer.
During the Wedding
7. Assist the bride in everything and anything
Help the bride with her hair and makeup, if need be. Keep her hydrated and fed (but not too much food, you don't want her to be stuffed before her wedding). Make sure the dress is in pristine condition and ready for her to put on when the time comes. If she needs to go to the bathroom and the wedding dress is already on, you're going to be the one helping maneuver and hold the dress. It will make for a fun story to tell and a great memory!
8. Set the mood
On the day of the wedding, the bride will be a mixture of feelings, ranging from excitement to nerves. People easily latch on to what other people are feeling so make sure that you have a very calming and positive attitude. Sooth when needed and keep the excitement high by sharing funny memories, jamming out to the best pre-wedding playlist, and having some champagne to lighten the mood (you don't want the bride and bridesmaids to be drunk so go easy on the bubbly).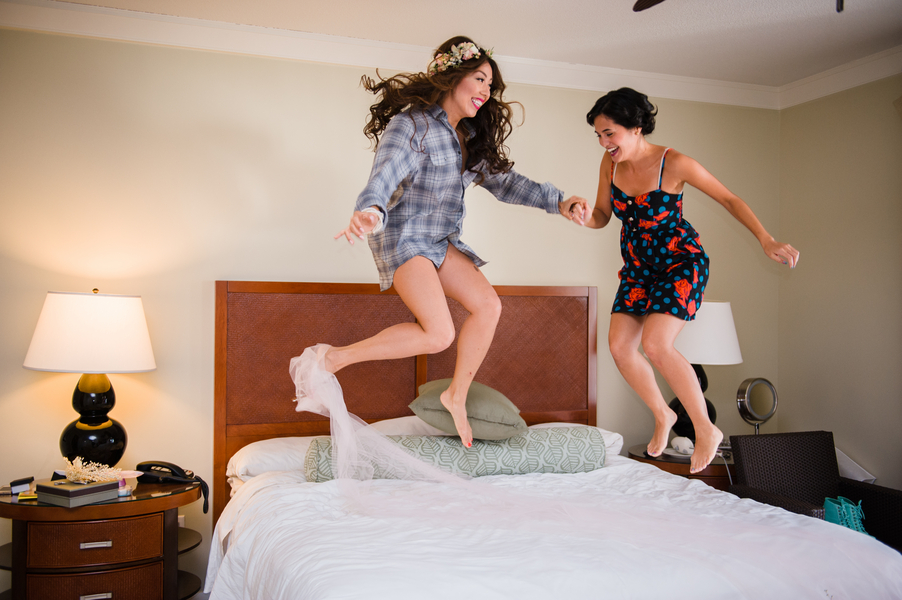 Photo Courtesy of Mariah Milan
9. Be in the know
If you know who needs to be where and what time everything needs to happen then the bride won't have to worry about it. Plan ahead by being aware of who the vendors are, what their contact information is, and by having a schedule of the day. If the bride has a wedding planner then you may not have to worry about this too much but either way, it's good to know how everything is meant to be orchestrated so you can keep an out and make sure everything runs smoothly.
10. Hold the bouquet, adjust, and smile
This duty is very easy but so important. As the maid of honor, you will be the last of the bridesmaids to walk in and you will stand behind the bride. Once she walks down the aisle she will pass the bouquet over to you and you will hold it for the remainder of the ceremony. When the ceremony is over you will pass it back to her. Make sure that you adjust her train whenever needed and that all of her accessories and pieces are in place. And of course, smile!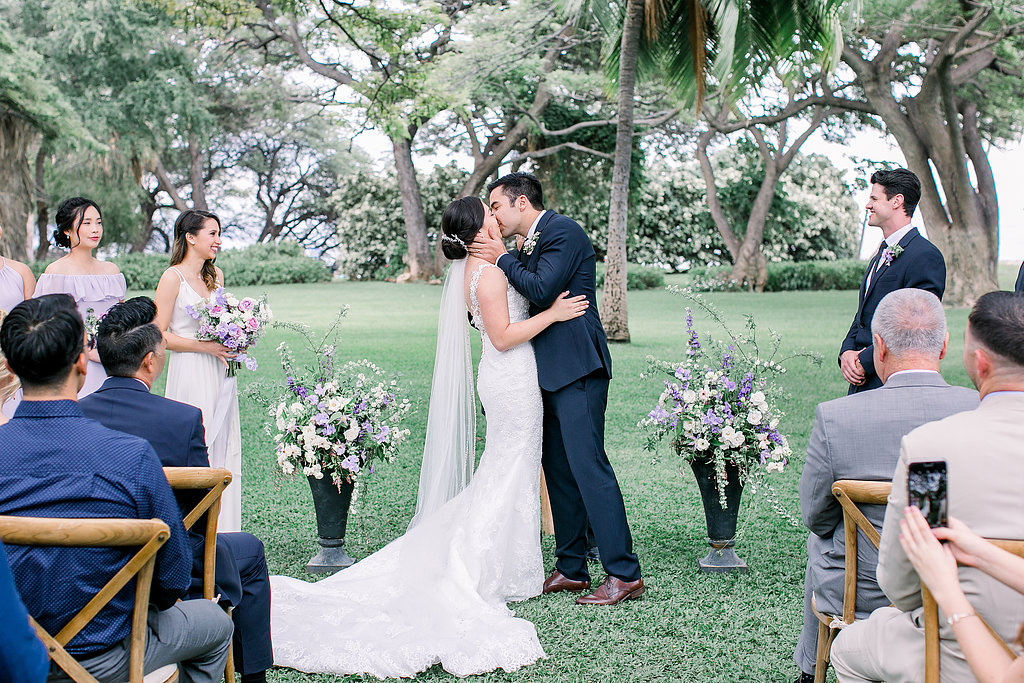 Photo Courtesy of Petula Pea Photography
11. Give the toast that will bring people to tears
Depending on what the bride and groom want, you will likely have to give a toast. If public speaking scares you, don't worry too much because at this point everyone will have had some drinks. Ensure that you write and practice your speech well in advance and that you don't write anything rude or embarrassing about the bride or groom. If you're having a hard time figuring out what to write, think of a quote or moment to use as the focal point for the toast or check out these tips. This is the time to tell the bride how much she means to you and how happy you are about this new chapter in her life. It can be short and sweet, but the bride will surly love it!
12. Celebrate and have a good time
You made it! You've been the real MVP and you've looked fantastic while doing it. You've worked really hard so enjoy the reception to the fullest. Eat, dance, and cherish this memorable and significant moment in your best friend's life.

Hero Photo Courtesy of Andrew & Jade