When it comes to day-of bridal looks, there's nothing we love more than natural wedding makeup. With billowing ball gowns, lush floral crowns and blown-out beach waves all competing for attention, sometimes it's best—and most impactful—to keep your wedding makeup simple (and stunning). Today, then, we've rounded up three natural wedding makeup looks we love. Kiss the dramatic goodbye (for now), and get ready to fall in love with au-natural.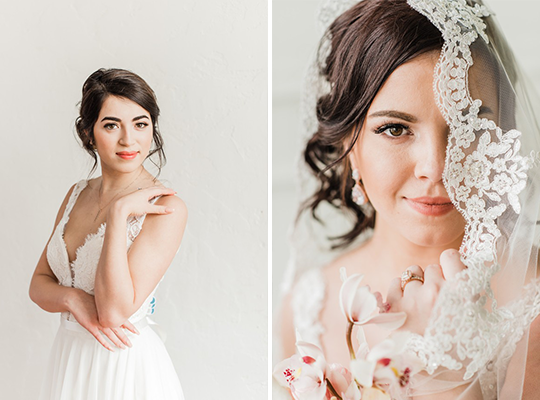 Photos courtesy Simply Korsun Photography, makeup by Edge Hair Makeup and Glam by Vanessa
1. A subtle coral lip

Think of a coral lip as a red lip's sweeter, younger sister. We love that a coral lip still offers a pop of color, without creating a ton of drama or becoming the total focal point of your face—as a red lip tends to do. A coral lip is something anyone can pull off (just like with a red lip, it's all about finding the right coral shade for your skin tone)—and it looks amazing when paired with a soft, bronze-y eye palette. We love this taupey-coral look on this bride, and also love this slightly brighter version of a coral lip.
2. A soft champagne palette

There's nothing more easy-breezy than a soft champagne-inspired makeup palette. Think: subtle bronzes, light pinks, and glimmers of gold in all the right places. This natural wedding makeup look pairs particularly well with a lush, colorful floral crown—as the crown works to add a pop of color to an otherwise muted palette. We love the champagne makeup look on this bride paired with that stunning mustard-yellow crown.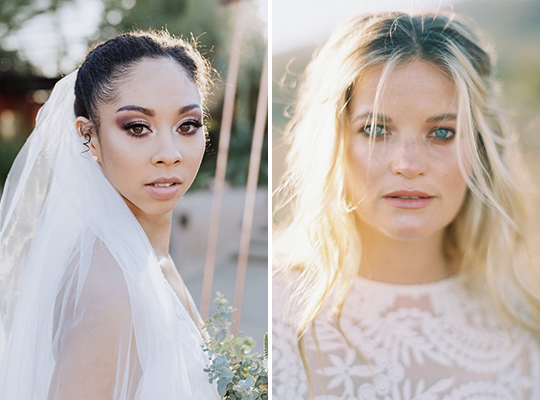 Photos courtesy Ariel Miles Photography and Blue Rose Wedding Photography,makeup by Gabby Flores and Beauty By Melina
3. Eyeshadow used as bottom eyeliner

Dramatic eyeshadow can be super stunning, but it doesn't exactly pair super well with a humid outdoor wedding or au-natural beach nuptials. If you're going for a soft, beachy aesthetic for your wedding, your day-of makeup look should fall in line with that. We love the idea of having your makeup artist use eyeshadow in place of (or in addition to) bottom eyeliner for a softer, "smudged" look. Here, the makeup artist used a bronzy eyeshadow as bottom liner to make the bride's blue eyes pop in a soft way, whereas, here it's used to create a slightly more dramatic "smudged" look.
Psst...looking for more wedding makeup inspiration? Check out all of our favorite bridal makeup looks in our inspiration gallery.