The weddings that take place in the fall of 2019 are set to be stunning, especially if they fall in line with the hottest up-and-coming wedding trends. From simple gowns to dreamy desserts, fall brings a parade of fun trends for couples who want to tie the knot with a backdrop of changing leaves. Read on for nine wedding trends we can't wait to see in the upcoming months!
1. The Minimalist Approach
Weddings are increasingly expensive. One trend attempts to push back at the climbing costs of caterers, dresses, photographers, and other vendors. The minimalist approach can apply to your dress, florals, tablescapes, and other décor. A simple second hand wedding dress still creates a gorgeous picture. Homemade wedding cakes, cocktail hours instead of dinner receptions, and DIY bouquets of wildflowers all fit the bill.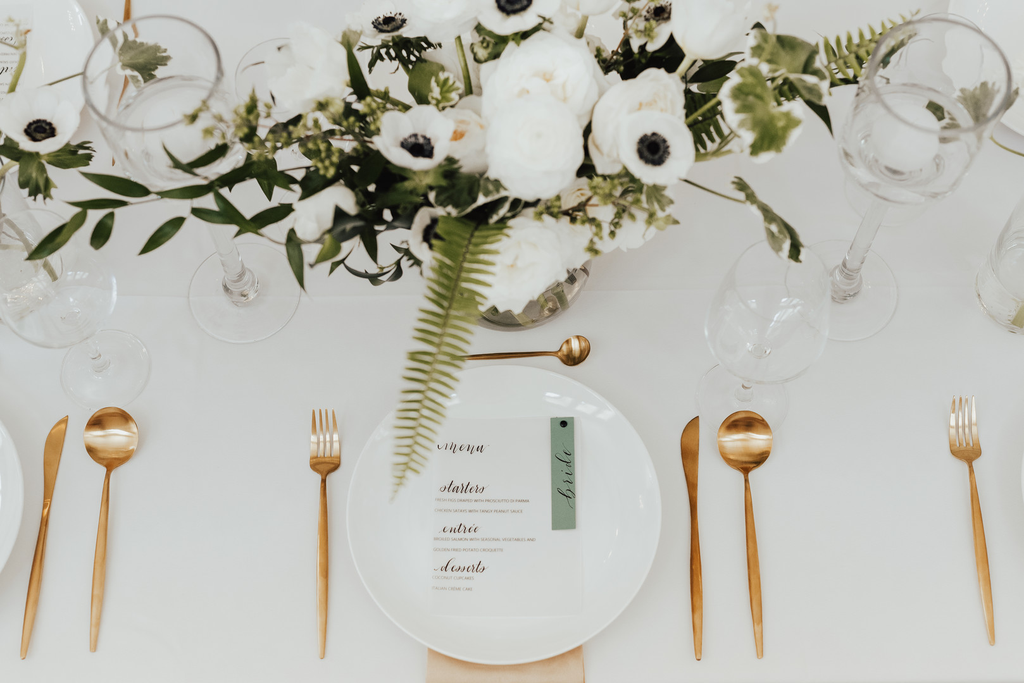 Photo Courtesy of Bruna Kitchen Photography
2. Unexpected Wedding Wear
Fun wedding attire for the bride is a growing trend this season. It encompasses the entire process, from the bachelorette party to the honeymoon. Niche bridal wear goes beyond novelty items for the fall, though. Keep an eye out for sweet floral dresses that can take the place of traditional wedding gowns or bridesmaid dresses, along with rompers or jumpsuits that you can change into for the reception. Just as an FYI, "Engaged AF" tees are all the rage, too.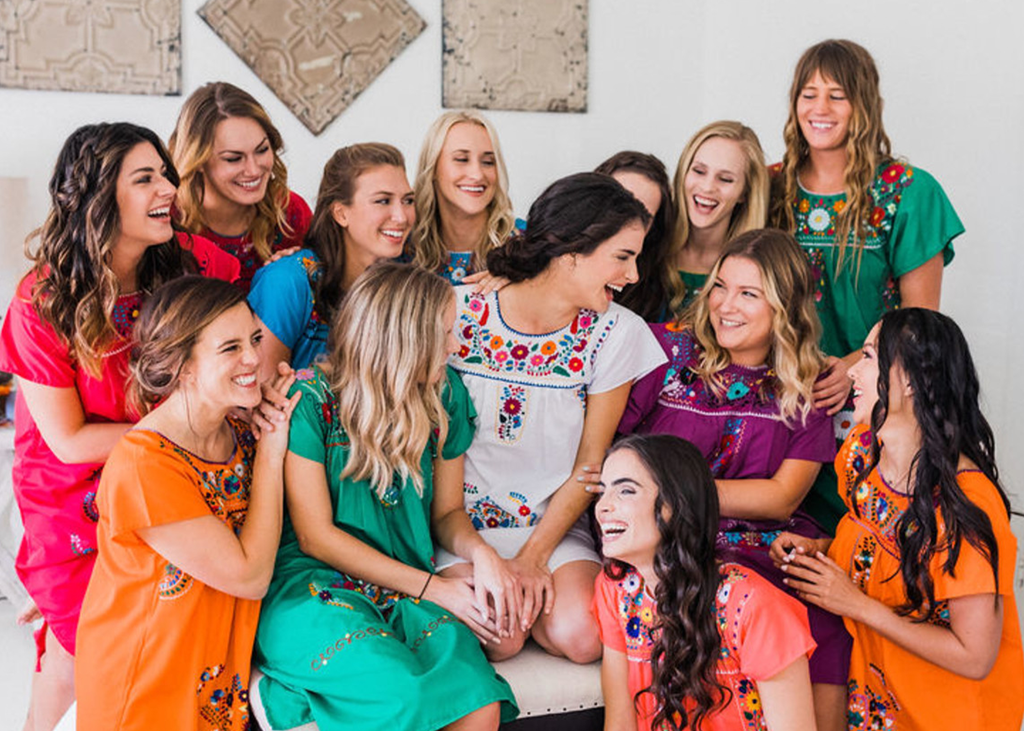 Photo Courtesy of Bonner Rhae Photography
3. Layer on the Bridal Couture
In addition to minimalist wedding dresses, layered gowns are having a moment you don't want to miss. Accented by off-shoulder silhouettes, full sleeves, and long trains, layered dresses typically include some combination of chiffon, lace, and tulle, along with other fabrics that float. The end result has a distinctly goth/Victorian flair that works well for fall—it is the spooky season, after all.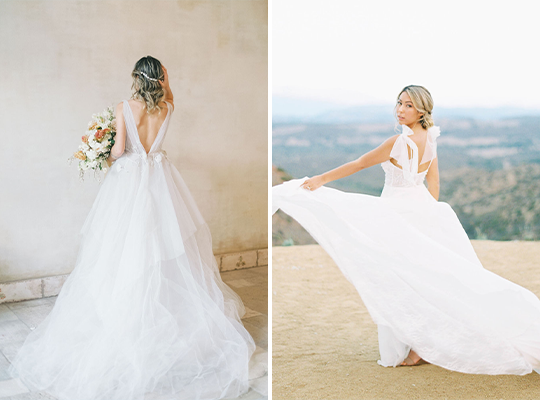 Photo Courtesy of Lauren Fair Photography (Left), Charla Storey (Right)
4. Accessories for the Groom
Your groom needs to worry about more than just his suit this season. The guys are finally getting some essential accessory attention. Just as the bride searches out the perfect pieces of jewelry for her dress, let the groom browse for sleek, masculine accessories that enhance his wedding outfit, whether that be a full tux or his favorite sport coat and jeans. Cufflinks are classic, but why not gift the groom with a new watch? Consider having the back inscribed with a loving message for a more personal touch.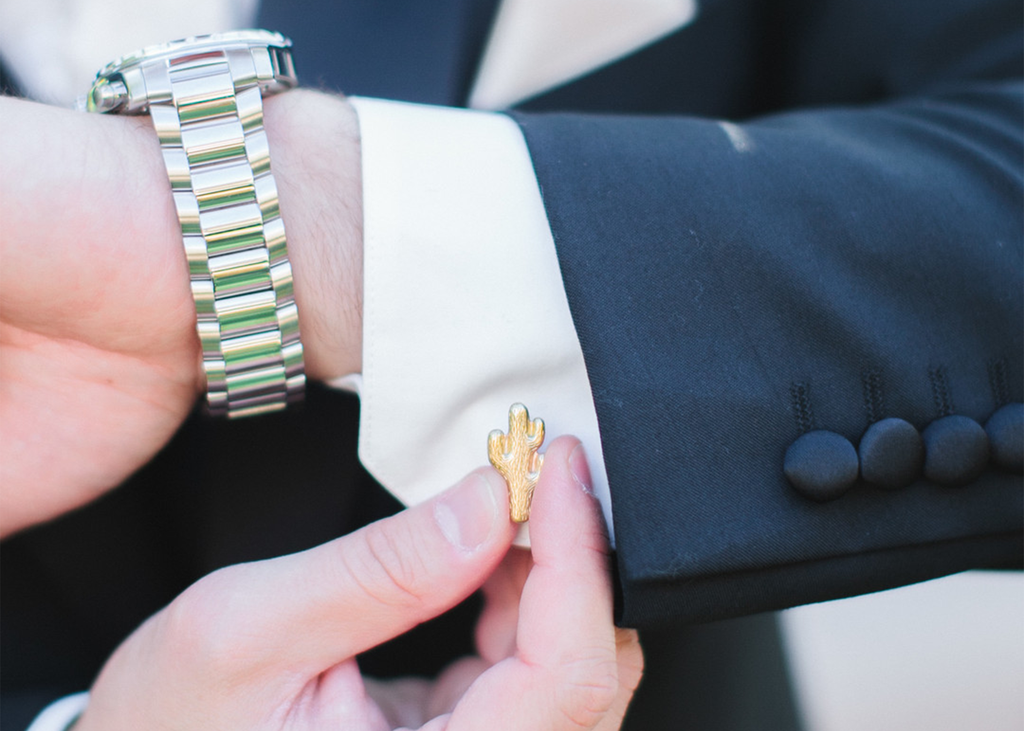 Photo Courtesy of Andrew & Jade
5. 'Gram-Worthy Photo Booths
A photo booth is a hot pick this fall. Especially one with eye-catching, wedding-themed props. A flashy background that incorporates your theme is a can't-miss idea, as well. And, while you're at it, don't forget to come up with a wedding day hashtag. #SayIDo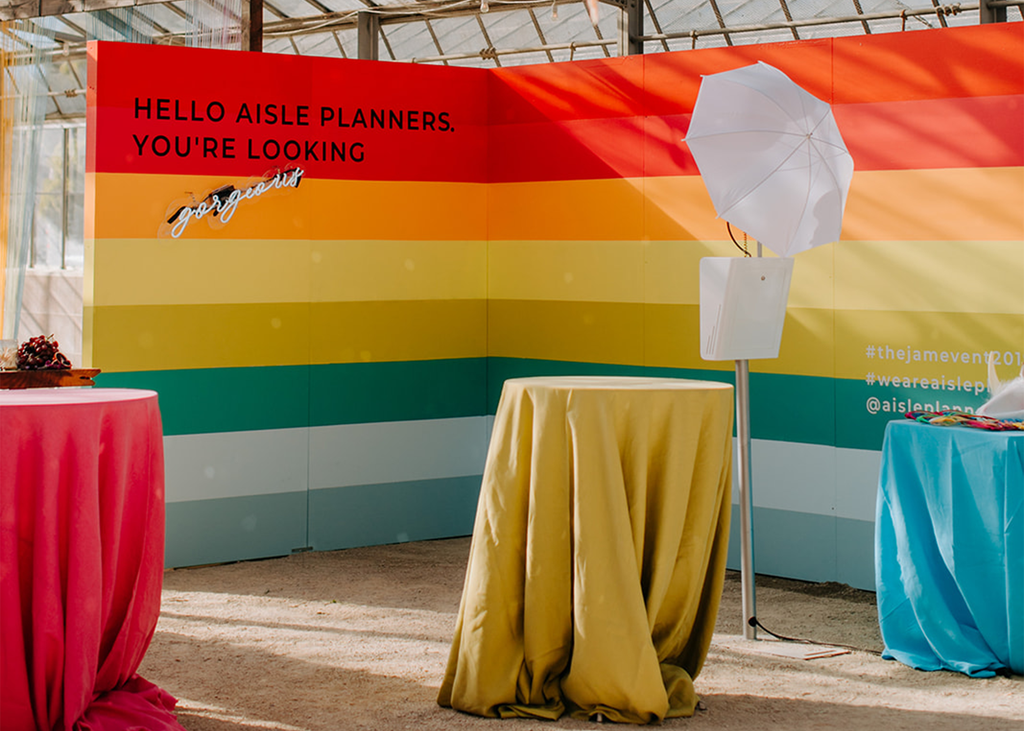 Photo Courtesy of Alexandria Monette
6. A Next-Level Dessert Spread
Cake is so last season. But who needs cake when you can have pie? Pie stations are a rustic option for your fall wedding, and your guests will go crazy for them. Stick with seasonal fruits, and always ask for ornately decorated top crust (You're welcome!). If pie isn't your favorite, then a donut table is just the thing. Delight your guests with some glazed donuts and Boston creams, but include some fancy flavors, too, such as black forest and red velvet.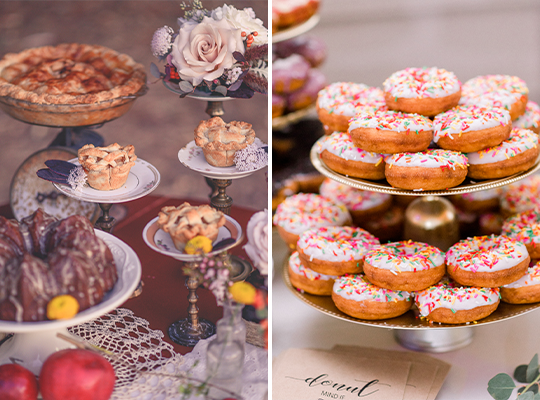 Photo Courtesy of Alycia Creative Photography (Left), Lauren Berry Photography (Right)
7. Sustainable Wedding Décor
As gorgeous as it is, glitzy décor isn't always environmentally-friendly. For that reason, sustainable décor is the next big thing. For you, that might mean all-natural, such as rustic branches and seasonal arrangements, or an outdoor boho destination. Even a seasonal menu is helpful.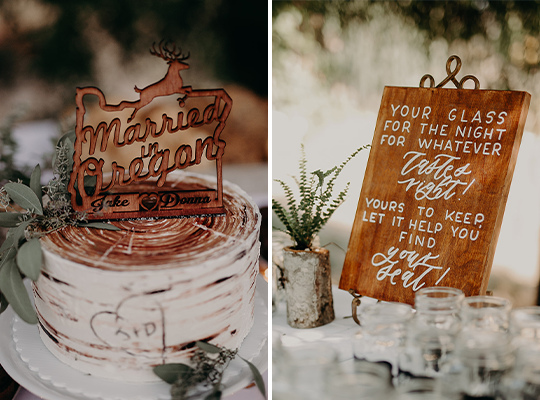 Photo Courtesy of Emily Turner
8. Bejeweled Color Palettes
Burgundy, hunter green, and plum are three jewel tones that will make up the prettiest palettes of the season. Be bold with your décor, fashions, flowers, and cake. Top it all off with metallic accents to ensure the rich shades pop.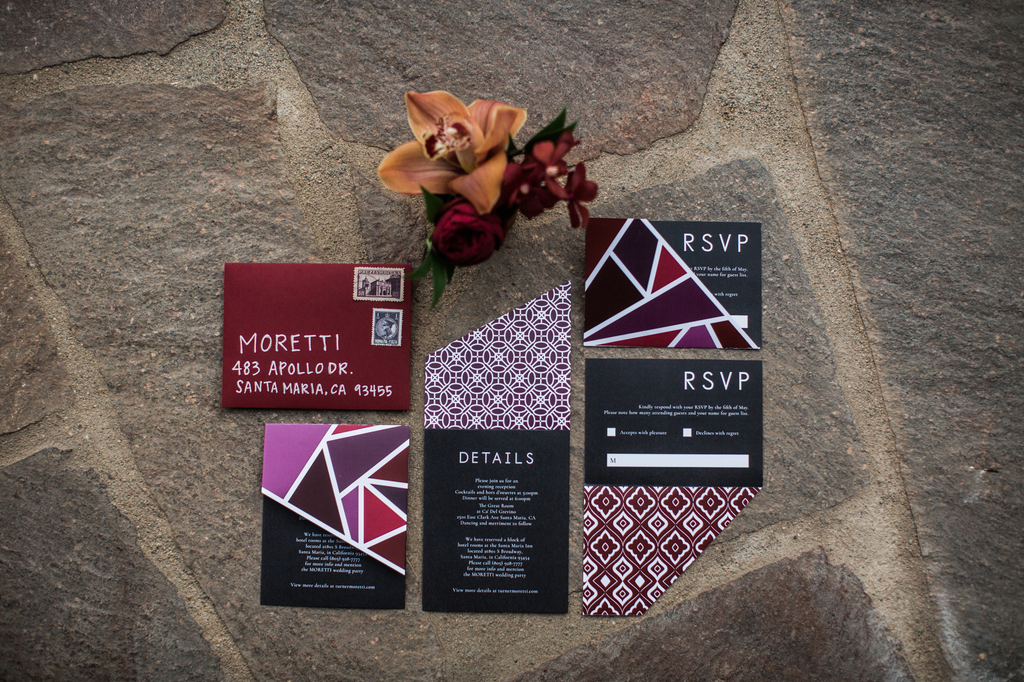 Photo Courtesy of Patrick Ang Photography
9. Mismatched Wedding Fashion
Rather than forcing your diverse group of beautiful bridesmaids to wear the same dress, even if it doesn't suit everyone, pick out a matching pattern or color palette and then let them choose the design that flatters them the most. The bride should get final approval, of course, but having the same print or shade will create the cohesion you want in your wedding photos.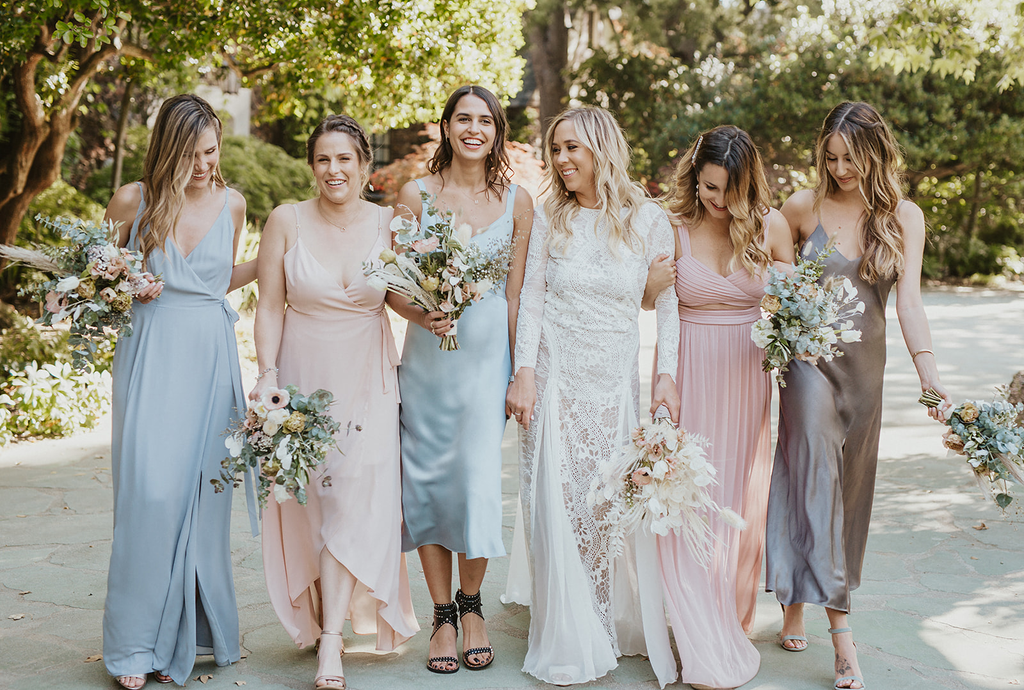 Photo Courtesy of Katie Edwards
Let us know which fall wedding trends find a way into your wedding! How'd it go over with the guests?