Venue shopping can be one of the most exciting parts of wedding planning—it lays the foundation for your entire wedding design, after all. But, it can also be a bit...complicated. With everything from location to logistics to consider and a whole slew of opinions to sift through (thanks, Aunt Sally), knowing what makes a perfect wedding venue can be tricky. There's no one-size-fits-all answer to that question, but there are a handful of things to consider that will help you choose a venue that's a perfect fit for you, your fiancé, and your wedding-day vision. Read on for the top four things to consider when venue shopping.

1. Logistics
Logistics aren't the most exciting place to start when venue shopping, but they are, hands down, the most important. Above all else, a venue has to work for your wedding. When you shop for your wedding-day digs, people always tell you not to try on dresses (or suits) that are way out of your budget, because you don't want to fall in love with something you'll never end up getting. Think of venue shopping the same way. If the logistics don't work, nothing else matters. Maybe you love the aesthetic of that French manor venue, but they have no October dates left and you're dead-set on getting married in October. Or, maybe you just can't get enough of that wide-open ranch, but their noise restrictions mean your party would have to end at 8 p.m. and you know your group of friends won't stand for a party cut short. Have a list of non-negotiables ready, and make sure the venue you're considering can accommodate all of those—if it can't (and if you're not willing to budge yourself), then save yourself the heartbreak and don't look at the venue!

2. Service
Service comes in second on our list of what makes for a perfect wedding venue. No matter how stunning a venue may be, if you're simply not jiving with their on-site coordinator or feel their customer service has been terrible, it's probably not worth booking the venue. If you're having trouble getting anyone to answer your questions or respond to your inquiries from the get-go, things will probably only get worse after you've signed on the dotted line (after all, at that point, they're already guaranteed your money—so why would they go above and beyond to be kind and helpful if they weren't in the first place?). This one comes down to trusting your instincts—you may love the venue, but the people matter more: if you're not feeling good about their on-site team, we say don't book it.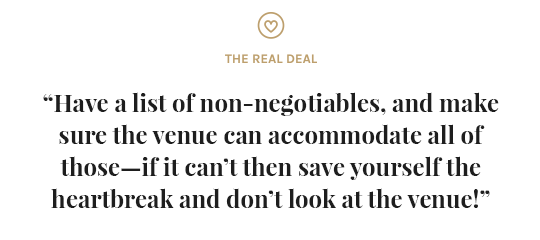 3. Location
Alright, so your list of non-negotiables is covered and you're happy with the service the venue has provided you so far—now it's time to move on to location. This one is pretty straightforward: you likely have an idea of where you want to get married. Maybe it's in the forested mountains of Lake Tahoe or on a chic city rooftop in New York—if you've always pictured your wedding taking place in a certain location with a certain aesthetic, you obviously want to see that vision through when venue shopping. Maybe another venue is cheaper, or maybe a family member is trying to talk you into something more easily accessible—but, if your heart is dead-set on a certain location, you'll end up being disappointed on your Big Day if you try to ignore that desire in the name of pleasing other people or saving money. Remember, though, along with location comes some logistical considerations—like parking—as well, so don't forget about those!

4. Feasibility for Guests
While your and your fiancé's concerns should be at the tip-top of your list when wedding planning, you still obviously have to give some consideration to your guests' needs (unless you're throwing a party for two!). While your own desires for your venue should come first, you also want to weigh those against the feasibility of the venue for your guests. If it's super important to you to have your 85-year-old, fragile grandmother at the wedding ceremony, but the venue you're looking at is only accessible by a set of 500 steep stairs that lead to a sandy beach, you're going to have to make a decision on which is more important—having Grandma there or saying I Do at that venue. Likewise, if it's important for you to have a ton of your friends and family there, you don't want to choose an across-the-globe location that will require your guests book expensive plane tickets and accommodations, as this will cut your guest-list down significantly.

Overall, venue shopping is all about knowing what you want, trusting your instincts, and considering logistics and guests! Keeping the four considerations we broke down today in mind before you sign on the dotted line will ensure you choose a venue that's perfectly suited for your swanky celebration!

Photo courtesy California film photographer Kristina Adams Photography