Ruze Cakehouse
Scottsdale, AZ



Known for its commitment to higher-quality/smaller-batch desserts, innovative designs and ethically-sourced ingredients, Růže Cake House is a mother-daughter bakery responsible for whipping up some of the the most stunning sweets we've ever seen. Today, we sat down with co-owner and creative director Jessica Rose Boutwell to talk everything from fondant to fillings to favorite recipes.
Tell us about your path to becoming a baker.
It's funny because – to this day – I still don't consider myself a baker. My mom had been a self-taught home baker for as long as I can remember. A few years ago she decided she wanted to start a small business creating cakes for friends and family. She enlisted my help to create a Facebook page. I explained she needed a business name in order to create the page, and after a few days of thought, she came back and said she wanted to call her business Mommy and Me Bakery. At that moment, I realized she needed WAY more help than I initially thought! I got involved in helping name the business, and then it just snowballed from there. I had so much fun on the creative side of things, and we realized we would perfectly compliment one another's strengths and weaknesses. So, I do a lot of the conceptualizing, she handles a majority of the baking, and then we do the finishing touches together.
What does "Růže" mean? And, how did you decide on the aesthetics of your brand?
Růže means Rose in Czech. My middle name is Rose, and my mom and I are Czech. It's interesting because, while we never intended our shop to have the look and feel of a European bakery, we hear all the time from customers that it does. So, I'm not sure what came first, the name or our inherent design aesthetic.
What is it like working with your mom?
Hahaha…well…??? Just kidding. It's amazing! Neither of us could have built this business on their own as we truly do complement one another. Anyone who works with friends or family probably knows it takes time to figure out a good working relationship. For us, it took about a year to learn how to communicate with one another. It was difficult, at first, to have a disagreement about a cake design, for example, and be able to explain our differences without the other taking it personally. It took some work, but we finally found a way to say "I don't like that," without the other hearing "I don't like you." These days, we're like a well-oiled machine. I mean, we're still a mother and daughter working together…so we still argue! But now we can disagree and then move on.
We love that you put so much effort into sourcing your ingredients and making things from scratch! You have to tell us what making fondant from scratch is like?
Oh it's so easy! And you get really great biceps. We have so many couples who come in with a negative opinion of fondant, and then they try ours. Fondant is going to be sweet no matter what, but when it's made fresh, it definitely has a much smoother taste.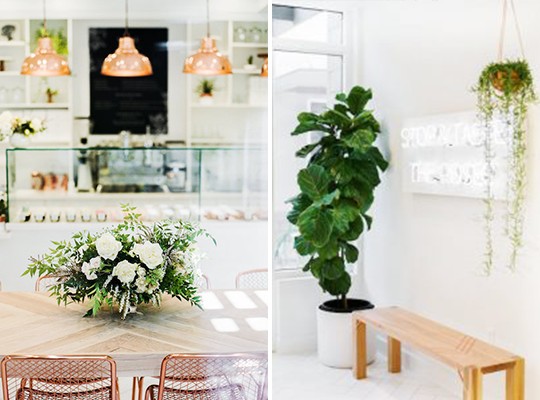 Photo courtesy Ruze Cakehouse
Before we keep talking sweets, tell us about designing and opening your gorgeous shop!
The shop! This was something we actually never imagined coming to fruition. In fact, my mom and I were both content working out of her kitchen and had no plans to ever open a storefront. But after a few years we realized that wasn't exactly realistic! We approached the design of the shop by trying to recreate the look and feel of our cakes…without having any actual cakes on display. So, we looked at the most common decorating themes in our desserts (white, greenery, metals, etc.) and incorporated those elements throughout the store.
What is your favorite element in the shop?
Definitely our white neon "Stop & Taste the Roses" sign! It's so fun to see people of all ages instinctively sit on the bench right in front of it and get a photo. I'd say 50% of the job requirements for our front-of-house team is being able to take a great pic for all our customers!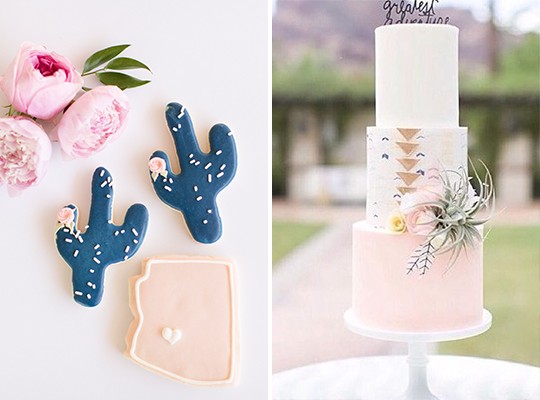 Photo courtesy Ruze Cakehouse
Back to sweets! What is your design process like?
Well, inspiration can come from anything. I pretty much see life through a cake lens these days. I can be driving down the street and see a woman walking wearing beautiful scarf and think "that would look so cool as a cake!" So the design process really begins with an idea – which can come from anywhere – and takes shape from there.
Do you have any ideas that you just can't wait to find the right client for?
The coolest thing that's happened with our company is that we always seem to find clients for our ideas. Sometimes it means we have to create the cake first, and post a photo of it on social media. But I think every single time we have had clients bring in the photo and ask us to recreate the cake for their wedding.
What are you most excited for in the coming months?
Ohhhh….so this is top secret, but we are actually building a macaron cart! It will have many of the same design elements as our shop (even the neon sign!) but will be on wheels! We look forward to renting it out for weddings and bringing it to industry events. Couples are always looking for ways to differentiate their wedding from those of their friends, and we think this will be a perfect option. And also another great photo opportunity during their big day!
Cake or cookies? Cake!
Favorite flavor combo that hardly gets ordered? Lemon Lavender
How many eggs do you use in a month? 200 dozen
Is there a favorite recipe you would be willing to share? Yes! Our prickly pear bars are extremely popular. We've shared the recipe below!

Ruze Cakehouse's Lemon Prickly Pear Bars:
Makes 32 Triangles
Adapted from America's Test Kitchen Family Cookbook Recipe
Crust Ingredients
1 1/4 cups unbleached all-purpose flour

1/2 cup confectioners' sugar, plus extra for dusting

1/2 teaspoon salt

1 stick unsalted butter, softened but still cool, cut into 1-inch pieces
Filling Ingredients
7 large egg yolks

2 large eggs

1 cup plus 2 tablespoons granulated sugar

1/3 cup fresh lemon juice (2-3 lemons)

1/3 cup prickly pear syrup

1/4 cup grated lemon zest

1/2 stick unsalted butter, cut into 4 pieces

3 tablespoons heavy cream
Crust Instructions
Adjust an oven rack to the middle position and heat the oven to 350°F. Line a 9-inch square pan by folding two 16-inch pieces of foil lengthwise to measure 9 inches wide. Fit one sheet on the bottom of the pan, pushing it into the corners and up the sides (overhang will help in removal of baked bars). Fit the second sheet in the pan in the same manner, perpendicular to the first sheet. Spray the sheets with nonstick cooking spray.

Process the flour, confectioners' sugar, and salt in a food processor until combined, 3 seconds. Add the butter and process to blend, 8 to 10 seconds, then process until the mixture is pale yellow and resembles coarse meal, about three 1-second pulses. Sprinkle the mixture into the prepared pan and press firmly with your fingers into an even layer over the entire pan bottom. Bake the crust until golden brown, about 20 minutes.
Filling Instructions

While the crust is baking, whisk the yolks and whole eggs together in medium nonreactive saucepan. Add the granulated sugar and whisk until just combined. Add the lemon juice, prickly pear syrup, zest, and salt; whisk until combined.

Add the butter pieces, and cook over medium-low heat, stirring constantly, until the mixture thickens slightly and registers 170°F on an instant-read thermometer, about 5 minutes.
Immediately pour the curd through a single-mesh stainless steel strainer set over a clean non-reactive bowl. Stir in the heavy cream; pour the curd into the warm crust immediately.
Bake until the filling is shiny and opaque and the center jiggles slightly when shaken, 10 to 15 minutes.
Let cool completely on a wire rack, about 2 hours, before removing the bars from the pan using the foil and cutting into triangles. Dust with confectioners' sugar before serving.