Save the dates happen to be one of our favorite parts of wedding planning. You're fresh off your engagement, just starting to nail down design details (hello midnight Pinterest-ing sessions with a glass of vino in-hand), and officially have a date for the big day set! At the same time, you haven't yet dug into RSVPs or seating charts or unsolicited advice. As far as we're concerned, there's no more perfect time in the planning process. Today, then, we wanted to offer up some save the date inspiration from one of our all-time favorite stationary companies: Minted. Read on for our top picks from Minted's stunning, chic, and ultra swoon-worthy collection of save the dates.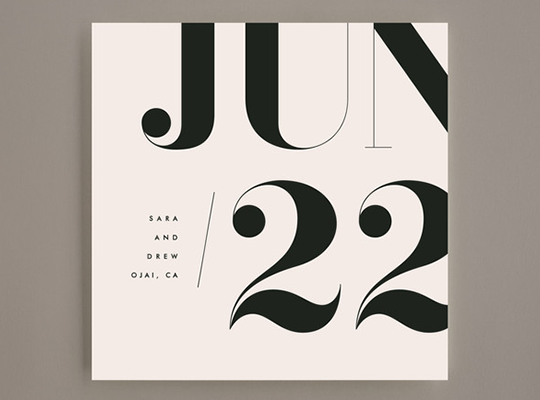 No Photos, Please
No engagement photos? No problem. We're not gunna lie, we kind of love when couples defy save-the-date expectations by skipping the giant photo of themselves and opting to focus on a sleek design or quirky illustration instead. The key to skipping a photo is to ensure the design or illustration you choose is cohesive with the overall design of your wedding—save the dates should set the tone for the aesthetic of the party that's to come, and this rings especially true for save the dates that are design-focused rather than photography-focused.
Why not try placing the date front-and-center? We love (as in really, really love) Minted's 'Calendrier' design or their 'A Date to Remember' design for a city-chic rooftop affair or loft soirée. Or, for a modern-meets-tropical wedding, try Minted's stunning 'Resort' Save the Date. Hosting your nuptials under big, blue skies? We're totally digging Minted's 'Vintage Poster' Save the Date for earthy couples who aren't afraid to get a few pine needles in their wedding shoes.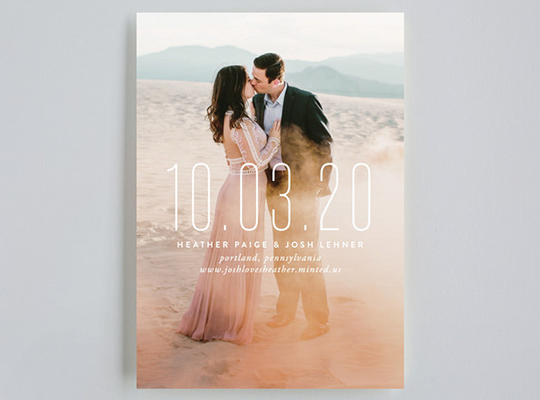 Clean & Modern
For couples who are minimalists at heart, we love a simple, understated save the date. Clean lines, sleek fonts, and focusing on a single image or design element are all key when it comes to achieving a modern aesthetic. (If you're going for a clean wedding aesthetic, avoid photo collages like the plague.) For the headline, we love the idea of focusing on the numbers of the date itself (rather than an overused, script-font phrase, like "forever" or "save the date"). Minted's 'Date Check' Save the Dates or Minted's 'The Date is Set' design are both great options for a focus on the date itself. Or, for couples who want a little metallic magic worked in, we love the foil pressing on Minted's 'Soft Glass' Save the Dates. We also love Minted's 'Together' Save the Dates and their 'Mag Spread' design for modern, postcard-style options that require no envelope (score!).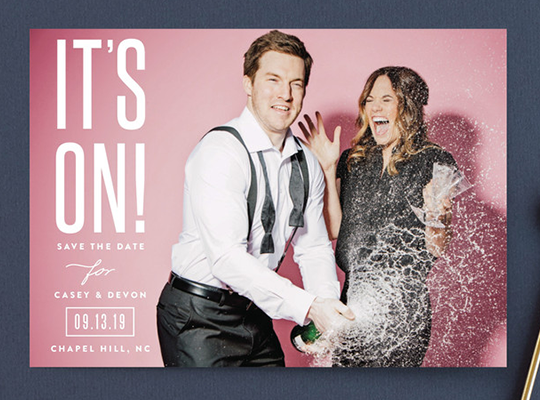 Playful & Celebratory
For couples who want to exude personality on their save the dates, we love the idea of pairing bold, playful phrases (think: Let's Do the Damn Thing! or It's Our Time, Baby!) with a fun-loving photo of the two of you. The key here is to not overwhelm with a collage of images, but instead focus on one single, high-quality photo instead—and be sure to opt for something clean and bold when it comes to font. Bust out that pic of you two killing it on the dance floor at last year's Christmas party or find that photo-booth shot of you acting silly-as-ever at a friend's wedding and work with Minted's 'It's On!' Save the Date or their 'Let's I Do This' Save the Date to create a fun-loving design that still feels chic and clean.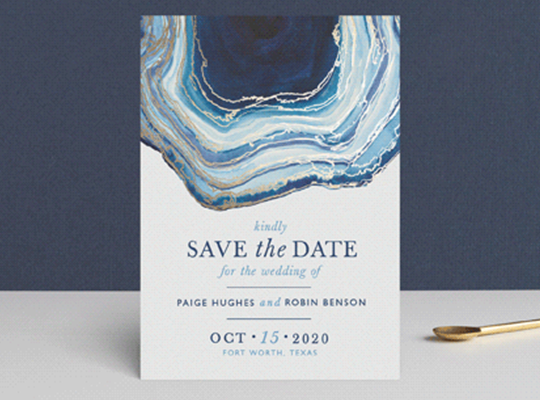 Let Me Upgrade Ya
If you have the extra room in your budget, upgrading your save the dates is the perfect way to wow your guests right off the bat (plus, you'll be singing Beyoncé's "Upgrade U" in your head the entire time you design them, which is always fun). We love the idea of opting for things like foil-stamping, letterpress, or even velum for an added touch of luxury on your save the dates. We're swooning over these super celebratory letterpress 'Our Day' Save the Dates and also love this subway-sign inspired letterpress 'A Love Story' design. A great foil-press can also go a long way, and we're particularly in love with this Gilt Agate Foil Pressed Save the Date from Minted.
In the spirit of full disclosure, this post contains affiliate links, which means we may get commissions if you decide to purchase anything from any of these companies. We only recommend products that we love ourselves and that we think you'll love, too.

Photos courtesy Minted