Shi Shi Events
Cleveland, Ohio


As a community of wedding planners, we've seen pretty much all there is to see when it comes to incredible weddings...but we're still picking our jaws up off the floor after perusing images from the stunning soirées Shi Shi Events plans—which is why we're so excited (read: fan-girling hard) to have this Cleveland-based wedding planner on the blog today. From her favorite piece of advice for engaged couples to the biggest lesson she learned as a business owner, Shi Shi Founder and Creative Director Gina is pulling back the wedding-planning curtain in a big way for brides and grooms today. Read on for her invaluable insider's look at the industry!
Tell us about your path to becoming a wedding professional.
My career was based in creating experiences for others from the start—be it in the music or experiential marketing industries, where my professional life began. I've always been inspired and driven by the concept of immersing all the senses in an event to create a lasting and truly individual experience, a tenet deeply ingrained in experiential marketing. That concept fuels our wedding work daily as we work to create unrepeatable experiences for our couples.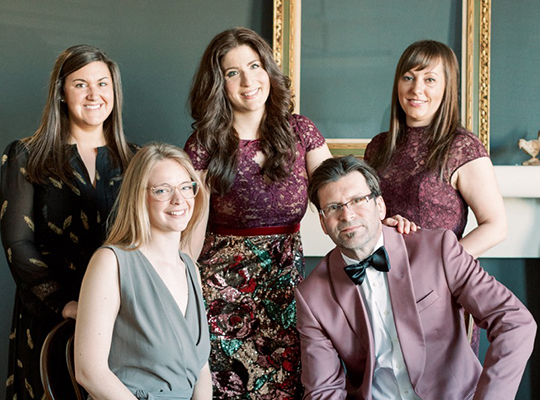 Why did you start Shi Shi Events?
Shi Shi happened in the most organic way. I was asked to transfer outside of Cleveland by the experiential marketing agency for which I was working, and Cleveland has always been—and will always be—home, no matter where my travels, (or now our weddings) may take me. The decision to stay in my hometown also made the decision to launch my own event planning and design firm crystalline. I had been planning and designing social events and weddings on the side of my corporate client work for the agency and really felt a strong connection to the personal nature of the work, so the transition really was seamless. When we launched, wedding planning and design was a relatively new concept to the Midwest, so we really helped to pioneer what it means to have someone develop the framework, design from start to finish, and produce the wedding for clients in our market. In the process we became known for our innovative, timeless signature and fierce attention to detail and process.
What did it take to build your business/brand?
A thick skin and a hard hustle! In any industry, being a business owner is a series of super high highs and really low lows. Accepting that roller coaster is one of the hardest things I've ever done. I worked almost non-stop in those first years getting the business and brand off the ground and recognized. It was all about building a strong in-house team and relationships with a distinguished roster of vendor/venue partners. We played with offering different levels of service for a while as well before we really came to the truth that what we provide is best served in a full production experience, and we ultimately let all of the fringe services (day of coordination, partial planning, or design only) fall away. That one decision really changed our mission and brought us into the firm we are today: a truly boutique planning and design house.
What is a "Shi Shi Events couple" like?
Our couples know themselves and trust us implicitly. They want a high-touch event experience, are open to the slightly left of center concepts we have a tendency to lean towards, and appreciate our direct approach to advising on their decisions. We're all about creation in lieu of imitation and look to incorporate design elements bearing both universal and personal meaning, so our favorite clients are those open to sharing their world with us. Our best work has always come from the couples who bare themselves to us in our process. That's where all the truly authentic beauty comes from, which makes their wedding absolutely unrepeatable and unmistakably their own.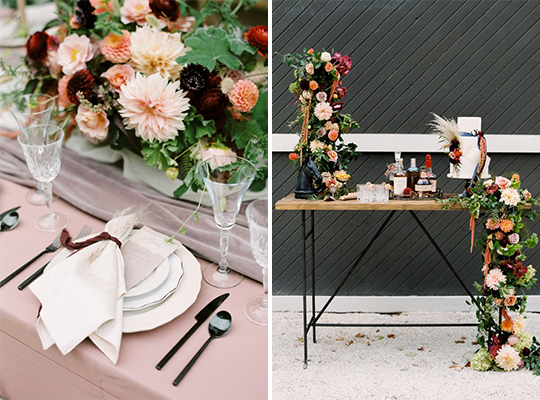 Photo courtesy Jenny Haas
Tell us about your process.
We generally start planning with our clients anywhere between 9 months and 1 year in advance of the wedding date—and up to a year and a half out. The process begins with the guest list and budget. These two items are the most imperative of the framework. We always encourage ruthless editing of the guest list, as no matter your budget a tightened up list allows us to lavish those guests in attendance with more across the board. Once those elements are established, we go on the hunt for the perfect space and then the major players of the day (catering, photography, entertainment, etc.). By about six months before, we'll start really building out the design and make final edits to everything by the two-month prior mark. Spacing the framework and design that way leaves us time to get to know the couple in our initial phases of planning before presenting them with a comprehensive design plan. We are truly a boutique firm taking on a limited number of weddings per year, so our couples benefit from that really personal experience with our small-but-mighty team. We're all about quality over quantity in every facet of our process.
How does using Aisle Planner help you deliver the client experience you want to?
Aisle Planner has been an incredibly valuable tool to our clients. We love being able to provide them with a comprehensive client lounge that keeps us all on track, connected, and accountable. Many of our couples are planning remotely, so having everything in one place—from checklist to budget to timeline—really makes the distance in miles between us shrink. I love logging in and seeing all of the updates my clients have checked off overnight and making plans for our visits together in the calendar!
What is your favorite Aisle Planner feature?
I absolutely love the guest list and seating chart managers! They make the process of organizing guests and making final checks to floor plan counts SO easy! Those tools are game changers. I also really love the payment reminders. It's nice to be able to input that information for each vendor and know the client will be reminded when payments are due.
Anything you are particularly excited about working on this year?
We have so many incredible projects this year! There really is so much to look forward to this season. We have a lot of tented weddings this season—which are absolute favorites—and a few at-home weddings, which we totally adore.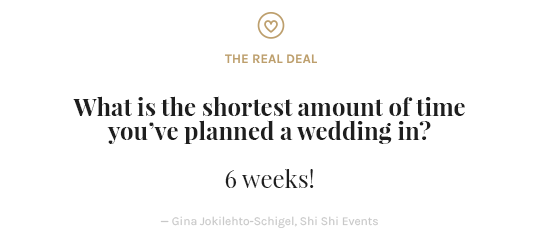 What is your biggest piece of advice about planning a wedding?
Before you start looking at venues or get into the planning process even the slightest bit, set that budget and guest list. Otherwise you're setting yourself up for disappointment of maxing out of a space you love or not having the budget to support your favorite venue. When the budget and the guest list are in place, you set yourself up for success all around. And edit, edit, edit that guest list! You will be so happy you did in the end.
What is the biggest lesson you learned from being a business owner?
You have to be willing to set boundaries or you will work 24/7. Once I set firm office hours and abided by them, it opened my life up to pursue self-care (hello workouts!) and spend much needed time with family and friends. Plus, when you're working all day every day your brain has no room to be fresh or innovative. As a creative, time to recharge and get inspired majorly goes the distance in the quality of work you're able to turn out for your clients.