The debate about whether or not to include kids in your wedding is as old as weddings are. The truth is that the decision of whether or not you want kids at your wedding is very personal and not taken lightly, and it's different for every couple. We hope sharing some of the ins and outs on how to prepare for including or not including children will make the process easier for you and your fiancé.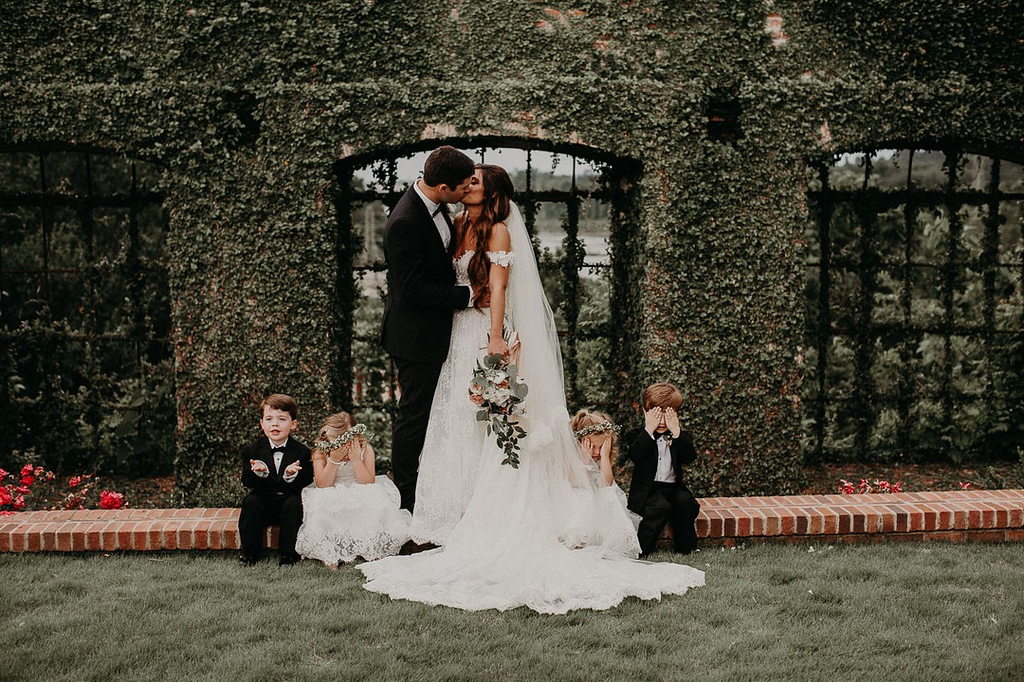 Photo courtesy of Aline Marin Photography
Consult Your Family
Like it or not, the family plays a massive part in this decision making. Sometimes, weddings seem to be a big family affair with lots of kids running around dancing and playing—it's like a bigger version of Sunday supper. For others, not so much. Some people grew up knowing kids are to be seen and not heard, and not seeing them at the wedding was perfectly fine. Only you'll know the dynamics of your families. And if you each grew up with different traditions, then the delicate dance begins.
Financial Feasibility
Sometimes the decision to include children is purely a matter of finances. We spoke to one couple where each was the youngest of huge families with seven or more siblings. While the family was essential to each of them, the number of nieces and nephews increased the guest list by over three dozen people and was just not financially possible.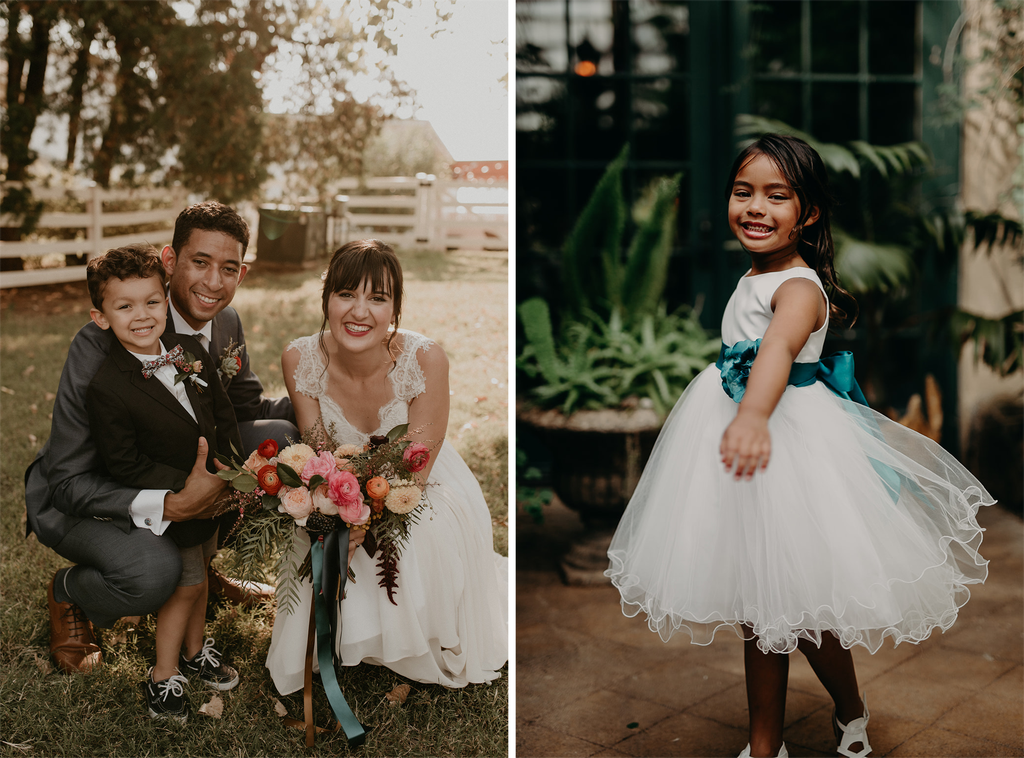 Photo courtesy of Peyton Rainey Photography (Left), Emily Turner (Right)
Make Your Expectations Clear
For some people with fewer children in their circle of friends and family, including children can be more manageable. Including them as junior bridesmaids, ring bearers, or flower girls makes them part of the wedding party and often the only children invited. When this is the case, it's crucial to make this a unified front. You may find that guests who weren't invited with children respond that they're bringing the whole family. So, be prepared to take a stand! No one has the right to insist on bringing anyone to your wedding.
Out of Town Guests
On occasion, someone might be traveling a long distance, and leaving the kids home might not be an option. For some couples traveling cross country to a wedding, the weekend means building on additional time for a family vacation. In these situations, when you've decided not to include children, a "kid's room" might be a great option. A separate space, staffed by a baby sitter with age-appropriate games, activities, and television allows couples to travel with their children while not having them attend the reception. There are incredible licensed and insured nanny services where the sitters are CPR and First Aid trained to put parents at ease with having them out of sight. However, be sure not to put the space too close to the wedding reception where children might wander into the hands of their parents.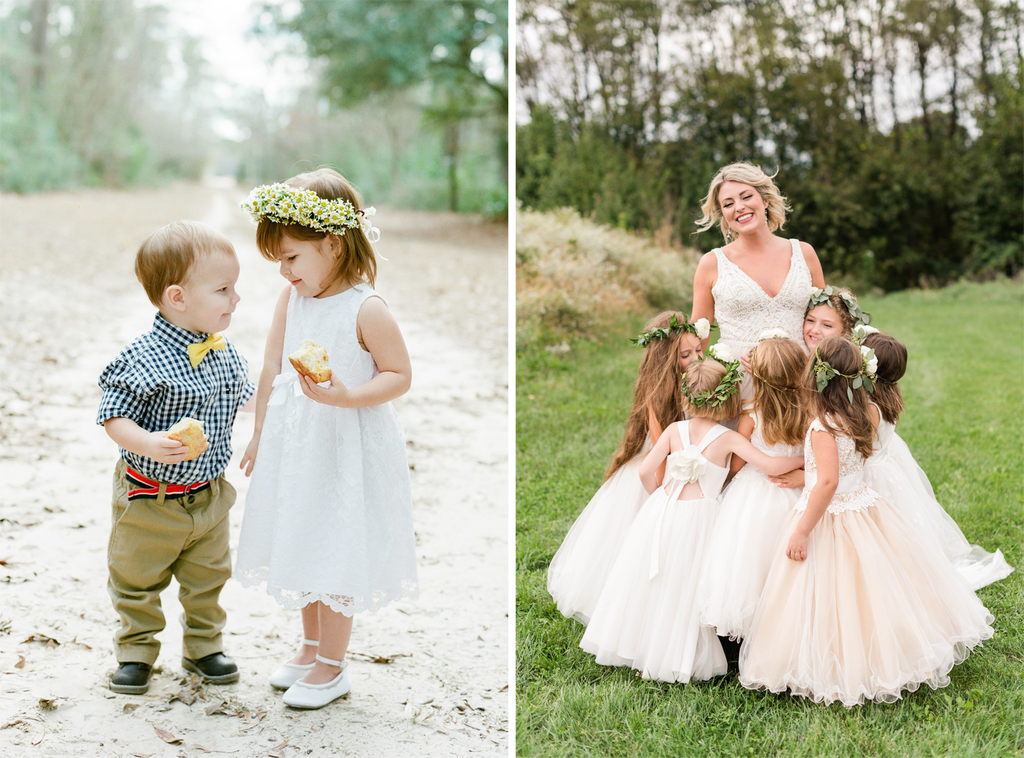 Photo courtesy of The Happy Bloom (Left), Sweet Williams Photography (Right)
Kid-Friendly Reception
If you do choose to have children at your wedding, the last thing you want to do is saddle older tweens and teens with babysitting duty during the wedding reception. A table with slightly older kids gives them time away from parents while not being seated at the kids table. Toddlers might be best to be seated with parents so that they can manage their meals and keep them from running rampant. Be sure to find out in advance if they require a booster seat or highchair to ensure that they're available and at the correct guest tables.
Additionally, when ordering children's meals, ask if they can be served during your salad course. This helps parents get the little ones settled before their entrees arrive. Lastly, for the remaining children, it's fun to have a kids table with a separate unique centerpiece—something made of candy or toys will keep them occupied. Additionally, a place setting with a gift bag will keep them engaged.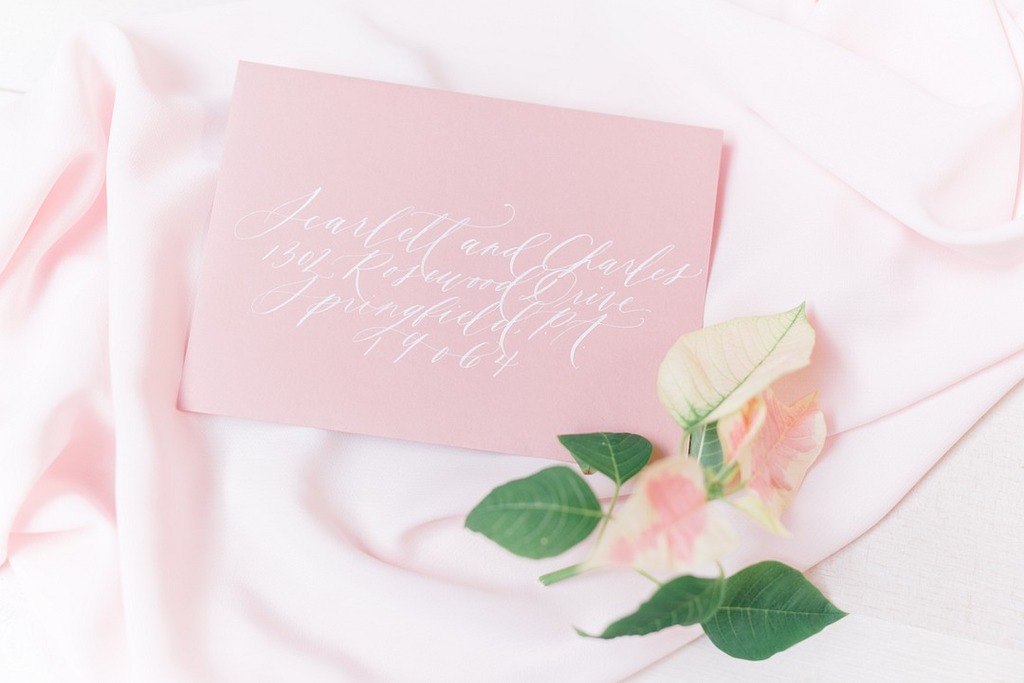 Photo courtesy of Jill Lynn Photography
Address Envelopes Explicitly
We love The Emily Post Institute's advice on how to address your invitations! "Don't print 'no children' or 'adults only' on an invitation. The way an invitation is addressed, whether on the inner or outer envelope, indicates exactly who's invited, and, by omission, who's not invited to the wedding. If the envelope is addressed to 'Mr. and Mrs. Hayward,' then Mr. and Mrs. Hayward should not assume that their children are included. If the envelope is addressed to 'The Hayward Family' or 'Mr. and Mrs. Hayward, Sarah and Elliott Hayward' then it can be assumed that all mentioned are invited. In addition to this, you can talk to close friends and relatives and ask them to help spread the word about your preference to keep the event to adults."
When it comes to people returning a reply with children's names written on them thinking they should've been invited, be prepared to call and explain to them that children are not being included in the wedding. If you're working with a wedding planner, and we hope you are, they can be the perfect buffer in this situation. Asking them to make that call helps to keep the peace.

Hero photo courtesy of Morgan Lynn Photography