Today, we're so excited to announce we're working with the dapper minds behind Generation Tux, a company dishing up effortless, on-trend wedding suit and tuxedo rentals—with a side of world-class customer service (no, really, their service is amazing). Needless to say, they've quickly become our go-to groomswear gurus for all things wedding-day digs. We recently sat down with our endlessly chic friends at Generation Tux to talk 2018 wedding suit trends. Get ready to walk down the aisle with some serious style, guys—we've got three smart, stunning trends rounded up for you below.

Trend 1: Blue Suits

With personalization and personality at weddings on the rise, modern-day nuptials are growing less-and-less formal—and nowhere has the casualization of weddings been more apparent than in the rise of the blue suit. So many couples now are opting to forego the traditional black tux in the name of something with a little more personality, and we're loving this move. It's not just navy, either—we're talking fashion blues, like bold indigo wedding suits and bright blue wedding suits. Overall, blue suits are a great option for everything from beach weddings to boho-inspired soirées—not to mention they end up looking stunning in photographs.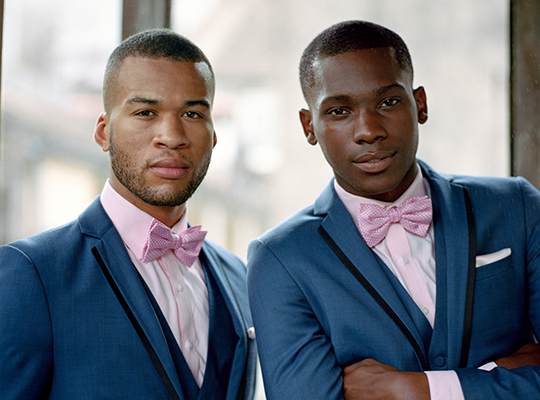 Photos courtesy Chris Scheurich

Trend 2: Bold Pops of Color and Detail

The devil is in the dapper details, as they say. Adding a pop of color or an unexpected detail to your wedding suit or tux is a great way to personalize your digs. Designed not to overwhelm or distract, the right touch of detail will work to make you shine in photographs. We love that we're seeing a huge rise in non-traditional boutonnieres and accessories in an unexpected palette—think bright reds, deep cabernets and pinks.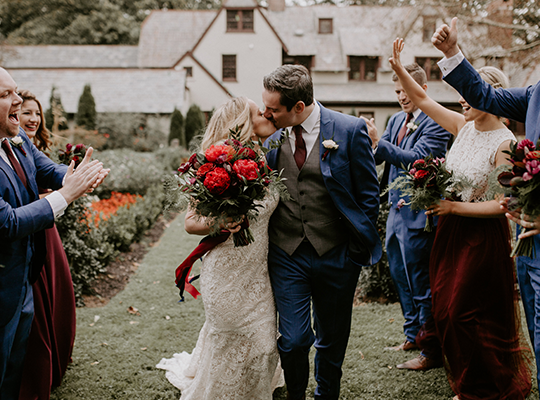 Photo courtesy Sarah Brookhart Photography

Trend 3: Mismatched Suit Separates

We've seen a lot of mixed-neutral looks in lately for grooms who want to achieve a deliberately casual look. Think of this one like color-blocking—picture a blue suit with a grey vest. It's an aesthetic that's subtle in color but bold in style. The key to mixing suit separates? Stick to the color consistency—pair brights with brights and subtle hues with subtle hues.

Overall, 2018 groomswear trends are really all about adding personality and personalization to your look, while still remaining sophisticated and chic for your walk down the aisle. It's all about striking a balance between setting yourself apart, without overwhelming your bride or partner. To help you craft your wedding-day look, we offer complimentary fabric swatches and free groom's trials. Grooms also rent their wedding suit or tuxedo free with five paid rentals. Learn more about how GenTux works, or reach out to the GenTux team if you have any questions at all. Cheers, grooms, to the most dapper (and unforgettable) day of your life!