We saw it with the Royal wedding of Kate Middleton and Prince William, and the same is happening after the Royal wedding of Meghan Markle and Prince Harry. The resounding wedding trends for 2019 are influenced by the royal nuptials, but in the best way possible. Especially for beauty, since rather than focusing on a specific hair design or makeup look, the 2019 trend for spring wedding hair and makeup is based on the individual and what you personally love. Today, then, Aisle Planner pro and founder of Elwynn & Cass Beauty Concierge Services, Katelyn McCullough, is digging in deeper and dishing on this year's Spring wedding hair and makeup trends!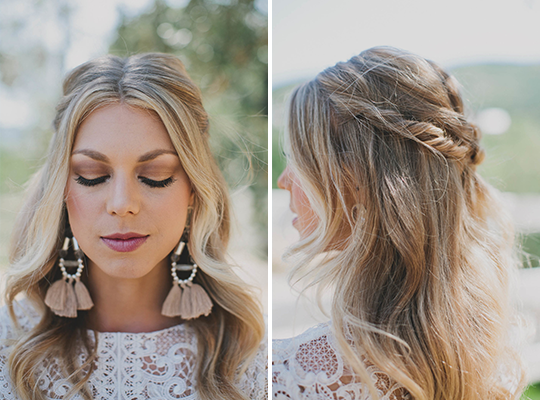 Photo courtesy Katie Pritchard
2019 Spring Wedding Hair and Makeup Trends
You may be wondering what I mean by hair and makeup that focuses on you as the individual. Well to put it simply, it's your wedding day, so whatever makes you feel the most comfortable and the most beautiful is the style you should embrace for your wedding day. Think of your wedding day like a movie. You want all of the elements to be part of the same story and flow together seamlessly. If you don't wear much makeup day to day and just want to feel like an elevated version of yourself, then embrace that. Make that your look.
Embrace Your Style
It's your wedding day and by no means should you feel influenced by the hair and makeup trends you see on social media. If your wedding is going to be a vintage romantic theme, embrace that era and wear a bold lip with Hollywood waves. Contrastingly, if your wedding is meant to resemble a fine art wedding in a villa, more than likely a minimalist makeup look that lightly accentuates your best features and a hairstyle that looks effortless (soft curls or a wispy updo) is what you are looking for.
More and more of the brides I'm working with this year are requesting to look like themselves, but a slightly elevated version. They want to look back on their wedding photos and videos and remember that moment in time as part of the journey to where they are currently. Hair and makeup is meant to accentuate who you are and what makes you feel the most beautiful, not cover you up or make you something you are not. Own your style and be unapologetic in wanting that.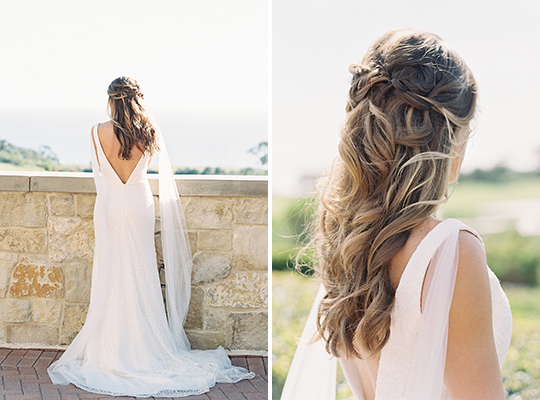 Photo courtesy Kristina Adams Photography
2018 vs 2019 Hair and Makeup Trends:
2018: Whimsical & Bohemian
2018 was the year I would call "whimsical and bohemian". Brides were embracing the free spirit and wanting braids adorning their hair and their bridal party's in some fashion, whether this was an updo or a down style. If braids weren't part of the style, most updos were loose in almost an undone and wild way.
Makeup conversely was focused on a what I like to call a soft glam look. Which consists of a natural looking foundation for your skin, but with a focus on highlighting and contouring your cheeks so that they are defined, but not Kardashain defined. To balance the naturalness of the base look, a lot of brides wanted to accentuate their eyes with a soft smokey eye with mauves, browns, and golds and have full lashes. Again, soft glam meaning notes of glam (i.e. lashes, highlight, contour, etc.) but toned down so that you still look like yourself, but more of 2.0 version and ready for any photos that may come your way.
Brides also really wanted to focus on everyone being cohesive in their look, whether this is with hair and everyone having the same updo or down-style and/or makeup look as well. Having everyone's look be based off of a similar color palette. Bridesmaids were very uniform in look, but 2019 is turning that on its head.
2019: Refined Elegance
Where 2018 was the year of the boho bride, 2019 is the year of the elegant bride. She is focusing more on a minimalist and fine art look to her hair and makeup. Focusing on her natural features, but not overly done. Whereas in 2018 brides focused on contour and looking sun-kissed, the 2019 brides want to look effortless and refined, with an almost ethereal quality to them. Trading contouring for soft blush and smokey eyes, for natural lashes with a hint of pink or nude on the lids. If they are adding color at all, it would be with bright pop of color on the lips, but not in reds or burgundy. More so they will embrace the softer side of the spectrum with bright pinks and coral.
Going away is the emphasis on braids and loose, tousled looks. Brides are wanting refined and elegant updos that carry a hint of wispy to them. Almost like you did it yourself and were going out for coffee while in Europe. If not wanting an updo, then they are keeping it simple with soft curls.
Think of it like you were going to a Villa in the south of France and wanting to look and feel like a local. An effortless style that exudes from your very core.
Plus, brides are wanting their bridesmaids to choose what look they want for their hair and makeup within the theme of their day. No uniform styles, rather what makes their bridesmaids look and feel their best.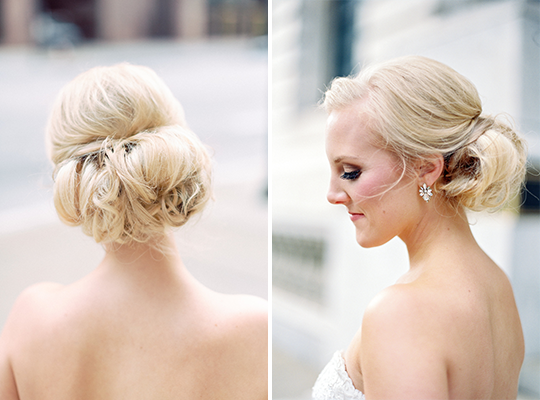 Photo courtesy Lauren Gabrielle
Embrace Who You are and Rock it
2019 is the year of refined elegance, focusing on minimalist looks with pops of color or texture. Though more so than that, it is the year to focus on yourself and what truly makes you feel like your best self. Because when you feel your best, you look your absolute best, and we are here for you every step of the way to make sure that you do.
Xo,
Katelyn McCullough
Beauty Concierge
Elwynn + Cass
Psst...looking for more wedding makeup inspiration? Check out all of our favorite bridal makeup looks in our inspiration gallery.