We love all wedding seasons here at Aisle Planner—but our all-time favorite might just be summer weddings. And today, imbibers and inspiration seekers, we've got a breakdown of the holy grail of all summer wedding trends for you: outdoor bars. From classically chic outdoor wedding bars to boho-inspired vintage bars and bar carts, the options are endless when it comes to bellying up under the sun. Below, we've broken down our favorite iterations of this celebratory summer wedding trend.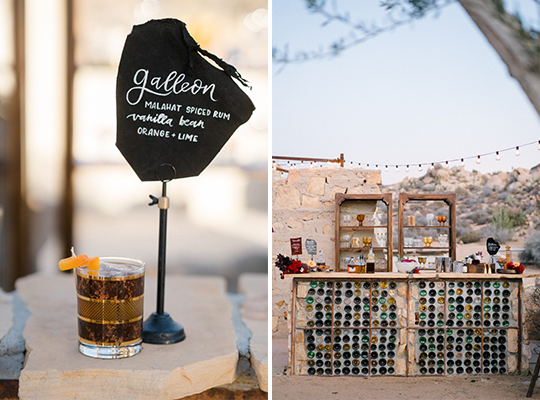 Photo courtesy Shane and Lauren Photography
1. Boho-Inspired Outdoor Wedding Bars
If you're opting for a boho or rustic aesthetic for your wedding, we love the idea of using vintage pieces and reclaimed furniture (shelving, armoires, etc.) to create a bar that feels storied and unique. A simple vintage table with some shelving behind it is an easy way to create an earthy aesthetic. We also love this boho-inspired outdoor bar which showcases a mosaic of reclaimed glass bottles as a bar front. Another great way to capture that boho vibe at your outdoor bar? Focus on greenery: drape floral swags along the top of the bar for an immediately lush look. (Pro Tip: If you're using floral swags as part of your ceremony decor, have your wedding planner repurpose them for your reception bars while guest are enjoying cocktail hour).
2. Self-Serve Bar Carts & Stations
Self-serve bar carts and stations are such a great way to dip your toes in the outdoor wedding bar trend without having to commit a ton of your budget to it. (They're also a great option for those who are having an outdoor ceremony or cocktail hour, but an indoor reception—they allow you to offer your guests a little something to sip on while they're outside, without having to setup a full-service bar outdoors.) We love the idea of a cute welcome bar cart with iced tea, fruit-infused water, or even wine for guests to enjoy before the ceremony begins. Or, have a simple table set up with glasses completely prepped (here, each glass has a raspberry in the bottom), and some champagne on ice. That way, guests can simply pour and go. Our favorite of all self-serve outdoor wedding bars, though? The self-serve mimosa bar, obviously. Have your planner or caterer set up a colorful spread of fresh fruit, chilled orange juice, champagne on ice, and some cute bar signage—and let your guests take it from there.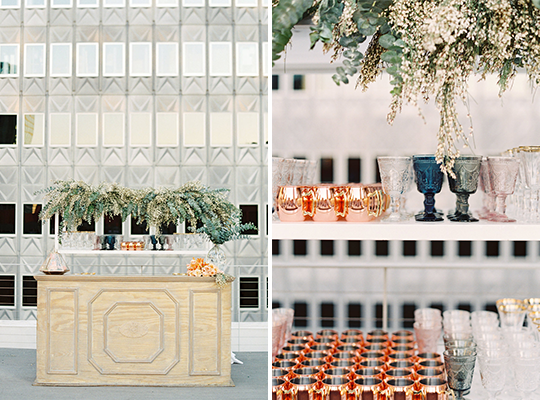 Photo courtesy Stephanie Brazzle
3. Sophisticated Outdoor Wedding Bars
If your wedding falls more on the sophisticated/chic side, you'll want an outdoor bar that can hold its own against such a stunning aesthetic. We love the super chic gold shelving this outdoor wedding bar uses. Or, a simple, geometric-inspired bar front with super lush greenery suspended overhead—like this beauty—can also make a serious statement. Looking to go totally timeless for your sophisticated outdoor wedding bar? Why not opt for a custom monogram and overhead chandelier?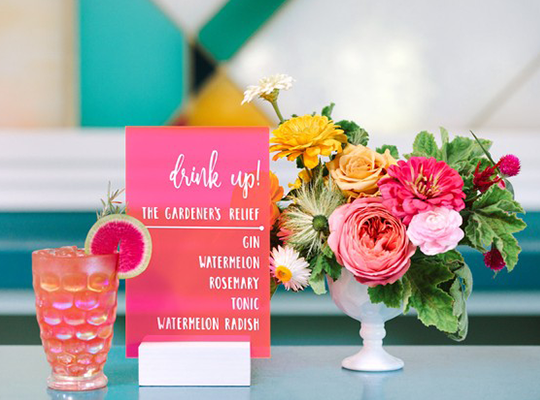 Photo courtesy Mary Costa Photography
4. Playful Outdoor Wedding Bars
We don't typically like to play favorites, but we're pretty confident saying we saved the best for last in this roundup. There's nothing better than a colorful, playful outdoor wedding bar as far as we're concerned. One tip for nailing that playful aesthetic on its bright, brilliant head? Opt for fun signage—we love this outdoor bar that boasts, "Start spreading the booze" in bold, metallic lettering. Another great way to ensure your outdoor bar feels playful and personal is to go for bright, colorful drinks and menus to match. Our all-time favorite way to ensure your outdoor wedding bar is as playful as ever? Why not rent a live bar on four legs? You read that right—this friendly "beer burro" might just be the most fun thing we've ever seen.

Hero photo courtesy Jeff Frandsen