When it comes to your wedding reception, there are so many things to consider—and two of the most important happen to be tablescape design and food. But how, exactly, does your catering affect your tablescape design (and vise versa)? The best weddings take into account both how certain design elements look and how those design elements will function together to create a seamless experience for their guests. Today, then, we're tapping the expertise of San Diego florist Isari Flower Studio to talk owner, Tam Ashworth's, top tips for things to consider when planning your tablescape design and food service type.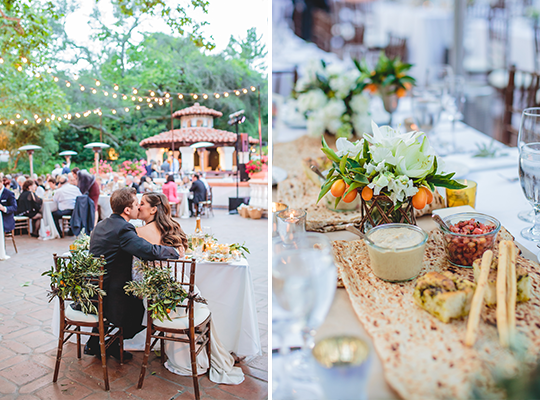 Photos courtesy Tangerine Tree Photography and Isari Flower Studio
Tablescape Design Tips for Family-Style Catering:
Communicate with your florist. Make sure you talk to your florist about your family-style reception meal so she/he can plan for florals that work well with this particular food-service type. In many cases, the florist and caterer should speak directly so they can sort out the details of what floral elements might be necessary (especially if things like cheeseboards, platters, etc. are being placed on the table).
Opt for smaller vessels. If you're going for a long-and-low look, the floral vessels need to be smaller, as the table can get crowded with family-style dining (bread, butter, table numbers, passed platters, etc.). In general, small pieces that get grouped into vignettes work best for family-style dining. It's also fun to incorporate candles and loose pieces of fruits (or other natural elements) into the overall tablescape design for family-style meals. Smaller vessels also allow you to easily move things around if needed.
Keeps design elements low. With family-style dining, people will be passing plates back and forth, reaching across the table, etc. Be sure you consider this when planning your tablescape design. You want to make sure your florist keeps the design elements relatively low. Towering vases and super tall glass hurricanes can get in the way and make it a hassle for guests to easily pass food. Remember, you want things to be stunning—but they should also be functional above all else.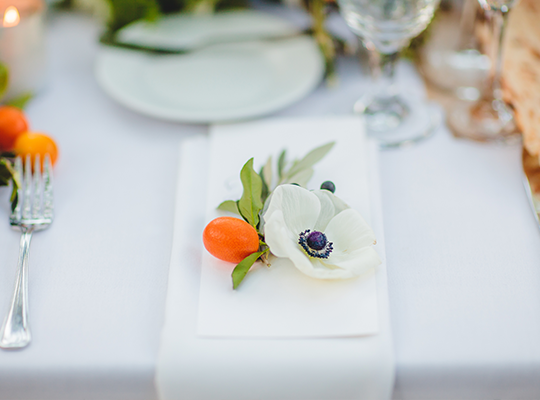 Tablescape Design Tips for Buffet-Style or Plated:
Keep it centered. In general, it's best to keep your design elements centered for a plated meal. You can have one big, centered shower stopper arrangement, one bigger and one smaller one (a duo), or even a grouping of candles (basically, nothing is off-limits). Keeping things centered will ensure your tablescape wows, without getting in the way of the pretty place setting and multiple glasses each guest will have in front of her.
Make small choices for a big impact. At plated dinners, each guest will have her own place-setting—so it's always fun to add thoughtful design touches to each. Tam recommend a spring of some sort (a piece of greenery, leaf, herb, etc.) at each place setting on top of the menu card. For design purposes, you should also always have a charger set to help complete the tablescape.
Psst...not sure which food-service option is right for your affair? We talk our top tips for wedding food service options here.
CONTRIBUTOR