With so many choices to make when planning a wedding, it's tough to know where to even begin. From your music to your menu, your guest list to getting on that plane destined for your honeymoon, it can get overwhelming quickly. Obviously, having a plan and the right tools to help you follow it can completely alter your experiences on the big day and every day of your planning leading up to it. Break it down into manageable pieces and outline the steps you need to take to check every single one off the list.
Today, Aisle Planner and founder of To Be Loved Events, Samantha Kin, takes a deep dive on one of those pieces, and an important one at that considering your guests are going to be getting a good, long look at it: designing your perfect reception tablescape. When you take a step back and consider things like season, theme, color palette and tableware ahead of time, the big-picture perspective can relieve some decision-making stress in this area. No doubt there's quite a bit to think about so let's break it down!
First, analyze your selected wedding date, season, and location. These factors can help you navigate the design of your wedding theme and color palette as a whole, along with your reception table design. For each particular time of year, there are different flowers in season. This, along with your wedding venue style (banquet hall, barn, garden, etc.), will be huge drivers of your design and theme decision making.
To focus the discussion on floral design, do your due diligence and spend some time researching which flowers are in season during your wedding month. The best floral designers will confirm that it can be especially hard to accommodate specific flower types no matter how insistent the client or generous the budget. Instead of specific flower types, request certain colors, shapes, and textures. This gives the florist some flexibility in design and so they can better accommodate you, put their creativity to work and make your event beautiful!
Once you have your desired color palette and style selected, you can begin to decide on event rentals and decor. When it comes to reception tableware, there are so many options. Most of your tableware including plates, napkins, glassware and flatware will be highly dependent on your menu. You can still have plenty of options, whether you choose to be formal or casual, simple or busy. And, you'll still have plenty of design room to add detailed touches, such as place cards, favors, candles, table numbers, chargers, runners, florals, menus and more!
Let's explore four different tablescape options based on seasonal colors:
Spring
We decided to show a brighter color palette with orange, pink, peach and yellow tones. Mixed with some greenery, gold accents, and more blush tones, we created a simple yet elegant table. This option would also be beautiful outdoors in April or May!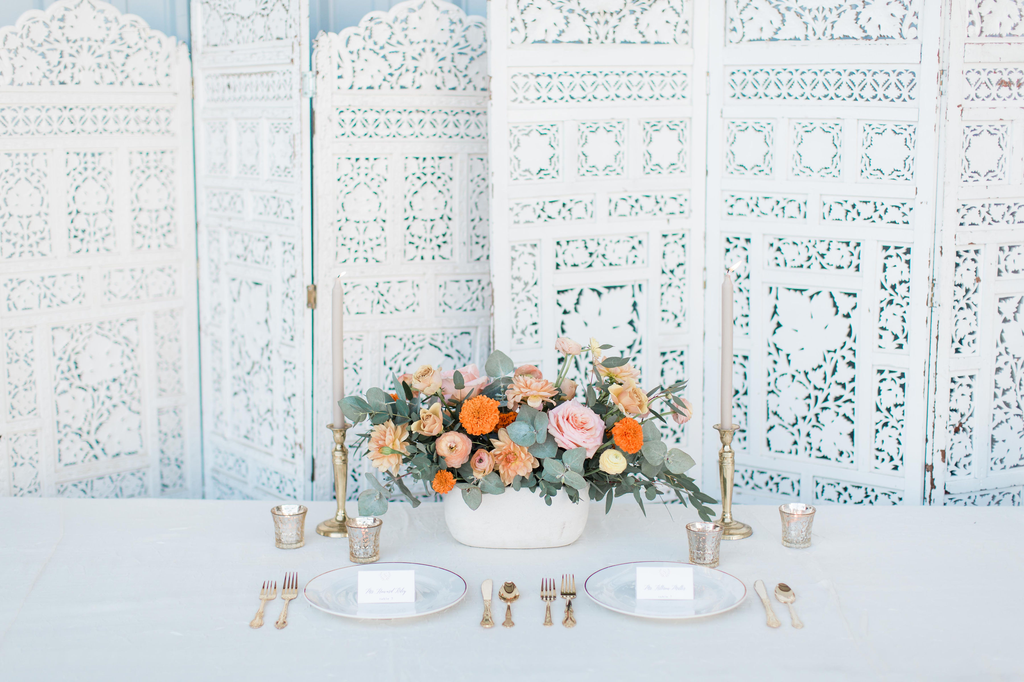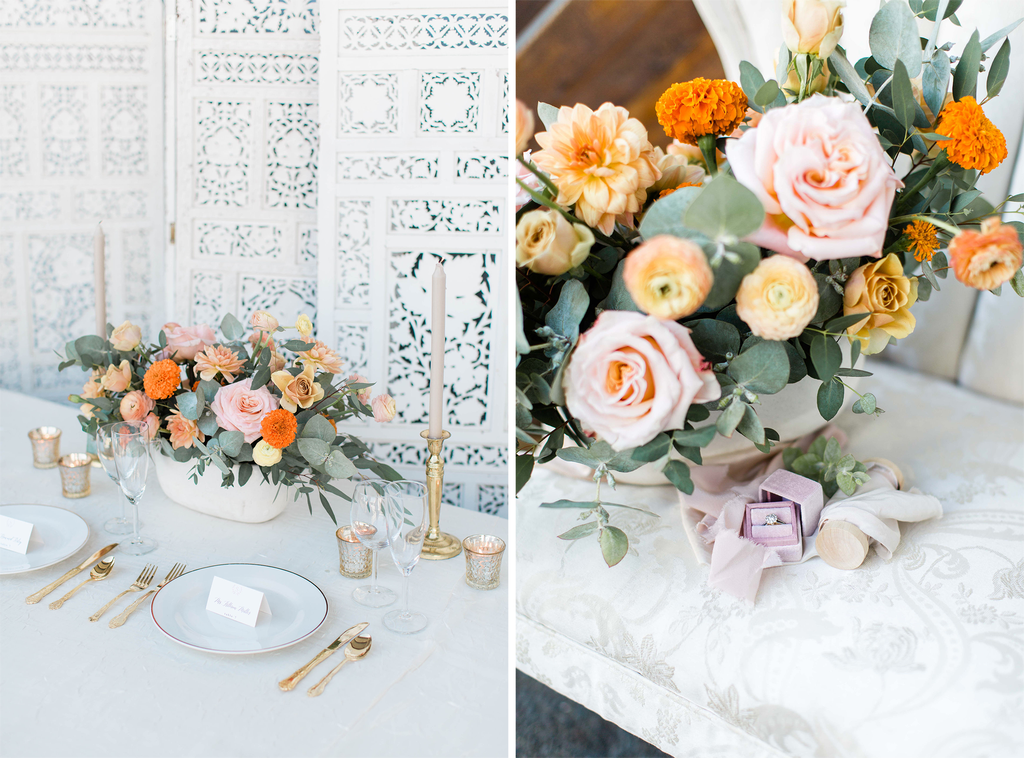 Summer
Here is a fun example soft pastel florals with greenery and blush, grey, and gold accents. We paired it with a simple ivory menu and hanging napkin fold. Place cards would be a welcome addition as well. This could be wonderful for an outdoor wedding during the summer months!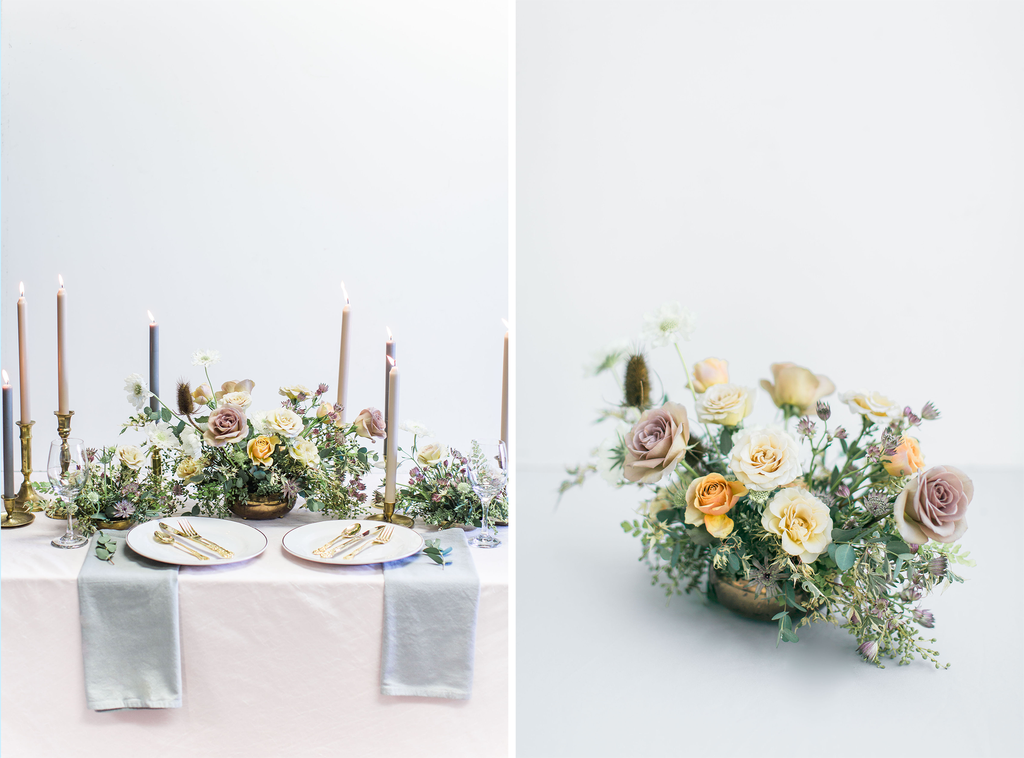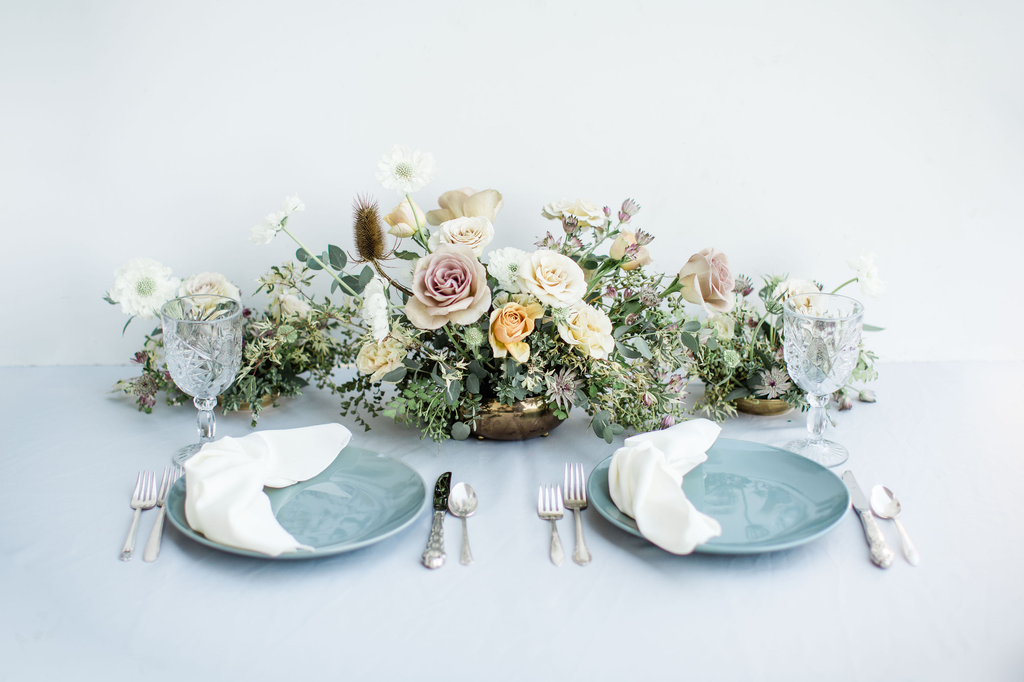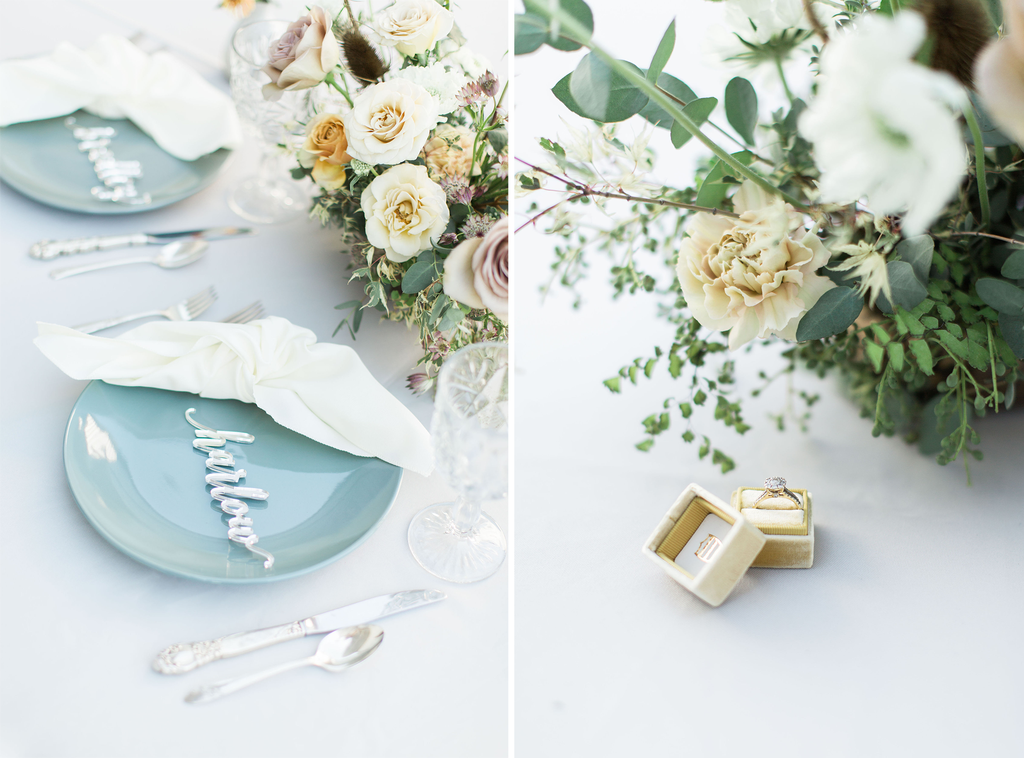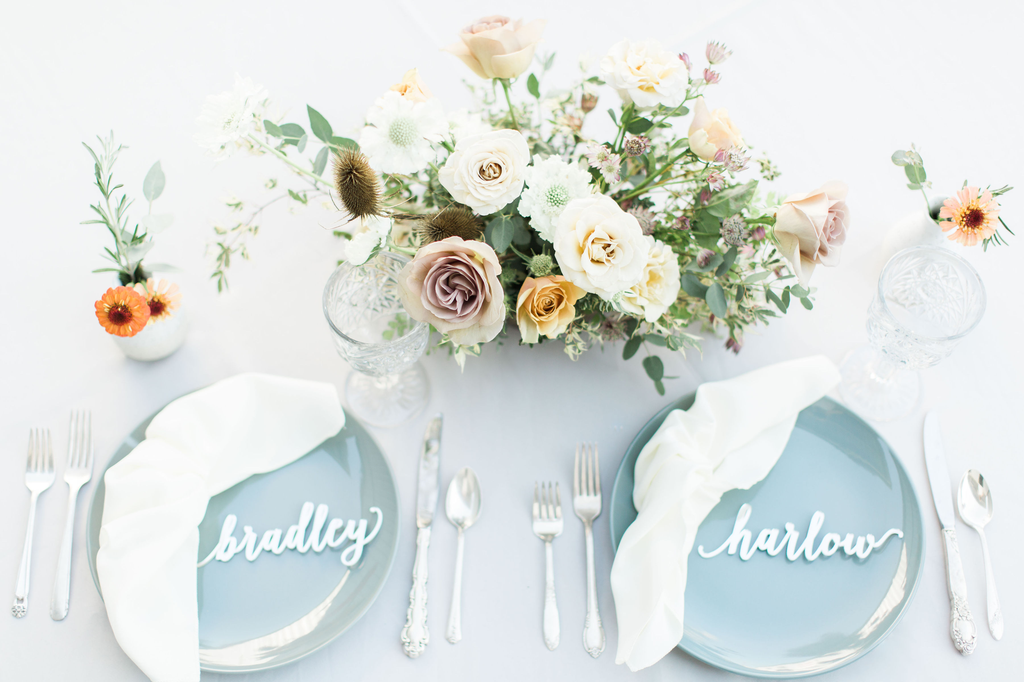 Fall
Our autumn color palette is much more muted. We went deeper on the greenery and included soft touches of ivory, grey, and lilac. Paired with gold vases and flatware, this gives the table some extra pop while keeping palette simple.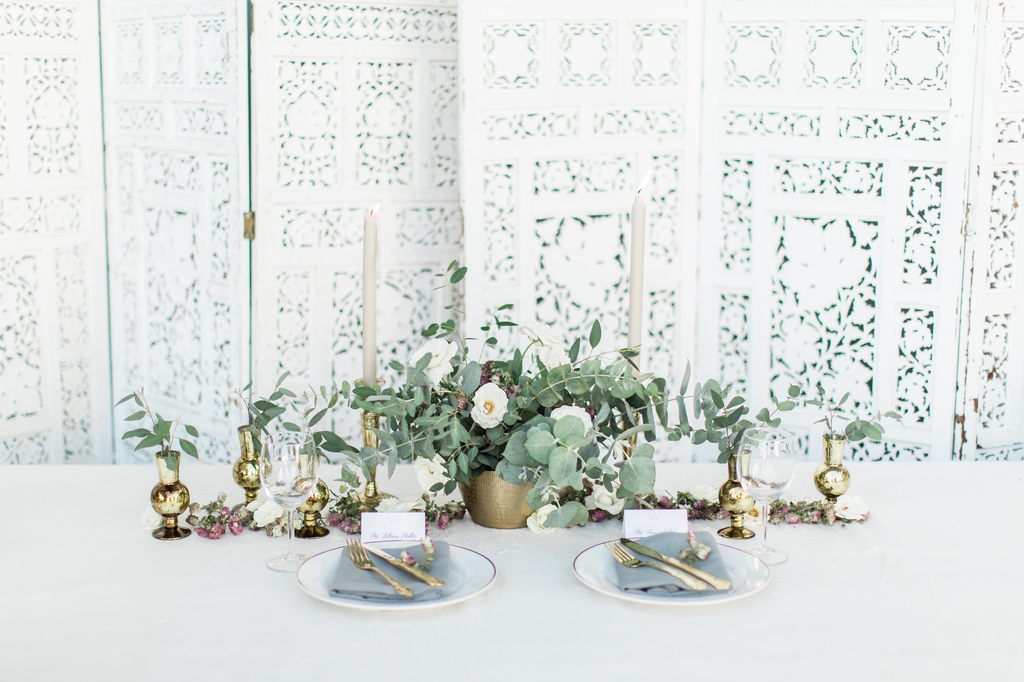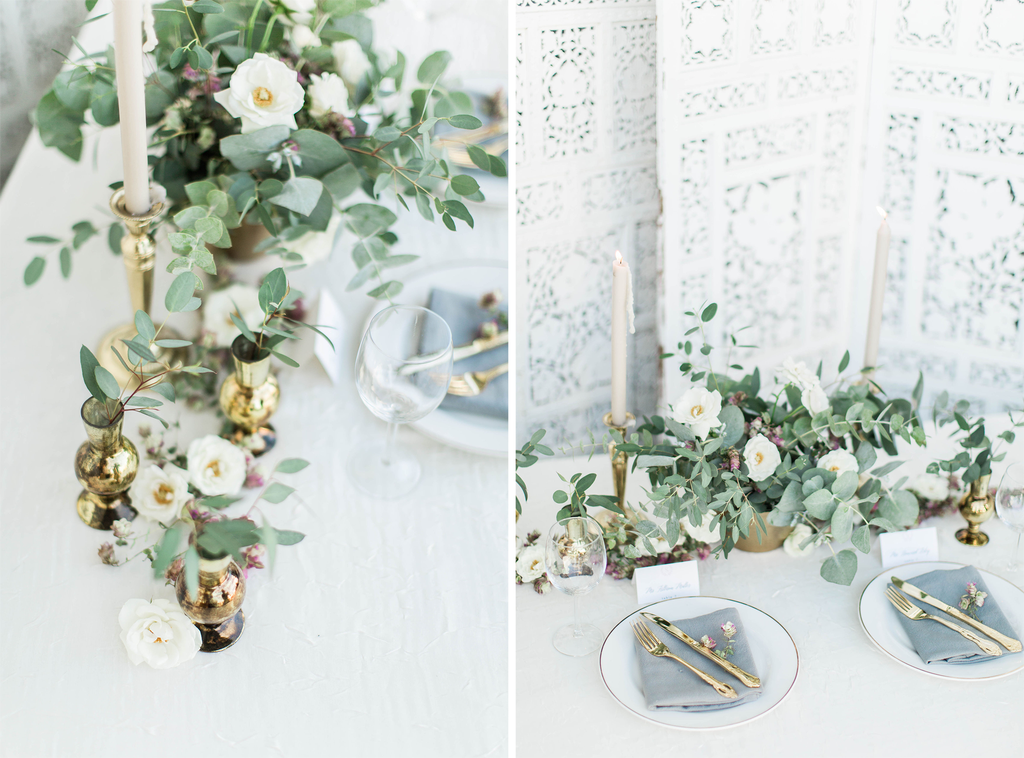 Winter
We chose a darker palette with deep maroon, wood, and greenery. The bare wooden farm tables with deeper colors really makes the tableware stand out. This would be more for a rustic reception, possibly for a barn or winery wedding or event.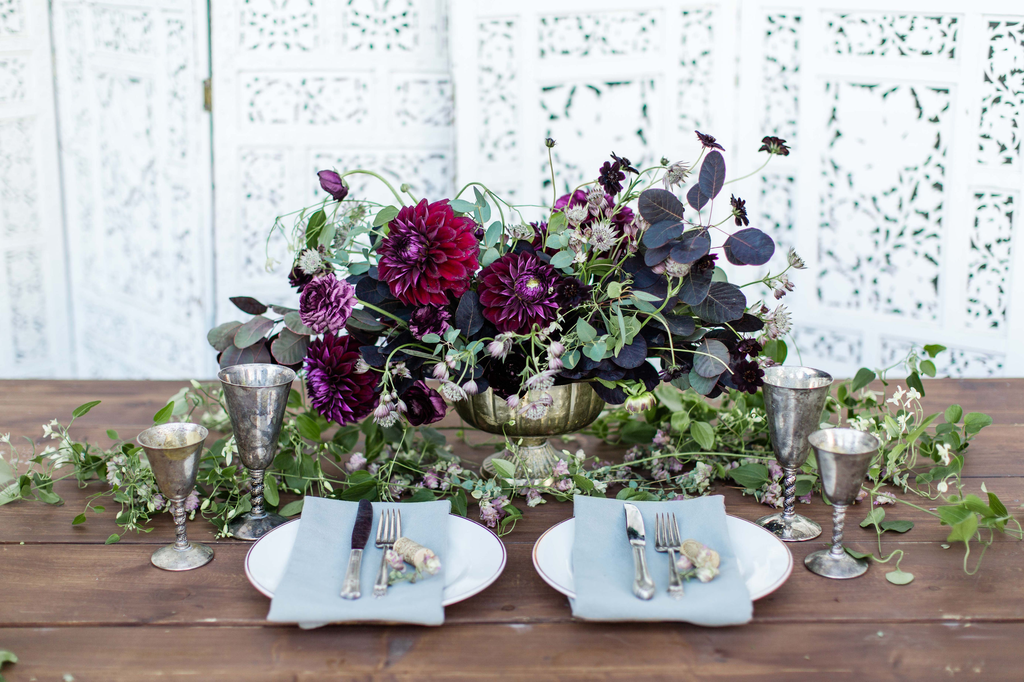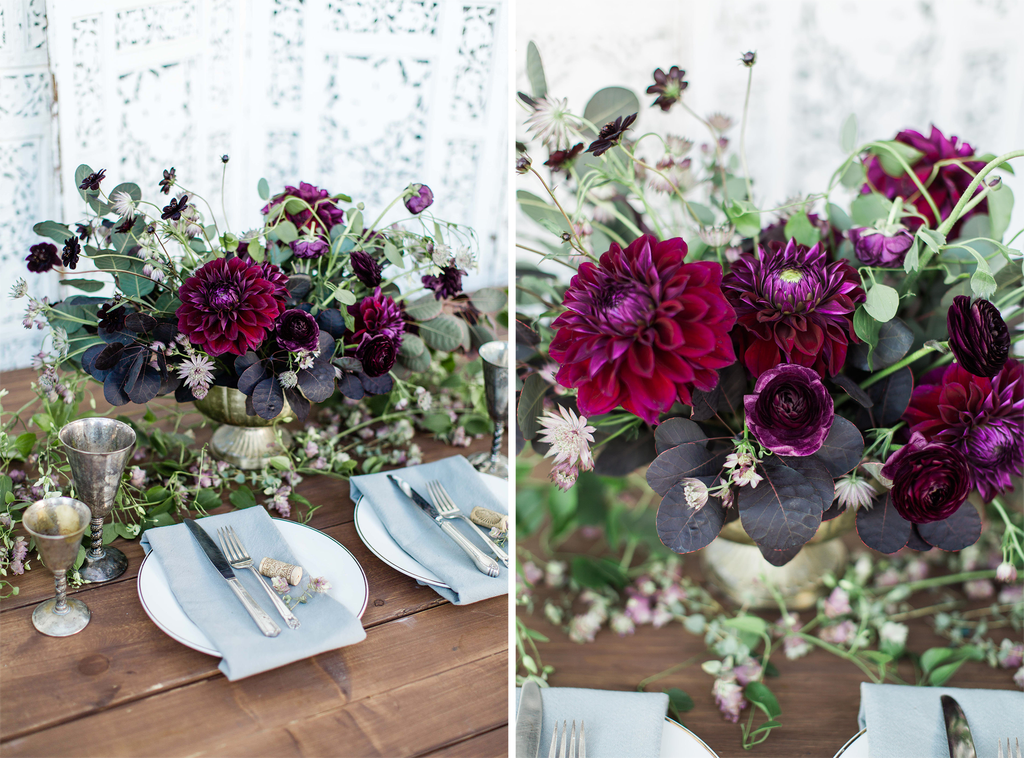 No matter where your event is or when, taking a thoughtful approach to design ensures those visions of your dream event come to life in vibrant ways that only reflect you but bring to life your entire event environment through the colors, hues and textures of the season.
VENDOR CREDITS

Event Planner
Event Rentals
Floral Design
Photography
Stationery & Place Cards
Wedding Rings
Vow Booklets
Ribbon
Acrylic Place Cards
Ring Boxes