As the great Julia Child once said, "A party without cake is just a meeting."
Your wedding cake is the pinnacle of your wedding celebration. It's a focal point and, according to most photography surveys, the second most photographed thing at a wedding right after the bride (sorry guys...).
If you've ever been to a big Italian wedding, you know that a wedding cake is only part of that couple's story. Nearly every Italian wedding also includes a table overflowing with incredible homemade cookies and miniature Italian pastries. If you find yourself celebrating someone's nuptials in Iceland on the other hand, you'll be marveling at a kransakaka, a hollow, towering pyramid of ring-shaped almond pastries.
From the rum-laced wedding fruitcakes of the Caribbean Isles or the elaborately designed rubber or foam "dummy" cakes popular at extravagant Japanese weddings to the latest decadent dessert grazing table trends here in the States, there are plenty of options to make sure your cake takes part in your storytelling.
Here are 5 tips for a stunning wedding dessert display that will take your wedding cake to the next level.
1. Start From The Ground Up
Just like we put incredible amounts of thought into the most authentically "us" first dance song, unique sweetheart tablescapes and memorable experiences for all of our guests, start by putting the same thought into your dessert display and how you can create depth and elevation without having to build into the cake budget.
Simple additions like antique hutches or clean, modern shelving units from IKEA can add dimension and varying heights to your dessert display. That rustic wooden farmhouse table you wish you could have afforded for all of your guest tables can make the perfect base for a beautiful dessert display.
Whether your design aesthetic is contemporary, shabby chic or rustic, there's always something incredible you can use as the base for your dessert display.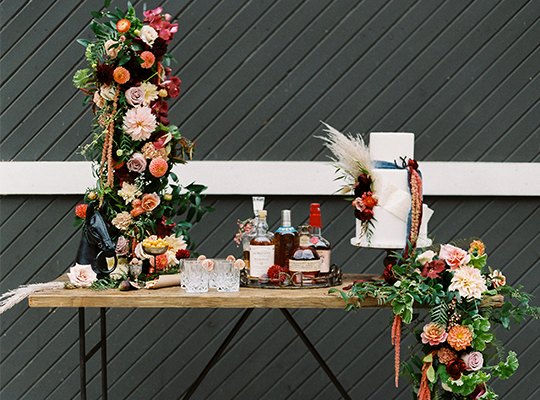 Photo courtesy Jenny Haas
2. Think Tablescape
Make the dessert table a continuation of your guest tables. Use the same design elements from these tables to tie them into the rest of your wedding décor.
Check with your venue or linen rental company to see if the table covers you selected for your guest tables is also offered as a table runner. Using one of these on the cake table can tie it in to the rest of the room while adding a soft textural element surrounding the cake itself.
Add in small arrangements or nosegays of the same flowers used in your tablescapes and be sure to include the same floating or votive candles used on your guest tables.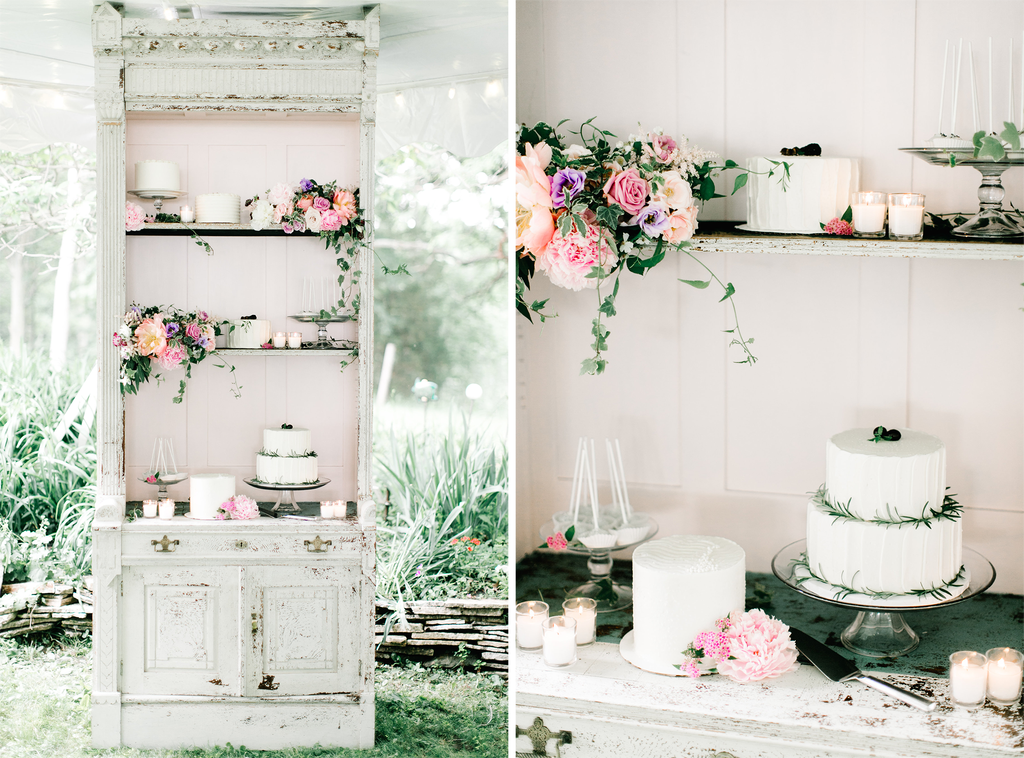 Photo courtesy Vienna Glenn
3. Get Personal
Your wedding tells the story of the two of you as a couple, as well as your family history.
Foods like baklava because it was something your grandmother made for every family event, cherry pie tarts because they are your new spouses all-time favorite or Caribbean inspired cookies because that's where you got engaged are great options that create unique opportunities to tie your story into the dessert display.
Add a hand made sign or two that share your story, or make recipe cards for those cherry tarts for your guests to take home as a memento of their experience at your celebration..
Hot tip: just like your wedding attire, accessorize! Use your parents' antique cake cutting set, decorate with fun photos of the two of you or even frame and display that favorite picture of your grandmother next to her baklava.
Looking to add a personal or singularly random touch? Serve your desserts on mix-and-match china pieces donated by family members, picked up at flea markets or found at thrift shops. No matter if it's good china or not, an assortment of odds n' ends flatware make for great conversation pieces, reminiscent of family gatherings and special memories breaking bread with the ones you love.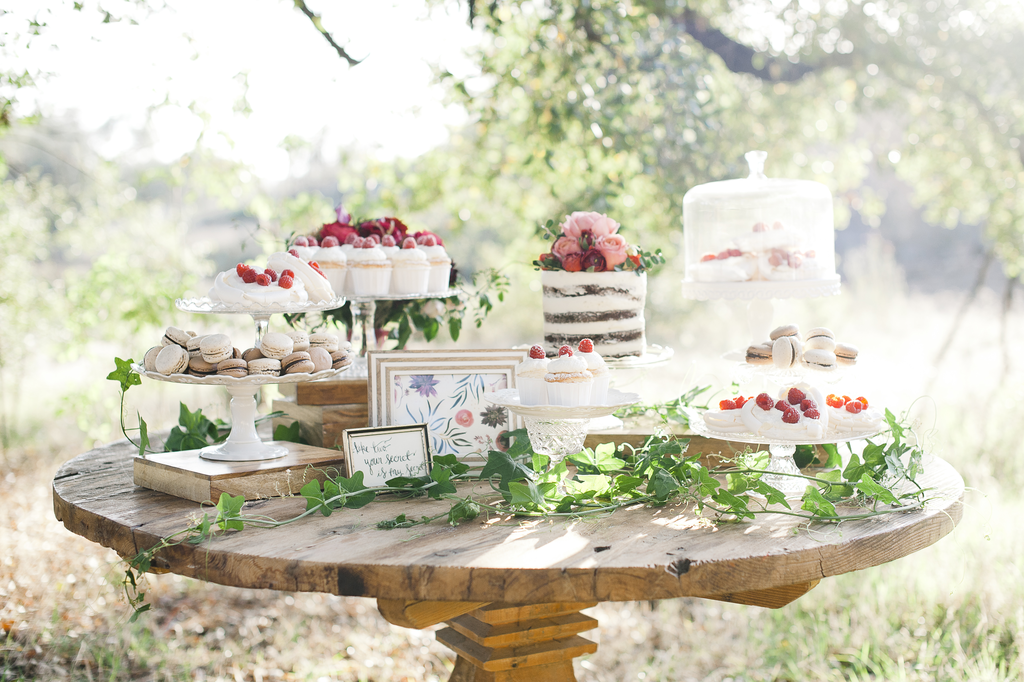 Photo courtesy Amy Carlston
4. Let There Be Light
Uplighting behind the dessert display adds a warm glow and a splash of color while pin spotting your wedding cake in the center of the table can make your show stopper of a dessert pop. If your cake or dessert table is center stage worthy, lighting is a crucial element to highlight it.
Keep in mind that lighting needs to be multi-dimensional, so include votive candles for a soft, warm glow to offset any "hot" or bright lighting from off the table.
5. Location, Location, Location
As with any event, a great experience comes down to flow and flow is dependent on where you locate everything, from the bars and buffets to the dance floor and DJ. Finding the perfect location in the event space for your fantastic dessert display is a must!
We see thousands of images from weddings every week and even an incredibly designed dessert display with all the feels can crash and burn in the wrong place. The last place you want to put this baby is in the corner, tucked away where n one can see it.
Whenever possible, place your dessert display in a location where it can stay for the entire evening. If you're making a cake presentation, create an exciting beautifully decorated table with signage that helps create a buzz of what is to come. Add in the personal elements, bite-sized goodies, and signage just before service.
Step back and look at the placement in the room. Will your cake achieve the Instagram fame it deserves? Nothing kills a beautiful design like seeing door frames, the brash neon green of exit signs or the awkward fire extinguisher in the immediate background.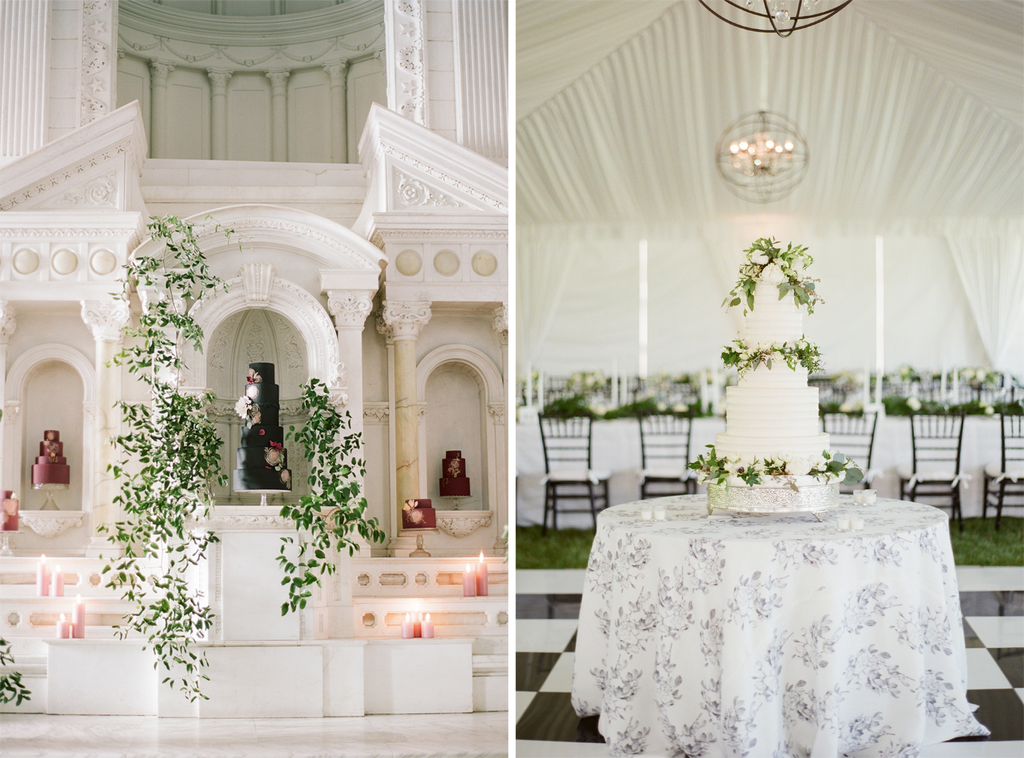 Photo courtesy Rebecca Yale (left) and Kelly Sweet (right)
Creating a thoughtful, stellar dessert display can play double duty at your wedding. It can add another surprising and delightful design element to your wedding and tell your love story. Put the two together and your wedding will surely end on a sweet note.