The week before your wedding day is filled with so many different emotions: excitement, anticipation, and, yes, a little bit of worry and stress. With so much going on, it's understandable that you might need a reminder on what exactly needs to be done in the days leading up to the big day. Let this be your guide to everything you need to cross off your to-do list before you say I do!
Seven Days Out…
Pay your vendors. Most wedding professionals will require final payment a few days before the main event. And Alyssa Glorioso, a Chancey Charm wedding planner in Virginia/DC, also recommends putting any gratuities into envelopes so you get that task out of the way.
Pick up your dress. Lauren Virgin of A & L Events in Pittsburgh suggests that brides pick up their gowns one week out from the wedding day. "This way there's a cushion of time should you need any final tweaks or changes by your seamstress."
Give your final head count. If you haven't already, be sure that your venue (and caterer) knows what your final guest count is for the reception. They'll need to order enough food for everyone a few days in advance. Also, don't forget about meals for your photographer, videographer, and entertainment!
Six Days Out…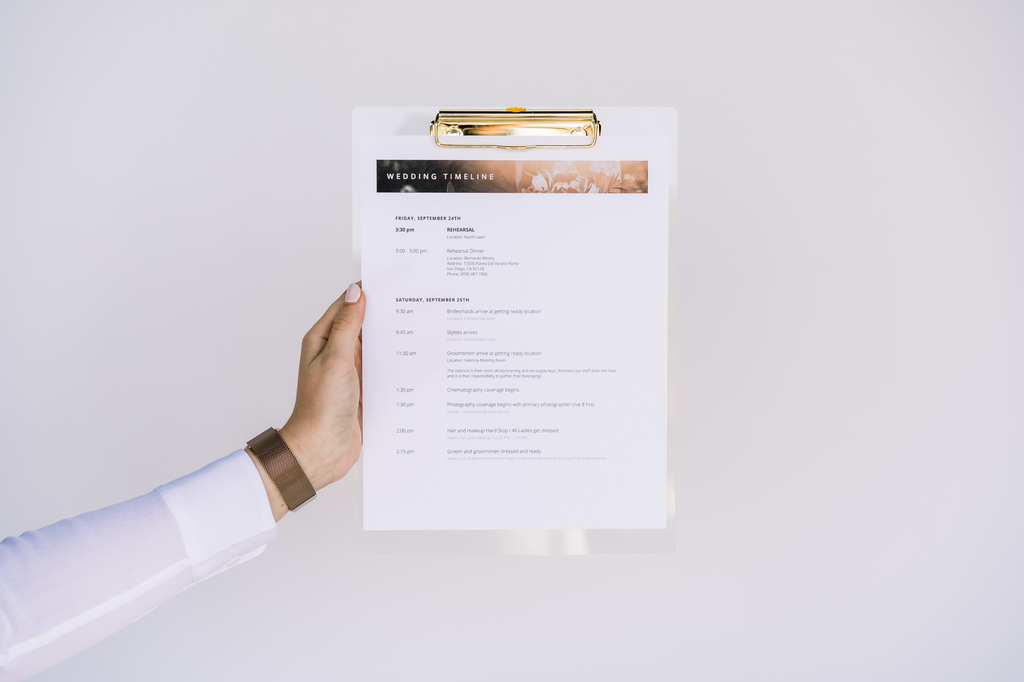 Photo courtesy of Pura Soul Photography
Share the timeline with your bridal party. "Send details of the wedding day (times, places, etc.) with your bridal party and any other VIPs so everyone know what's expected of them on the big day," says Alyssa. And throw in a reminder to the groomsmen so they know when to pick up their tuxes.
Enjoy spa treatments. Take some time to relax because the closer you get to the big day, the more hectic your schedule will likely get. But avoid doing any new or out of the ordinary skin or spa treatments that day as you might have a reaction that'll impact your wedding day look, warns Skylar Caitlin, Chancey Charm wedding planner in Houston.
Break in your wedding shoes. You don't want the first time you wear your shoes to be when you're walking down the aisle. Instead, take some time to stretch them out a bit and get comfortable by walking around the house in them for a day or two.
Five Days Out…
Organize photography details. If there are specific items you want your photographer to capture on the day, get those together now. Think wedding bands, invitation suite, jewelry, cufflinks, special family heirlooms, garter, hair accessories, perfume, etc.
Clean your engagement ring. Take your ring to be professionally cleaned so it sparkles on your wedding day.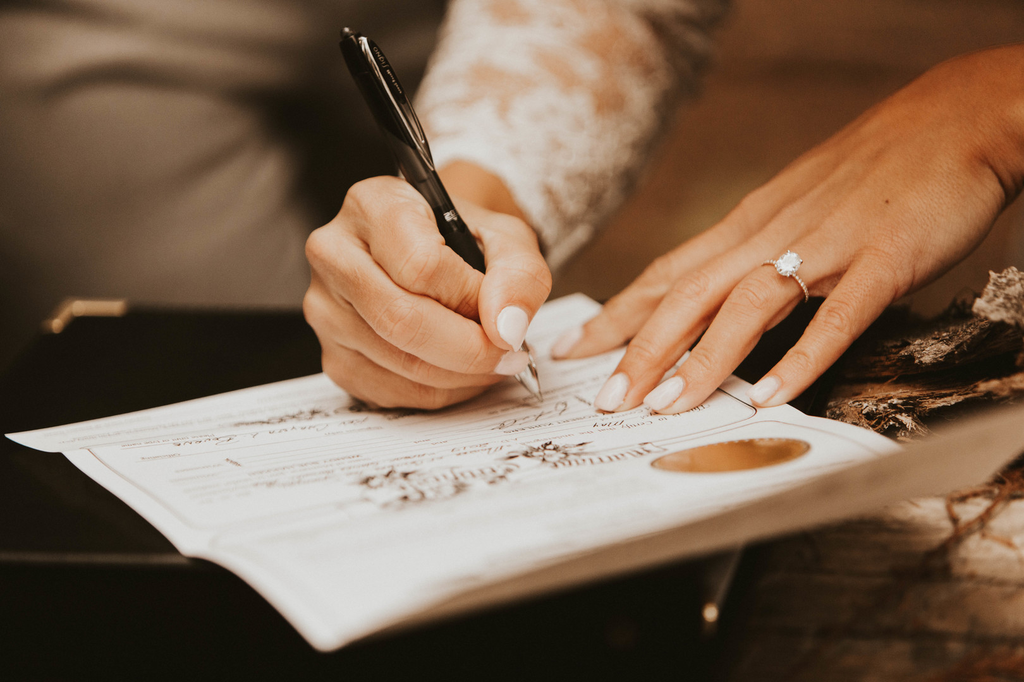 Photo courtesy of Tayler Ashley Photography
Pick up & pack your marriage license. If you don't have it already, pick up your marriage license asap, and then place it in an envelope so it's safe and secure. You'll give this to the officiant at the rehearsal. Find out more about obtaining a license here.
Four Days Out…
Call your vendors. While it might be a bit annoying to have to wait this close to the wedding day to confirm, keep in mind that vendors are usually working other events over the weekend and typically don't have their delivery schedules set until 48-72 hours before your event, says Antoinette Yelenic of A & L Events. "Finalizing all last-minute details at this time will provide you with the most accurate information."
Confirm honeymoon details. Verify all travel logistics—flight times, hotel room, special excursions—before the wedding weekend begins.
Wrap gifts. If you're presenting your bridal party with gifts at the rehearsal dinner, take the time to beautifully wrap them now.
Three Days Out…
Indulge in a mani & pedi. "Getting your manicure and pedicure done this far in advance will give you time to change colors if you're not happy," says Lauren.
Put together an emergency kit. Organize a small bag that you can keep in the limo or bridal suite with some essential emergency items, including a needle and thread, stain removal stick, breath mints, deodorant, blotting papers, tweezers, and lip gloss.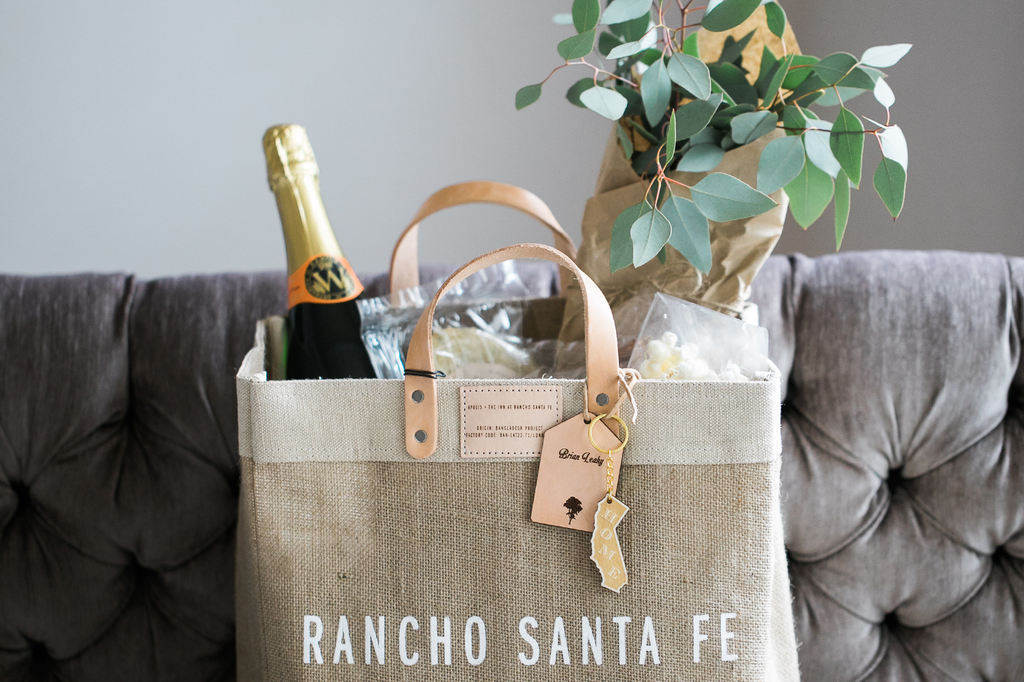 Photo courtesy of Brian Leahy
Bring welcome bags to the hotel. If you have out-of-town guests coming in for the event, drop off their welcome bags to the hotel so they can be placed in their rooms before arrival.
Two Days Out…
Pack for your honeymoon. Trust us, you don't want to be packing for this trip on the morning of your wedding (or the day after when you're likely exhausted). Whatever you can get into the suitcase now will save you the stress later.
Call the limo/shuttle company. Confirm pick up times and locations with your transportation, especially if you're planning to provide a shuttle service for guests. You don't want a busload of people to show up to your vows late!
Drop off any special items. Bring anything you need for the ceremony and reception—programs, unity candle, table numbers, guest book—to the locations ahead of time, says Skylar.
The Day Before…
Get a wash & blowout. Not only will your hair look gorgeous for your rehearsal dinner, but it's also easier for your stylist to work with "day-old" hair on the wedding day.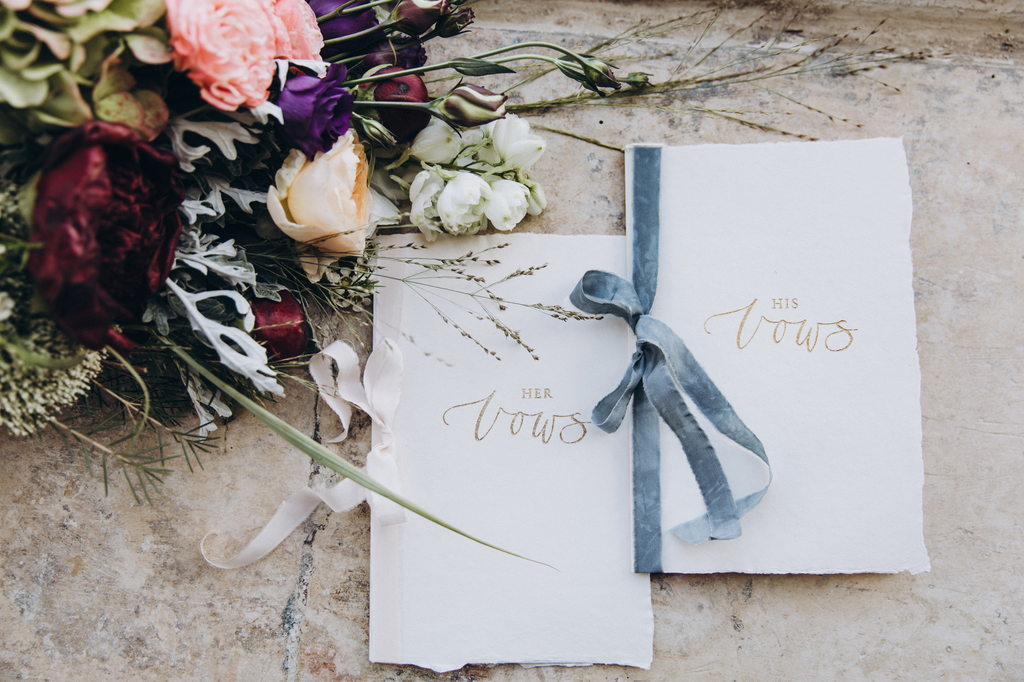 Photo courtesy of Anna & Alex
Finalize your vows. If you're writing your own I dos, reviewing them can make you feel less nervous reciting them when you're up at the altar with all eyes on you.
Relax! All that hard work and planning comes to fruition tomorrow. Get a good night's sleep so you can wake up refreshed and ready to enjoy this magical day!