One of the first wedding planning considerations for most couples is picking a date. Everything about your wedding links to that one decision. From finding a wedding venue to picking your wedding pros, you have to have a confirmed date to know who is available. But what if that date falls on a holiday?
All Aboard
The first bit of shocking news to most couples is that not everyone you want to invite to your wedding is going to be available for the wedding date you selected. It's just a matter of odds. Someone is bound to have a personal or professional obligation that they can't change.
The second piece is that you can't try to accommodate everyone without making yourself crazy. Focus on immediate family and honor attendants and let the chips fall where they may.
Every Day Is a Holiday
If you look online at a calendar of holidays, someone is celebrating something nearly every weekend. However, when considering holiday weddings, there are some pros and cons you might want to consider when looking at your wedding date.
Pros
Some of the obvious pros are that over many holiday weekends, family and friends are already gathering so you stand a better than average chance of getting all of your loved ones together in one place. This often includes neighbors and high school friends who may live out of the area.
Another pro is that you might have some built-in themes, activities, and décor already in place. A summer wedding may have fabulous beach activities available the weekend of your wedding, time on the lake, or even spectacular fireworks displays. During the Christmas holidays, you may have beautiful trees, decorated mantles, and other decorations that can save on your décor budget. And, don't forget all of the incredible seasonal foods that bring back delicious memories associated with a specific time of year.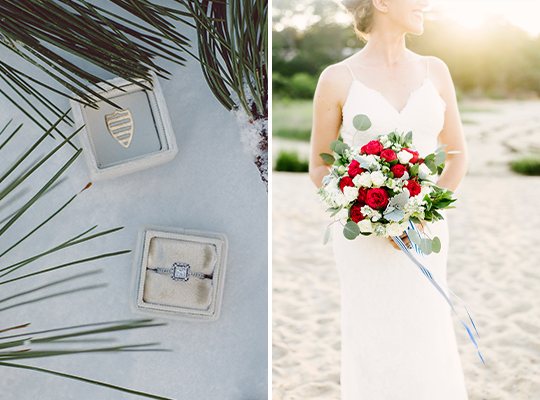 Photo courtesy of Lilly Red Creative (Left), Alicia King Photography (Right)
Cons
Unfortunately for many of the pros, there are also many cons to consider. If your extended family or college friends always go away to the mountains over Memorial Day, chances are they have plans in place and may not be able to change them. While many of your local high school and family friends may be coming home over Thanksgiving, other friends may be scattering to see family in other parts of the country. And, while those beautiful Christmas trees, lights, and nativities may work for some, those who celebrate other holidays need to be sure to ask about what décor will be displayed that time of year.
Another reality is that for some holidays, services might be more expensive. Not because it's a wedding and pros think they can, but because they're in high demand. That amazing band you have to have for your New Year's Eve wedding might have been booked since last New Year's. From venues to entertainers, florists to caterers, book your pros early because they may be booked or charge a premium price.
You'll never make everyone happy. It's just not possible. But, you want to be sure that you've carefully looked at dates and holidays before making any decisions, and of course checked for obvious conflicts with your immediate family and friends.

Hero photo courtesy of Lilly Red Creative