Every year, couples ditch tradition and come up with new wedding trends we have yet to experience. This doesn't come as a surprise though! They've decided to make their wedding day unique to them. The wedding trends we see today stem from couples wanting to show off their personalities in their design and décor. From eco-friendly venues to unconventional cakes and almost supernatural dresses, there's an infinite number of new ideas to explore. To help narrow it down, we've curated a list of our favorite wedding trends you'll love for your upcoming 2020 nuptials.
Eco-Friendly Weddings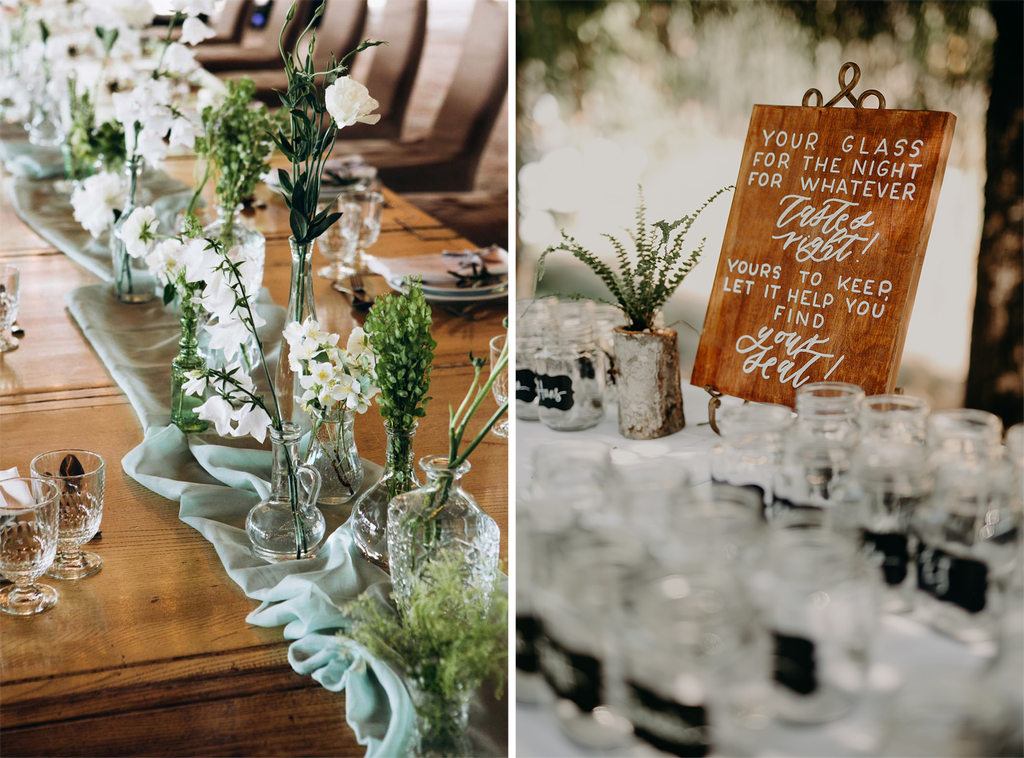 Photo courtesy of Shutterstock (Left), Emily Turner (Right)
As the world becomes more conscious of the effect we have on the ecosystem, couples have began looking for ways to reduce waste in their wedding. Recycled stationery and other biodegradable paper goods have become super trendy in the last year. Even wedding favors are becoming more locally sourced and organic. Additionally, as an alternative to the traditional wedding registry, couples have been asking for charitable donations instead of gifts to support their local community.
Bridesmaid Dresses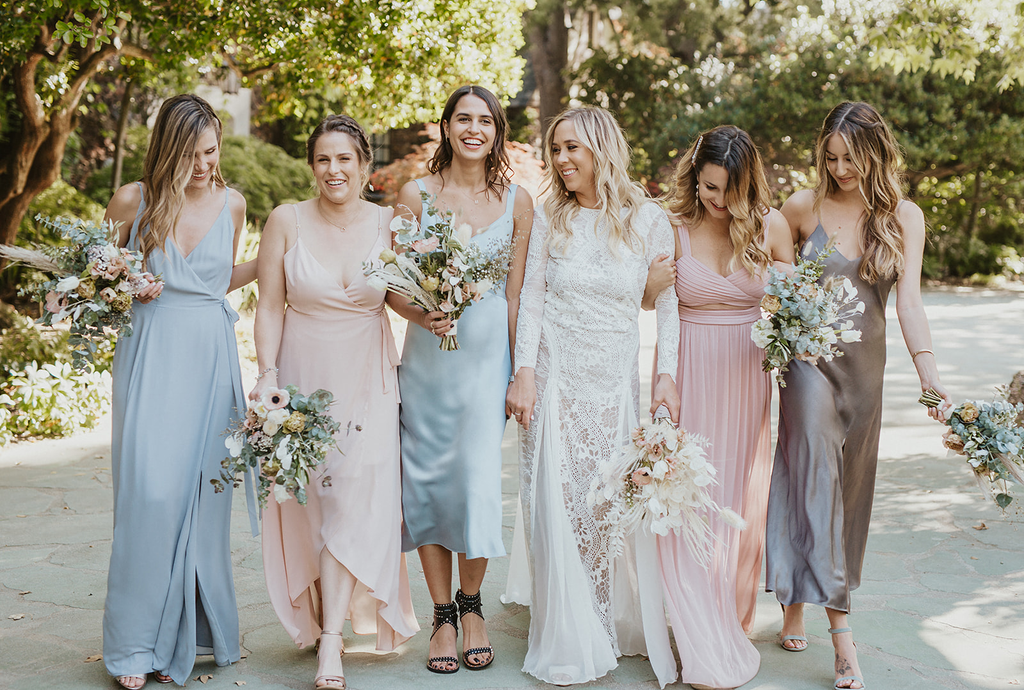 Photo courtesy of Katie Edwards
In the past, brides have been a big fan of keeping their wedding party looking clean and simple. The MO for this has been to put them in the same dress color, same designs, and sometimes even the same shoes. This trend has changed drastically as more brands are creating different styles of the same fabric and color of dress. By creating variations, their personalities will be able to shine through! Even getting ready outfits have become more creative than the traditional silk robe. If your girls can be themselves on your special day, they'll feel so much more comfortable on your wedding day and the photos will show for it!
Wedding Cakes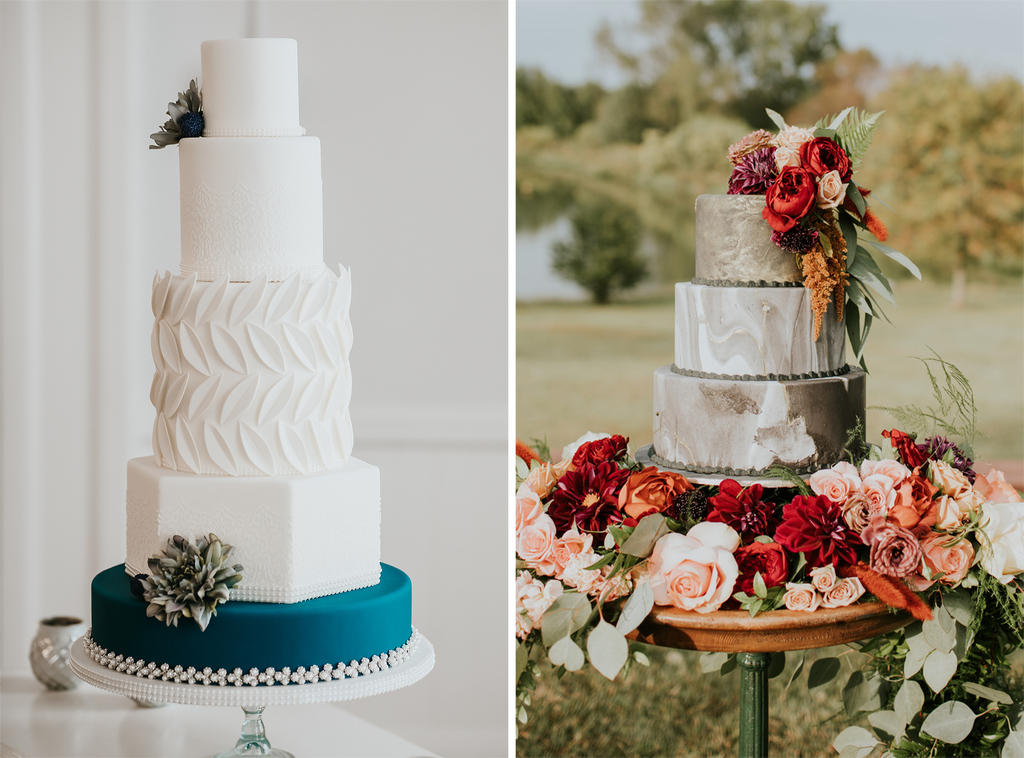 Photo courtesy of Rad Red Creative (Left), Hilary Koon Photography (Right)

Gone are the days of traditional fondant and royal icing cakes filled with delicious fruits. Lately, we've seen the biggest wedding cakes ever! They've become magnificent works of art that can be used as a focal point in your reception décor. Couples have also served tiered cakes with each step different than the last. They serve all the flavors and variations frolicking with the taste buds of guests.
Wedding Rings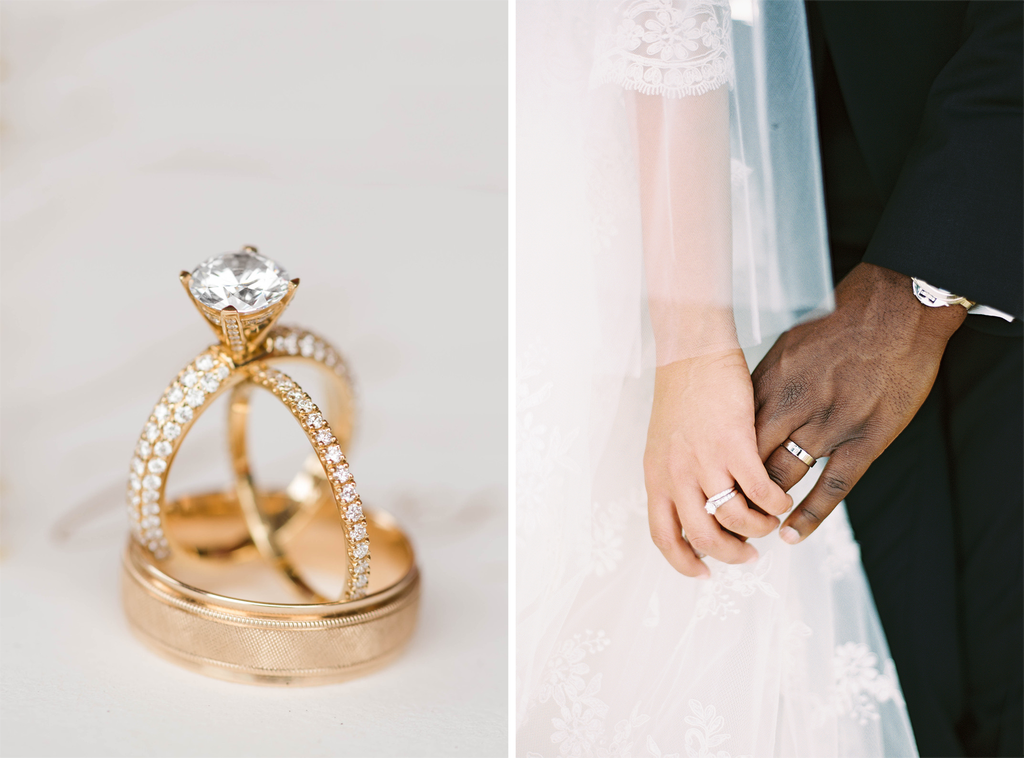 Photo courtesy of Sweet Williams Photography (Left), Patrick Moyer (Right)
In the old days, proposals came as a complete surprise. The men were the ones who did the ring hunting and planned a secret proposal. But the latest wedding trend we see is couples picking out their engagement and wedding rings together. This development has had a very positive effect because the couple gets to choose something they both love and that matches both their personalities.
And, in other news, yellow gold rings are back! Couples now opt more for yellow gold and against white gold, platinum, and sterling silver. Cushion cut diamonds are also high in demand over marquis and princess cut.
Au Naturel Hairstyles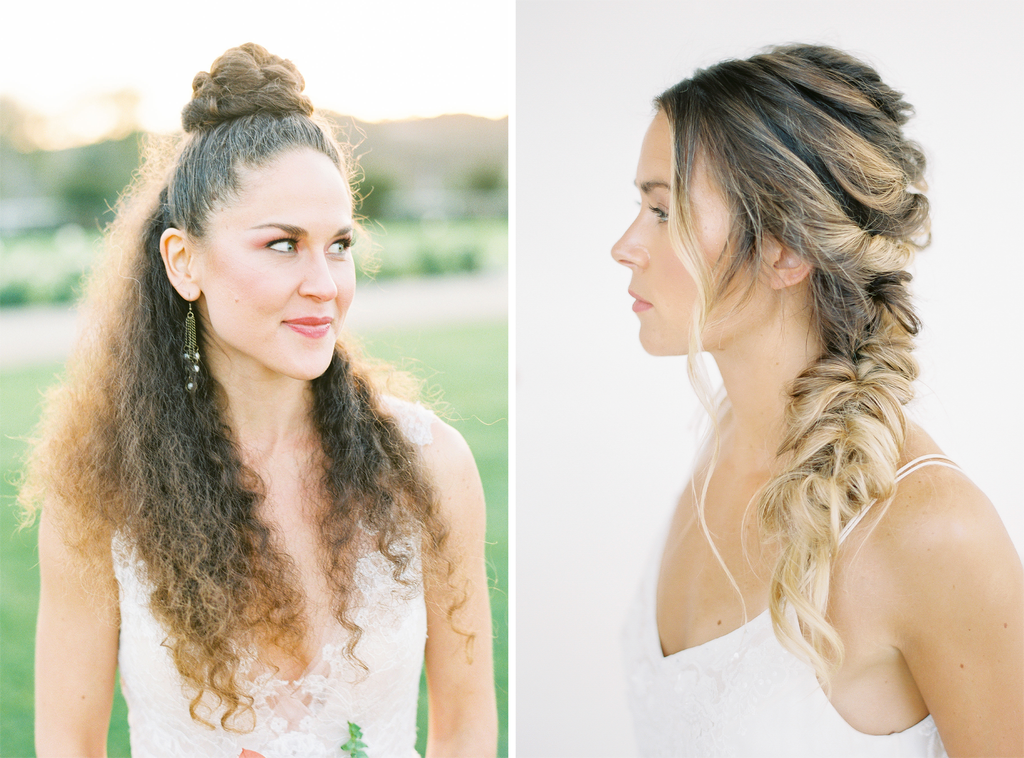 Photo courtesy of Ashley Baumgartner (Left), Dear Lovers Photography (Right)
It used to be sleek buns, chignons, and styles that kept everything together. Today, brides want something more natural. A blend of I just woke up, I don't care, and windswept. We see brides sporting tousled hair, loose buns, half up half down, or a full head of curls. Although the neat and put together hairstyles are classics, brides want to feel comfortable. Look out for brides like Meghan Markle and Priyanka who adorned these beautiful bridal hairstyles.
Timeless Veils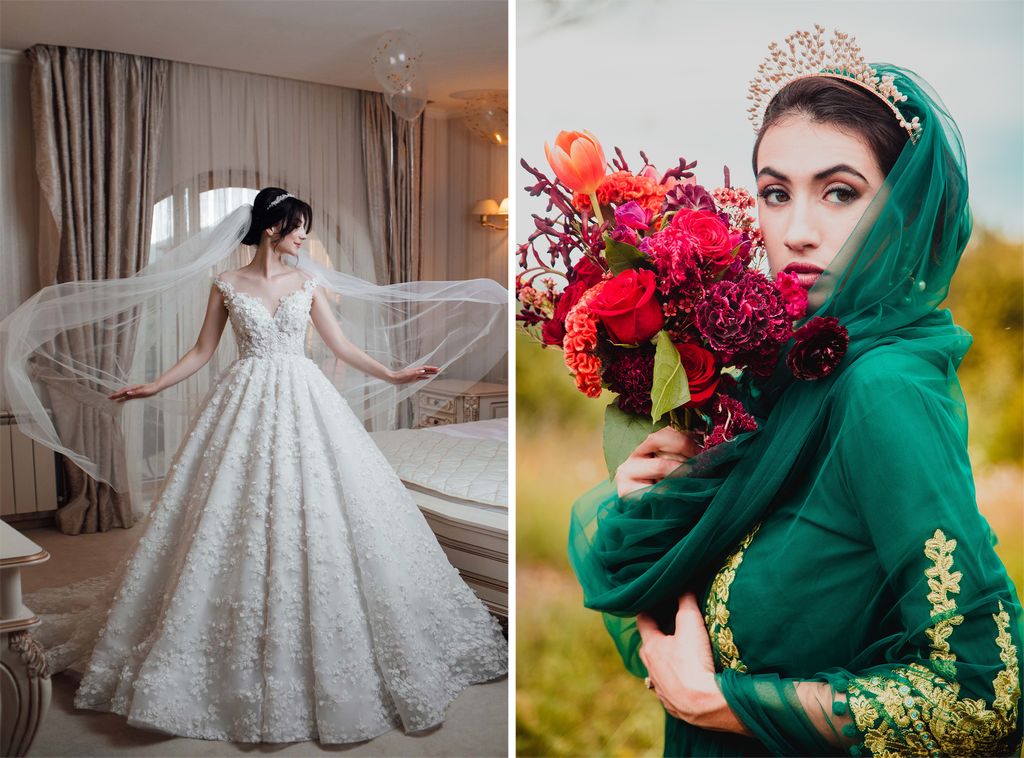 Photo courtesy of Shutterstock (Left), Shab&Coop Photography (Right)
Whether it's a cathedral length veil or something small and subtle, veils are becoming divine. Brides are starting wear veils that tell a story—something with soul and depth. They transcend into an heirloom that can serve generations to come and it's also a way for brides to let the world know the extent of their love.
Wedding Dresses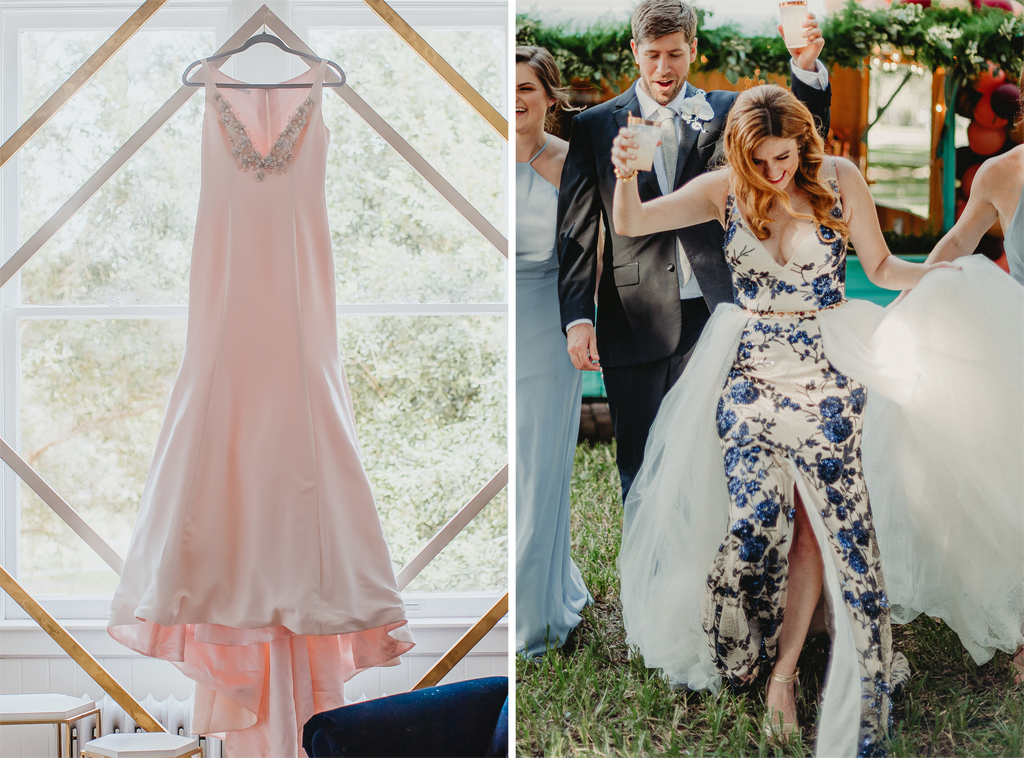 Photo courtesy of Rad Red Creative (Left), Dewitt for Love (Right)
White wedding dresses remain an all-time favorite for brides that want to feel classic and pure. It's a tad traditional and can be quite tweaked into an unrivaled beauty. You have the likes of Vera Wang to do justice to that. But the new wedding trend is of brides choosing other colors that are otherwise unconventional. From dramatic floral pieces to colors such as red, blush, blue, champagne, and even black, these dresses are for the brides that want to let their personalities shine through and dare to be different. Look out for these pieces from Kelly Faetanini, Danielle Frankel, Monica Byrne, and other new-age designers.

Hero photo courtesy of Katie Edwards