Personalized wedding vows are the key to an unforgettable, moving ceremony—but for brides and grooms who don't fancy themselves writers, getting your vows down on paper can be a challenge. Today, then, we're breaking down our top 5 tips for writing your own vows. Read on, and get ready to get over that lingering case of writer's block.
1. Collect Inspiration Over Time
Sitting down to write your vows all at once can be overwhelming—especially with all of the pressure and expectations that tend to surround weddings. Instead of blocking out a chunk of time right before your wedding to complete your vows, then, keep them in the back of your mind from the moment you're engaged. Start a note on your phone or keep a small notebook on you at all times where you can quickly jot down wording, ideas, stories and thoughts and as they come to you. Inspiration tends to come when we're not actively seeking it—on our morning commute, in the shower, when we're just about to fall asleep at night. Let these moments come naturally and jot down what comes to mind as they do. Then, when it's time to organize and write your actual ceremony vows, work from the thoughts and notes you've spent the past few months collecting—this will give you a great jumping off point.
2. Quality Over Quantity
The best vows are short, sweet and personal. Rather than opting for length, try focusing on a few main points that you can really illustrate with beautiful wording and anecdotes. Remember, while your vows are 100 percent for your spouse, you still have an audience of friends and family to consider—and the quickest way to lull them to sleep is with way-too-long vows. Think quality over quantity—focus on a few main points or promises and drive them home with personal anecdotes, pretty prose and even some humor here and there.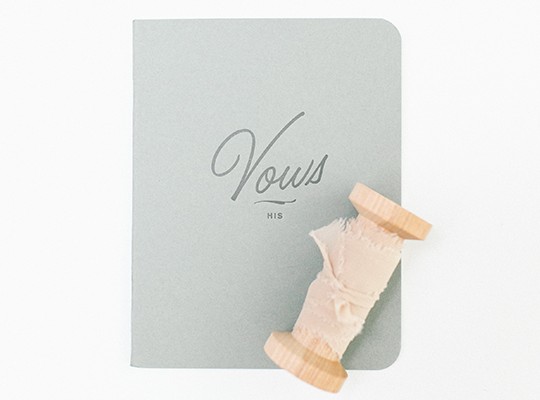 Photography by Jen Wojcik Photography
3. Map Them Out
The hardest part about writing vows can be organization. Even when we know what we want to say, figuring out how to say it can be the real challenge. We recommend mapping out your vows as part of your organizational process. What are the top three points or promises you want to make? What stories or other inspiration (humorous points, quotes, anecdotes about your partner, etc.) can you place under each? These three main points and the bullet-points you place under each will serve as the body of your vows. Then, simply add an intro and conclusion to tie everything together—as you want to be sure you're telling a cohesive story with your vows.
4. Incorporate Readings, Passages or Poems
While the majority of your vows should be original and come directly from you, you can always pepper 1-2 meaningful quotes, passages or poems throughout. If you do choose to use others' words, just be sure you're choosing them with purpose—you want your vows to feel personal first and foremost.
5. The Power of the Personal
Above all, your vows need to be unique to you, your partner and your relationship. As long as you're focused on writing something directly from you to your finacé, there likely won't be a dry eye in the house. Think of your vows as the most important gift you'll ever give. You want that gift to be a reflection of you and the person receiving the gift—and, most importantly, you want it to communicate just how well you know the recipient. What can you say to make them laugh, tear up, or smile? What memories from the past or promises for the future will mean the most to them?
Overall, writing your own vows is all about preparation, organization, and focusing on the personal. As long as you spend some time collecting inspiration and organizing your thoughts, you'll end up with vows that will wow your finacé and, as an added bonus, your entire guest list.