Menu display cards are a wonderful way to keep your wedding guests talking and excited about the big day as they transition from ceremony to reception, where the true party happens. Keep in mind that the year is 2020 and D-I-Y menu display options are endless. You can definitely do so much more than simply printing out a computer-generated card listing your entree items in bold arial font. Today we've rounded up 12 ways to simply break from the conventional menu-card-mold and even potentially save some money.
Geometric Elegance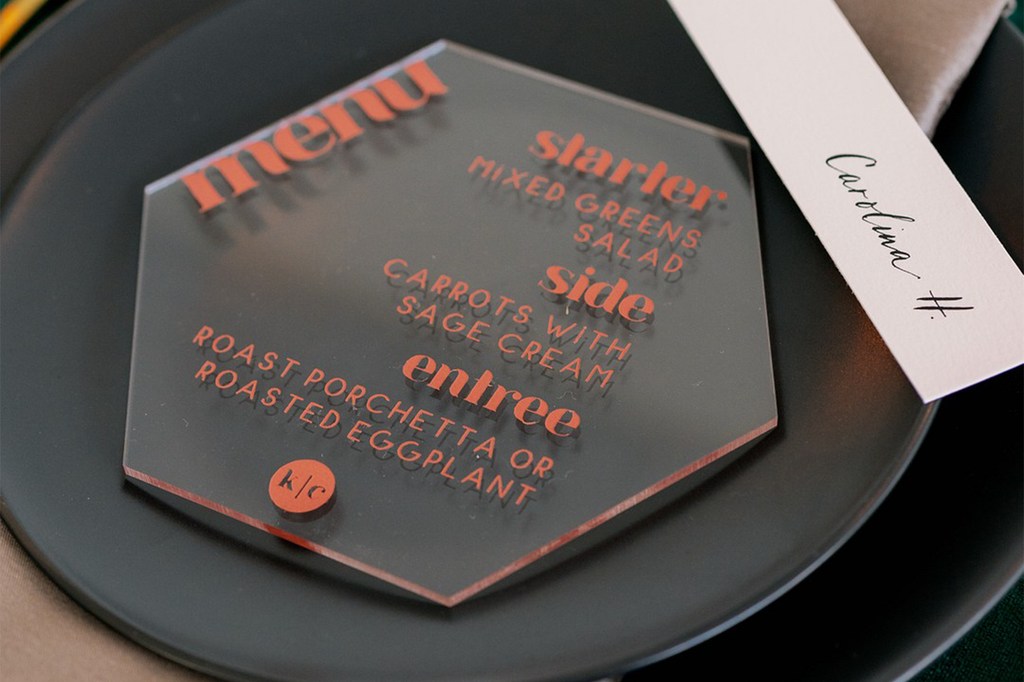 Photo courtesy of Steph Smith Weddings
For a modern or eco-friendly design this lucite menu makes quite the intriguing statement. Stencil or write on these acrylic glass hexagons with creative fonts in bright colors to display your menu with simple elegance.
Use Those Utensils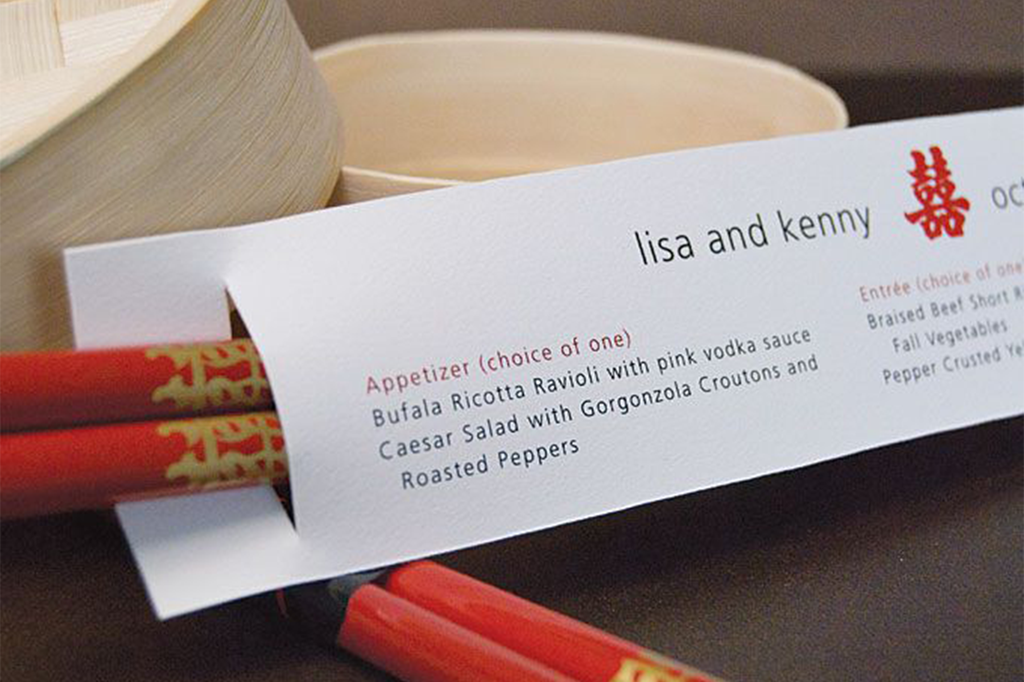 Photo courtesy of Double Happiness Creations
An unconventional way to display your menu is to use the utensils as the menu itself! These chopsticks are gently stowed inside the menu card, enhancing the theme and also gorgeously presenting meal options for each guest. If chopsticks don't match your theme, this can also be done with straws, forks, spoons, knives, or any other type of utensil.
Rustic Signs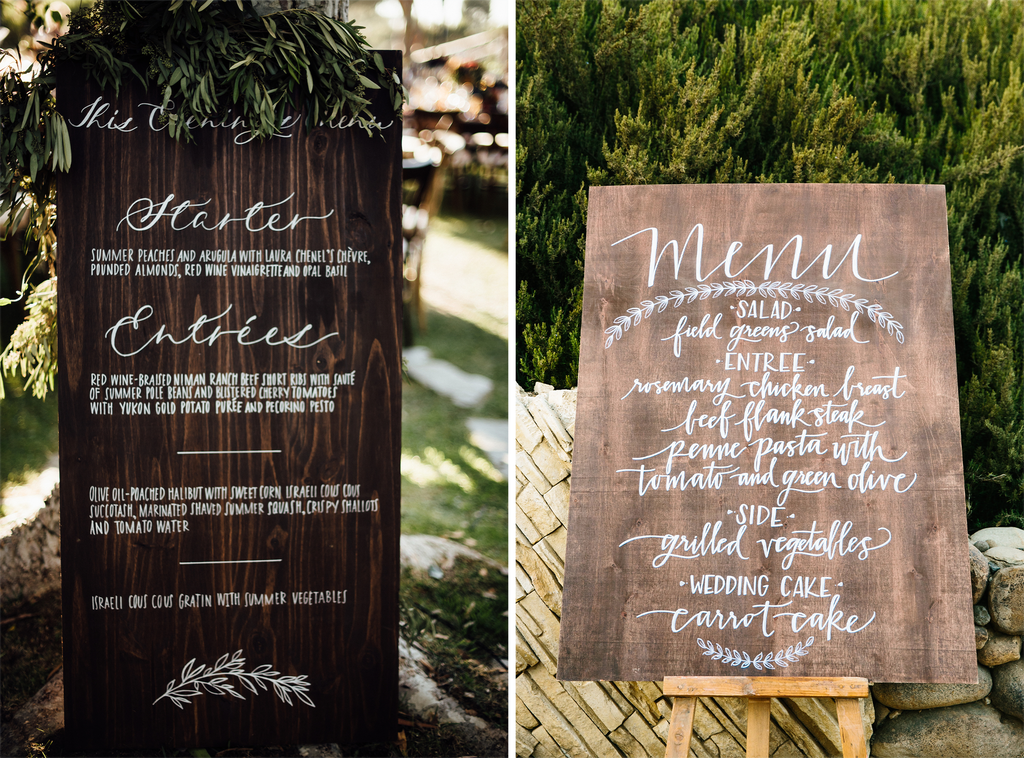 Photo courtesy of Docuvitae (Left), Jenn Emerling (Right)
For those going with a more rustic feel, these statement wooden signs will keep your guests talking about the meal to come. Use decorative chalk or paint to write out a set menu or menu items your guests can choose from. Just be sure to place them where everyone can see!
Lovely Leaves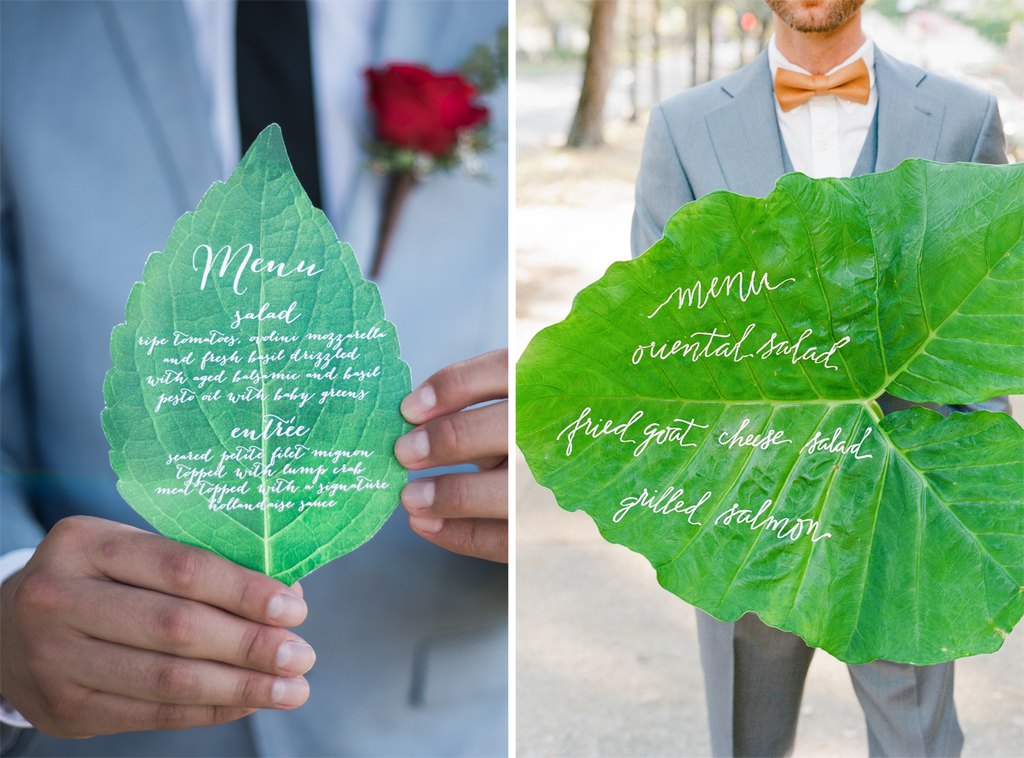 Photo courtesy of Selycia Yang Photography (Left), The Happy Bloom (Right)
Perfect for a destination wedding, or a wedding with some sort of tropical inspired theme, leaves are a beautiful and inviting way to present your wedding menu. Limited for space, this idea is best for a set menu, unless you decide to place a leaf listing menu details at each place setting.
Table Runner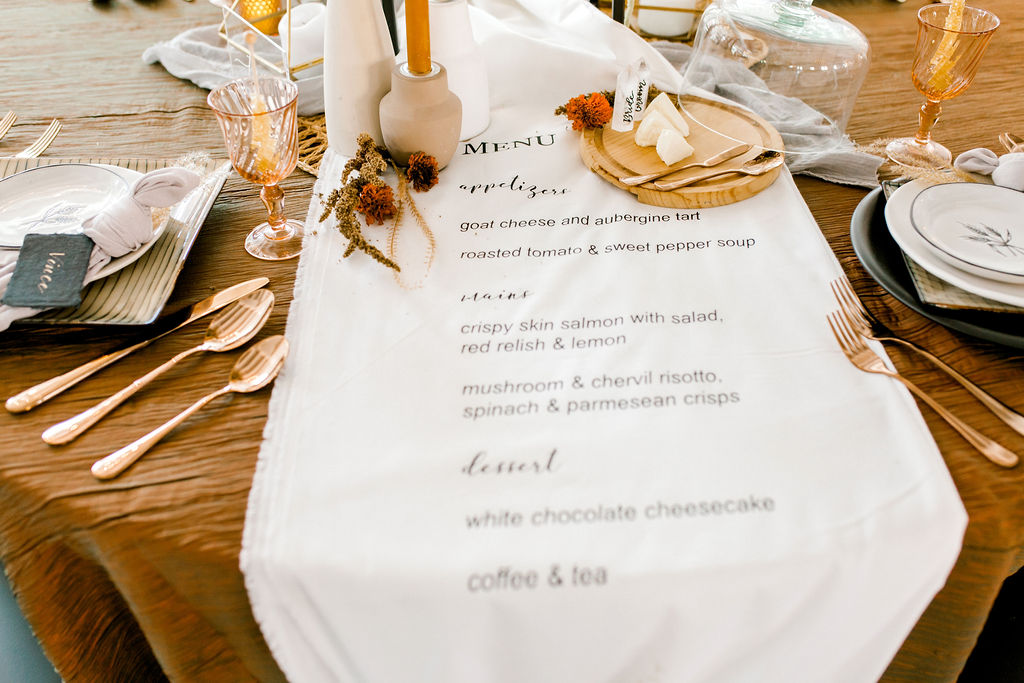 Photo courtesy of Bozena Voytko Photography, Emma Belen Photography, & Jaelynn Rose Photography
This table runner menu is wonderful for pre-set meal choices. Creating an elegant, yet homey feel, these decorative fabrics will surely bring each guest around the table together.
More Goodies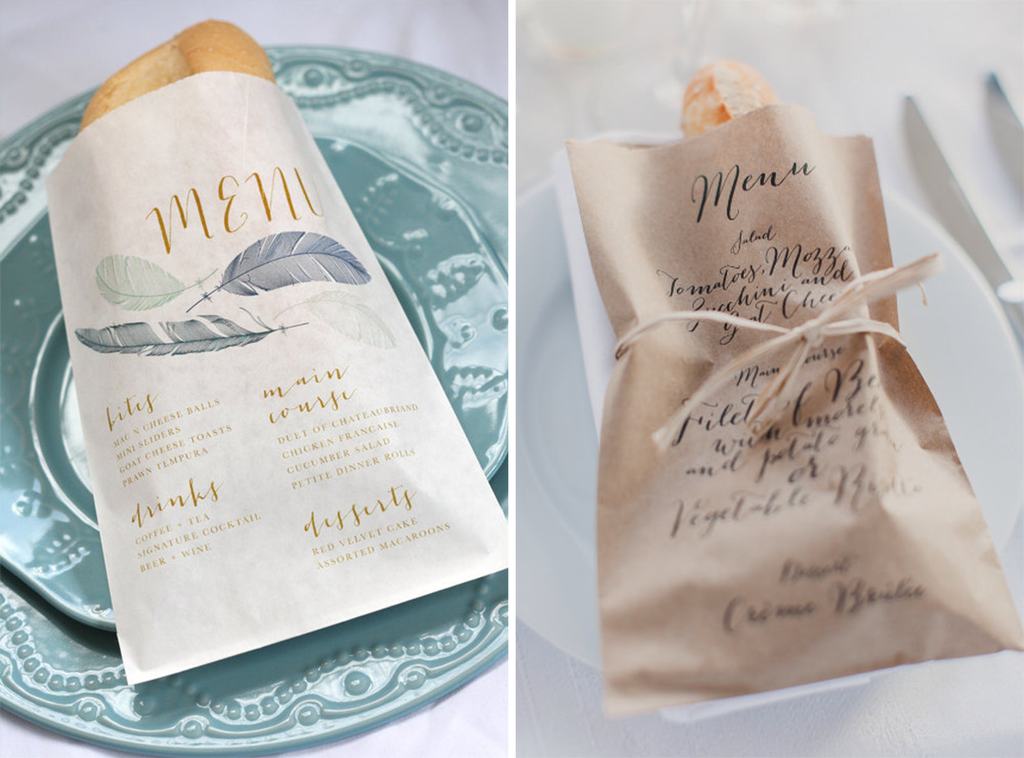 Ah, food—the gift that keeps on giving. Why not give your guests favor bags with printed menus? Goodie bag tags make this idea feel personal, yet rustic. Consider filling the bag with treats for later, utensils, or a loaf of bread to snack on.
Signature Signs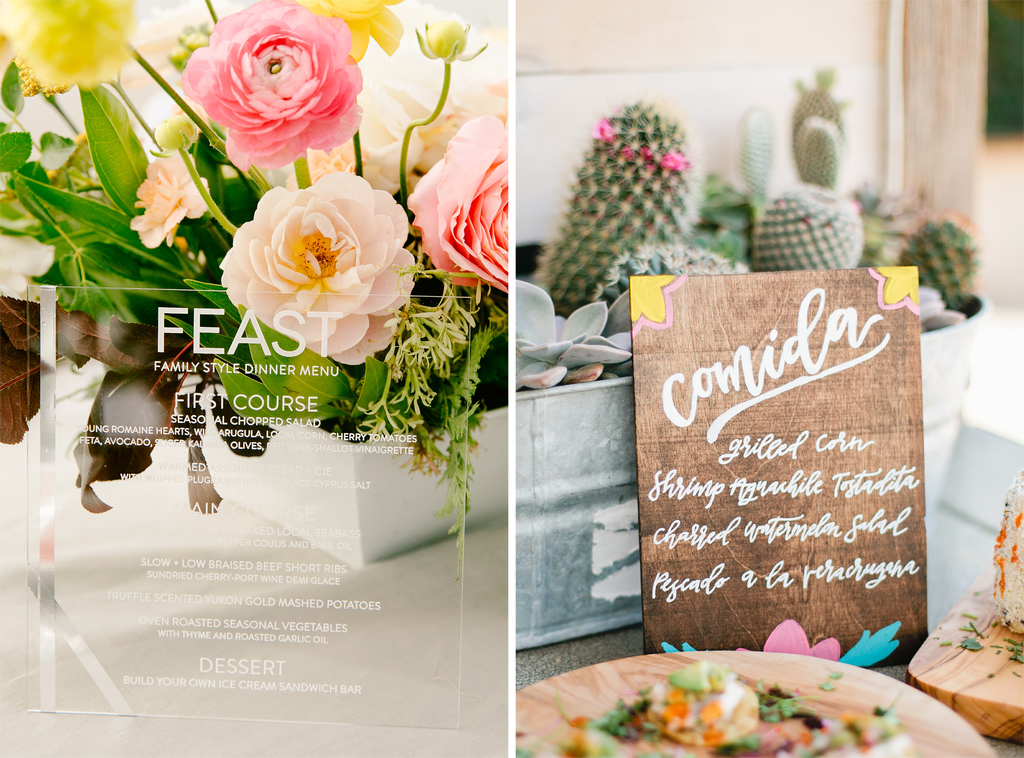 Photo courtesy of Jenn Emerling Photography (Left), Megan Welker (Right)

Small menu signs create continuity and present more style for the theme of your big day. Whether you're eating buffet style or have a set menu placed on each table, these small signs are sure to yield adorable and tasty results.
Bottom of the Bowl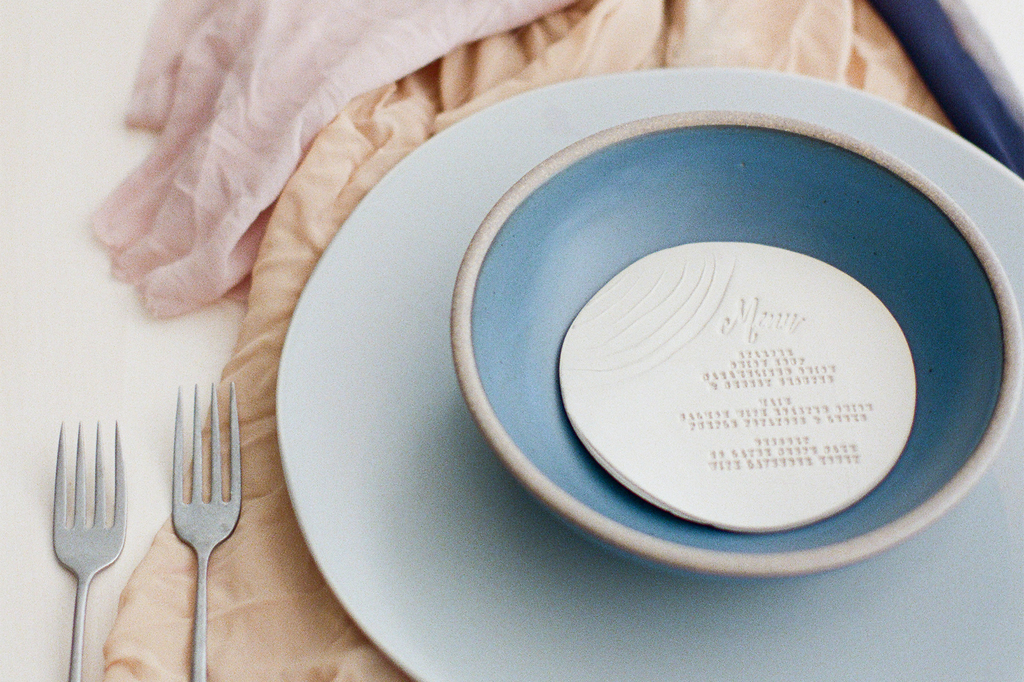 Photo courtesy of Feather & Stone
These circular menu cards that fill out the bottom of the bowl will fill your guests to the brim with joy. Decorative bowls with matching or mismatching plates will ensure your friends and family enjoy a hearty meal on behalf of you and your new spouse.
Inviting Envelopes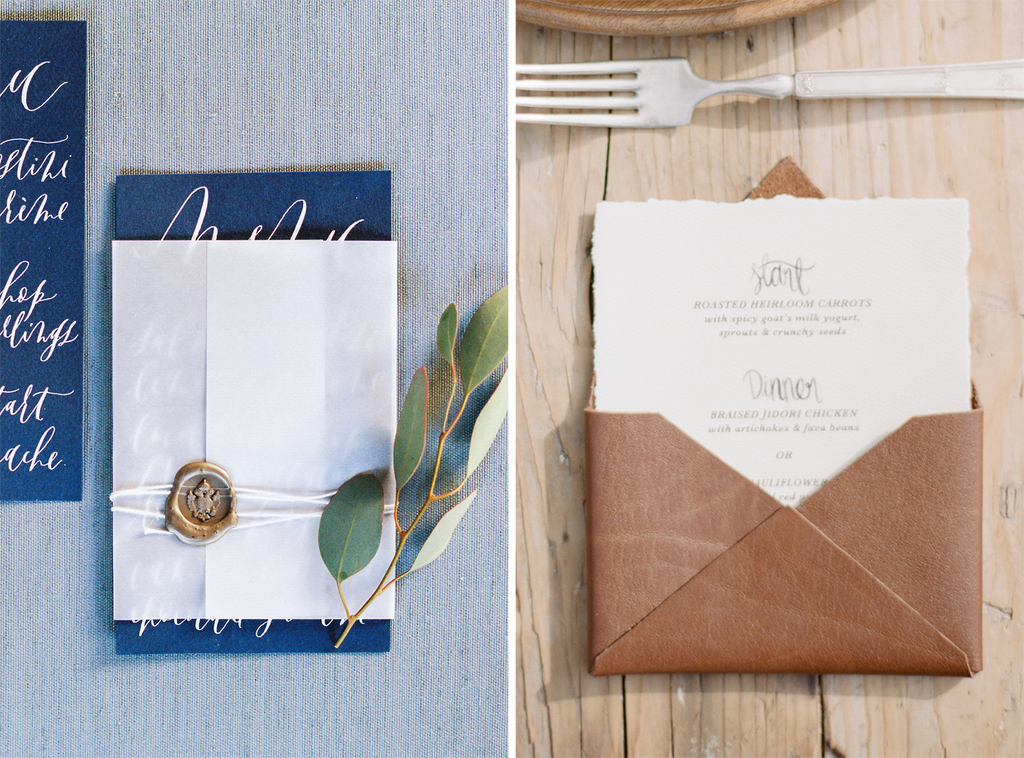 Photo courtesy of Rachel Solomon Photography (Left), Bryan Miller (Right)
Envelop your guests with a warm welcome at the table by having each menu tucked away for their eyes only. This is great if you have a lot of guests with food specifications, or just want a snazzy way to present your menu.
Charming Chalkboards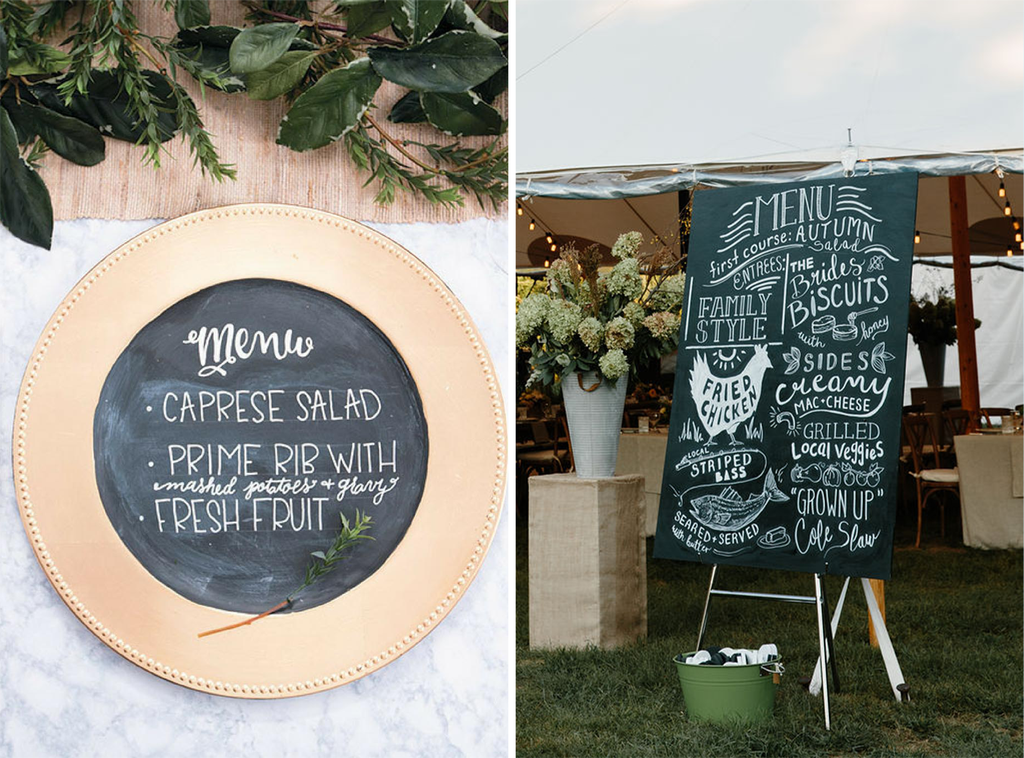 Photo courtesy of Fun 365 (Left), Vik Photography (Right)
Whether an actual board or on an adorable gold charger like this one, chalkboards are a great way for your menu to connect with your guests on a personal level. These chargers also work as a great keepsake guests can use to write on later!
Sensational Stationery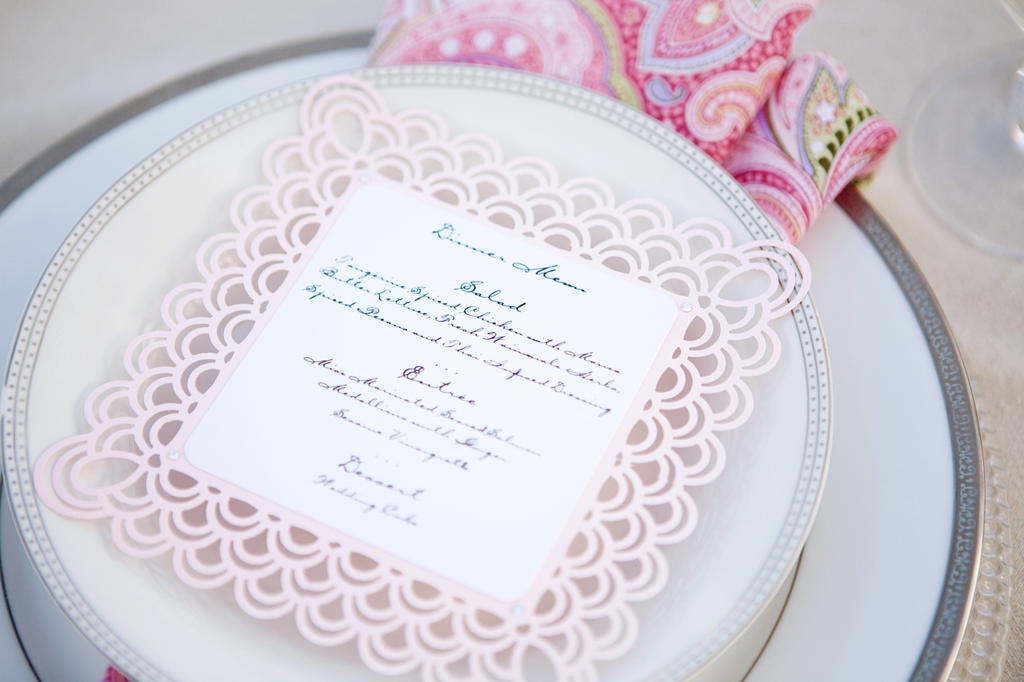 Photo courtesy of Alisa Greig Photography
Dress up an otherwise basic meal card with this lace cutout style. Simply adding a little pizzazz to an often basic menu card is sure to wow your guests and will help pull together the entire theme of the day.
The Entree Catcher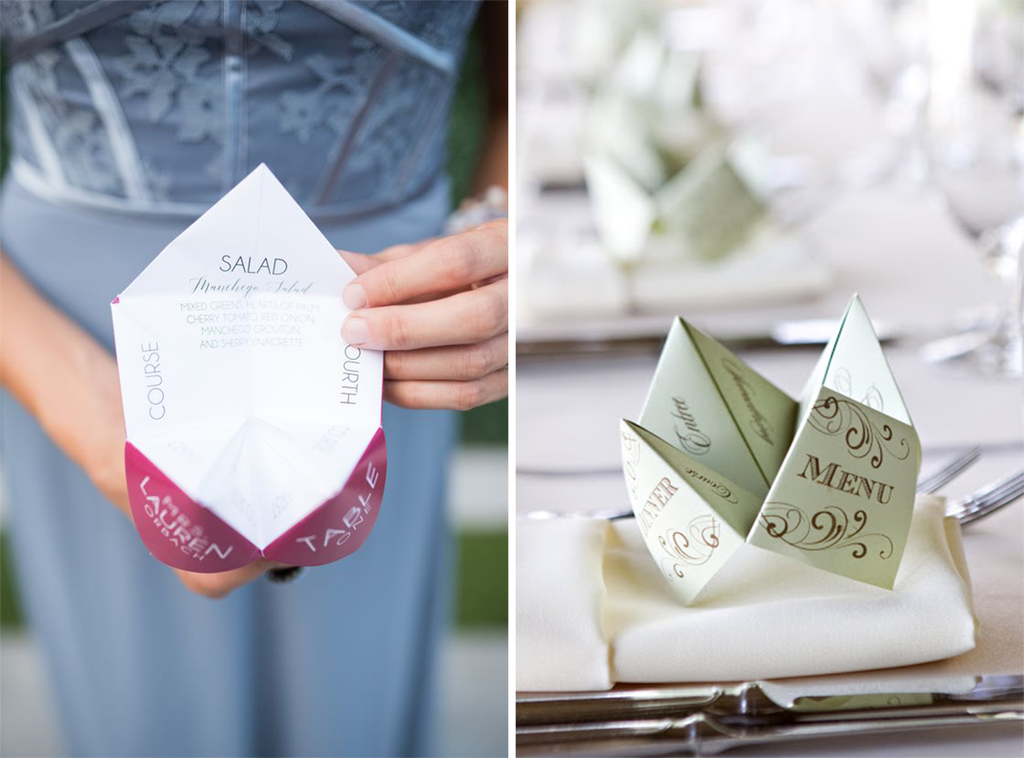 Photo courtesy of Marisa Belle Photography (Left), Jennifer Roper (Right)
A suave and yet quirky option to display your menu is cootie catchers! Have your meal options printed and get your guests playfully counting, singing, and choosing between meal options with a nod to this cute childhood favorite.