Ah, the wedding arch—the focal point of your entire ceremony and the things Pinterest dreams are made of. It frames photos that last a lifetime and is often the very first thing guests see upon arrival at your Big Day, so how do ensure your arch stands out from the masses? Today we're breaking down our top design tips for endless wedding arch inspiration to help you do just that. Read on for three creative ways to ensure your arch is, ahem, sicker than your average.

1. Focus on Shape
Shape is key for a wedding arch that truly stands out from the rest. Not all arches have to be, well, arches. Consider a geometric shape (like a sharp triangle) if it fits with the rest of your wedding aesthetic. For those who don't have a huge floral budget, switching up the shape of the classic arch is a great way to get some serious bang for your buck—replacing a classic arch with a super-round tunnel-shaped arch, an unexpected triangle arch, or even a rectangular arch are all great ways to create a huge aesthetic impact without breaking the bank on an endless supply of peonies and poppies.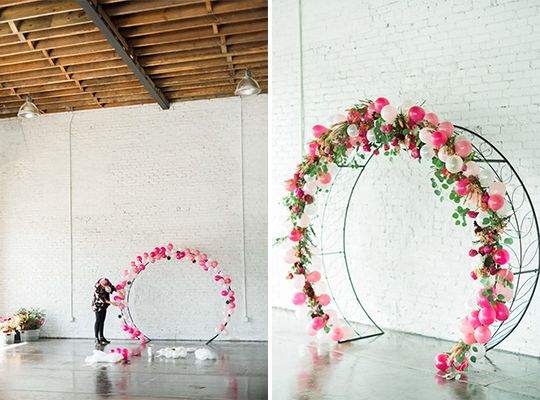 2. Incorporate Balloons
Gone are the days when balloons were considering cheesy and cheap. We're now seeing balloons brought into even the chicest of wedding designs. Incorporating small balloons in your color palette into your arch is such a great way to save on floral budget and add a super celebratory touch to your ceremony aesthetic. Or, bring in the big guns with those massive, oversized wedding balloons that are so popular these days—arranged in the right way (consult your planner who will know what to do), they can even replace an arch all together and stand as a solo, minimalistic backdrop to your ceremony.

3. Get Creative with Filler
From lanterns to lighting to lemons, your wedding arch doesn't have to be all floral. There are tons of ways to add "filler" to the floral in your arch to create an overall aesthetic that feels truly three-dimensional and oh-so creative. Flank the aisle with tons of lanterns and candles, and allow those to meander their way to the base of your arch for an aesthetic that draws guests' eyes to the focal point—your altar. Glass cylinders (filled with candles or florals) really help to add depth and dimension to your altar space, so use them at the base of your arch to draw the space out toward your guests. We also love the addition of everything from textiles (pretty silks and flowing ribbons) to au-natural elements (antlers, pinecones, pomegranates, lemons, apples, etc.) for a wedding arch that's sure to wow.

Photo courtesy Florida wedding photographer Austin Trenholm
Balloon arch by Florida wedding florist Florist FireUni
Design by Tampa wedding planner Long Aisle Events