With modern weddings being all about personalization, we happen to think one of the best ways to show off your individual style is through unique wedding cake designs. From tall towers to textured beauties, the options are truly endless when it comes to customizing your wedding cake these days. Today, then, we sat down with badass baker and creative guru Stevie Auble of Hey There, Cupcake! to talk four insanely incredible ways to step up your wedding-cake game. Read on for her oh-so chic suggestions for wedding cake customization.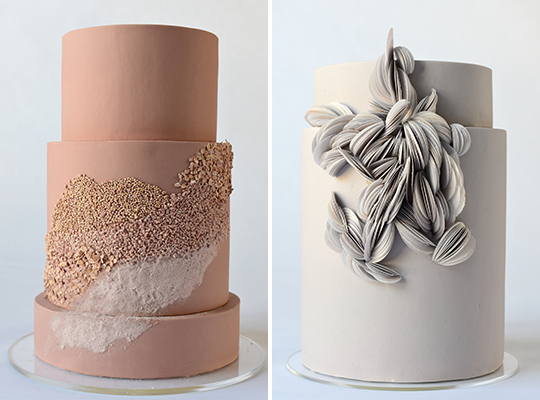 1. Incorporate Texture
While your wedding should be smooth sailing, your cake certainly doesn't have to be. From mimicking the texture of sand to crafting suede-like "ribbons" and abstract shapes, there are endless ways to add texture and dimension to wedding cakes. For weddings with a boho, earthy, or outdoorsy aesthetic, we love the idea of having your baker incorporate designs that mimic natural elements (geodes, antlers, leaves, etc.). For modern weddings, think about creating sharp architectural design elements as a way to add some serious depth and a modern flare to your wedding cake.

2. Opt for Asymmetry
Gone are the days when a wedding cake had to be a perfectly stacked and situated compilation of symmetrical tiers. One of our favorite things to do at Hey There, Cupcake! is to create super artistic, asymmetrical wedding cake designs that leave guests wondering, How in the world is that not falling over? We especially love the idea of an asymmetrical cake for art gallery weddings, city-chic weddings (think: rooftops and museums), and modern affairs.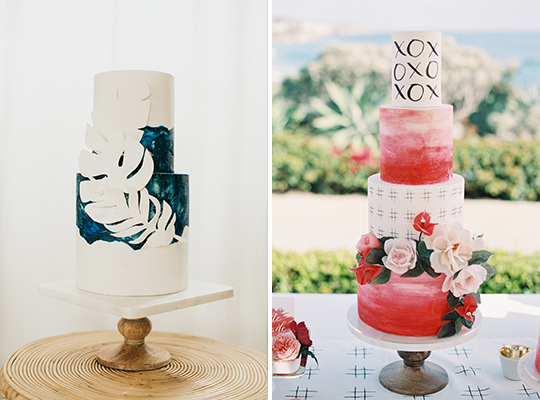 3. Make Your Cake an Extension of Your Wedding Aesthetic
We love the idea of opting for a cake design that acts as a seamless transition from your overall wedding aesthetic. A great baker will be able to mimic nearly any pattern or design element you give her, so think about incorporating those stunning palm fronds from your photo booth backdrop or mimicking the texture and pattern from those colorful textiles in your lounge area. Not sure where to start? Gather some of your favorite elements of your wedding aesthetic (linen swatches, inspiration photos, etc.) and work with your baker to create a cake that incorporates those exact colors and textures from your overall wedding design into your cake design.

4. Use Flowers in a Non-Traditional Way
Flowers on a wedding cake? Groundbreaking, I know. When it comes to floral wedding cakes, though, you no longer have to opt for the tired, been-there-done-that use of flowers. Instead, we love the idea of working with flowers in a non-traditional way. This may mean opting for giant banana leaves instead of your typical peonies (perfect for a tropical affair), or it may mean choosing a design where the actual flowers transition seamlessly into flowers that are painted on the cake itself—creating a multi-dimensional effect that draws the eye in. We also love using floral elements to mimic a pattern or design element (think, tiny flowers arranged in a way that looks like rain drops or paint drippings down the side of your cake, flowers arranged to mimic a pattern you've used throughout your wedding design, etc.).


Southern California couples: ready to chat unique wedding cake designs with the brilliant mind behind Hey There, Cupcake? Reach out to Hey, There Cupcake! to get started custom-crafting your incredible cake design!