There's something seriously bridal about a veil, which is why it's an accessory that has managed to maintain its place in the wedding world for ages on end. But, for easy-breezy brides who don't want to worry about fussing with a veil in the wind, or for fearless fashionistas who want their walk down the aisle to be anything but typical, there are tons of modern-day bridal hair accessories to opt for instead. Today, we've rounded up five seriously chic veil alternatives to consider for your Big (and bold) Day.

1. Wide-Brim Hats
Beyoncé loves a good wide-brim hat...which pretty much tells you all you need to know about this chic-as-ever, badass bridal accessory. We're obsessed with the idea of ditching a classic veil and adding some edge to your look with a wide-brim hat instead (in black for a more bold look, or in camel for an earthy touch). Pair your Bey-inspired hat with a fitted leather jacket for a look that says anything but basic bride.

2. Gemstone Hair Accessories
Move over floral crowns—gemstone and crystal hair pieces are officially becoming the boho bridal accessory of the future. For brides donning an updo on their Big Day, we love the idea of having your stylist add a geode hair wand to your bun, twist or pony. Or, for smaller touches of sparkle throughout a chunky boho-style braid, try adding pops of crystal hair pins like these from Desert Daisy Jewelry throughout.

3. Crystal Headpieces
If there's an accessory that screams gorgeous Grecian goddess more so than a bold crystal headpiece, we have yet to find it. For boho brides and fearless fashionistas alike, we love the idea of ditching the typical veil for a stunning, statement-making crystal headpiece instead. We're head-over-heels for Bo & Luca's Selene Headpiece, Santa Monica Headpiece, and Hera Headpiece.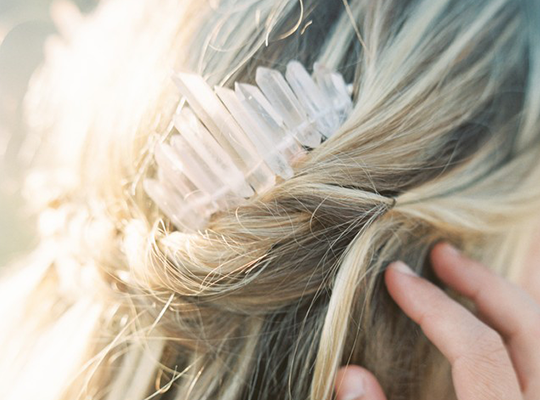 4. Quartz Crowns
A quartz crown makes for the perfect modern-day update on the old-school princess tiara, and we love the idea of adding one to your wedding-day getup for a look that channels your strongest inner-Khaleesi. We're huge fans of this five-point quartz stunner from Desert Daisy Jewelry, and also love her Baroque and Pearl Bridal Tiara.

5. Bold Braids
The right bridal hairstyle needs no veil, which is why we're huge fans of opting for a bold bridal braid in lieu of the typical wedding veil. Make your braid stand-out from the everyday by completing it with all the bridal bells and whistles your oh-so-in-love heart desires. We love the idea of weaving small filler florals (like baby's breath) throughout. Or, have your stylist weave flowing ribbons in your wedding color palette throughout each section as she braids. You can also opt to add sparkle throughout with accessories like quartz hair pins or amethyst bobby pins.

Photo courtesy Seattle wedding photographer Blue Rose Photography
Orange county wedding planner Brilliant Wedding Co.