There's something beautiful and empowering about being able to step back and fully trust the process. Planning a wedding is an experience like no other. It's filled with excitement, but it can also be riddled with stress. Will it all turn out like you hoped and dreamed? How will you juggle your daily obligations and plan a wedding on top of that? Having someone you can trust will make all of the difference. With Aisle Planner and our top of the line wedding professionals you can breathe easy and relax because we'll take care of it all. The best part is that you get to enjoy watching your wedding come to life and evolve with time on Aisle Planner, all from the comfort of your home. Put your trust in your pro and watch how the budget rolls, tasks get checked off, and the timeline grows!
Transparency & Trust
At Aisle Planner, we pride ourselves in our seamless collaborative tools. Our software was made for transparency and wedding professional-couple collaboration. Your wedding is a monumental stepping stone that you'll always remember so it's important to be able to put your special day in the hands of someone you can actually trust. With all of the tools they need, when you're working with an Aisle Planner pro you'll be at the center of the process! After all, it's your wedding and we want this process to be as smooth and positive as possible for you. You'll rest easy knowing that your wedding is being well-managed in a timely and advanced manner!
Growth & Progress
That trust doesn't come blindly as you can monitor all of the progress being made on your wedding. You can also be granted access to engage with the tools yourself by fulfilling online payments, uploading inspiration to the design studio, and completing tasks that are assigned to you! Our tools are conveniently at the touch of your fingers, accessible wherever you go. That means you can receive updates and see the magic your wedding pros are producing at any time. It also enhances communication and feedback as it's a perfect form of open dialogue between you and your pro.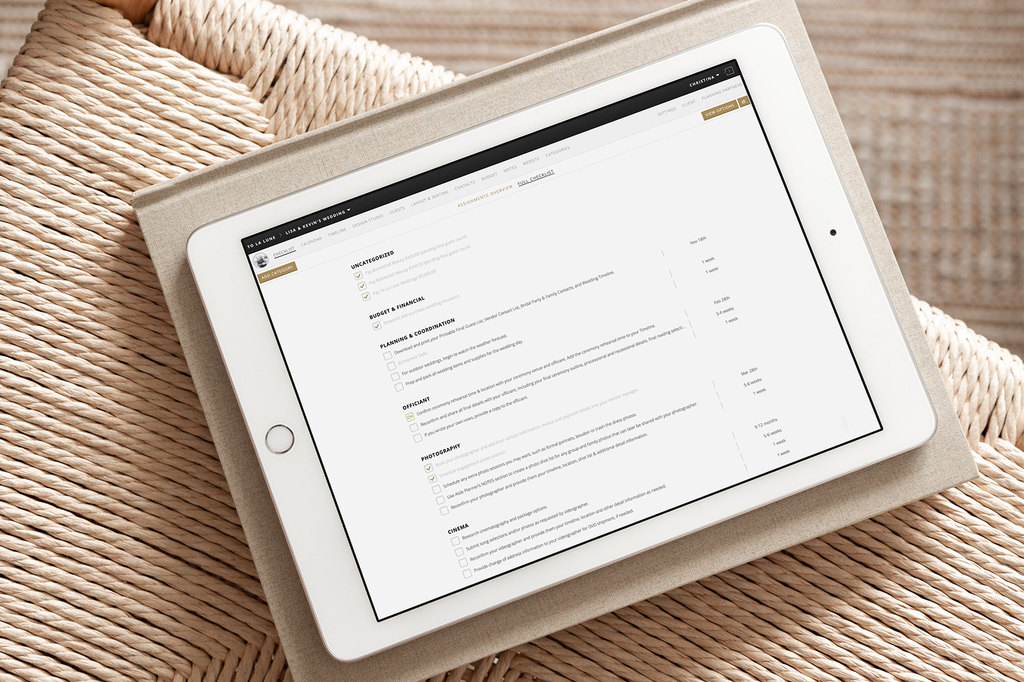 Wherever you are you can check on the:
Budget: No need for worry and confusion about your budget and how much is being spent. With the budget tool you can actively see where the money is going, what's left to pay, and how much money is left.
Checklist: There's so much to do and so many details to attend to, but your wedding pro is getting it done. You'll be so satisfied watching items get crossed of the checklist! You'll virtually see your wedding getting closer and closer, transforming into what you envisioned.
Timeline: Like the checklist, you can also see the formation of the timeline. Watch the timeline take shape, and let the anticipation that it's all happening just like you wanted sink in.
Our wedding pros are here to take care of you and Aisle Planner is the ideal wedding software to bridge your wedding dreams and reality.