Tropical weddings can be some of the best, creating imaginings of a warm wind kissing your face and the sounds of palm fronts rustling above and the gentle lap of the sea against the white sand beach... They transport everyone to a romantic island getaway, even if you're just down the street from where you live. Everyone wants to feel like they're in the best, most romantic place possible for the wedding, and tropical themes can definitely take you there. The key to making one work is to focus on the details, even if you haven't started planning anything else yet.
Without a few key aspects, your tropical wedding may just seem like a day at the beach. Nail down the tropical aura you want your wedding to have by incorporating nature into the whole day. Here are 10 easy ways you can work natural elements into your tropical wedding. You'll end up having the wedding you've always dreamed of, where you can lose yourself in your tropical getaway.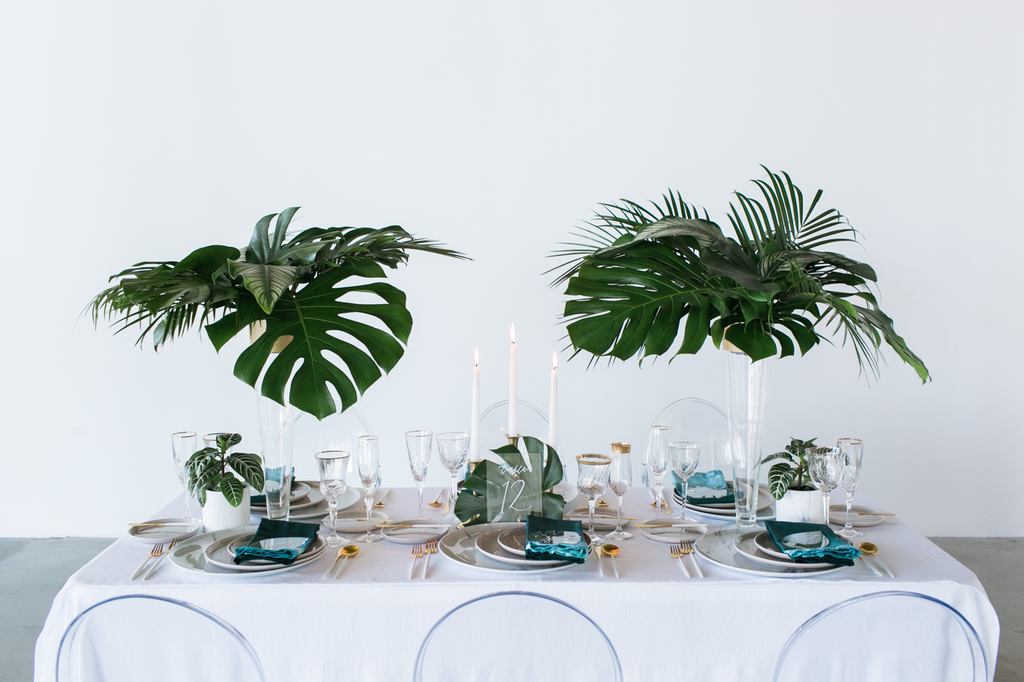 Photo courtesy J Wiley
1. Build a Jungle Trellis
When you picture a tropical theme versus a typical beach theme, what makes the two different? Tropical spots often have jungles nearby or plants that remind visitors of a tall, lush jungle canopy. You can enhance the jungle feel of your wedding by building a jungle trellis. It's a budget-friendly way to make a major impact on your decor.
Get a sheet of trellis from your local hardware store, then look around for the best faux vines online or in stores. Work the vines through the trellis holes, so the trellis material gets completely covered. Bonus jungle points if the vines hang from their canopy once the trellis is hoisted over your altar or dance floor.
2. Hang Leafy Vines
Vines are a common element in tropical flora and a must-have for your jungle decor. Hang them around your ceremony area, reception, dance floor or even your bridal suite. Wrap them in between buffet food trays or even drape them over your reception bar. Vines are versatile and with a tropical theme, they'll look at home anywhere you place them.
3. Construct a Tiki Hut
Another visual tropical decor idea is to construct a tiki hut. Tiki huts can be made from thatch material, a popular and readily available, hand-made material in tropical climes. The good news for brides on a budget is that it's not as expensive as other natural materials, so you can build a tiki hut big enough for your altar or a photo booth.
4. Buy Potted Trees
What lines most tropical beaches? Palm trees. No tropical wedding would be complete without the addition of potted trees. Look for ones that are tall and leafy and think about placing them where they'll have the most decorative impact. Place a few by the entrance of your venue or even the parking lot. Line the reception room in them or put them outside where guests can relax.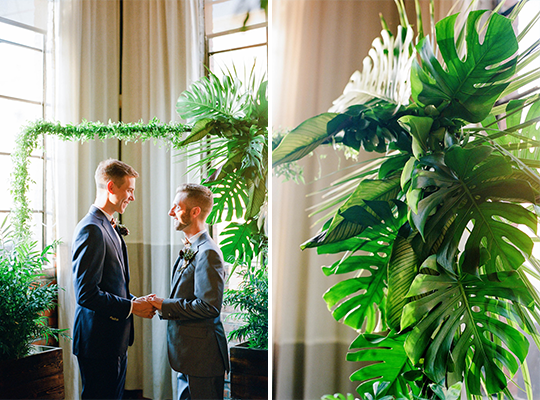 Photo courtesy The Happy Bloom
5. Make Sandy Centerpieces
Sand may get everywhere when you've been out on the beach, but you can easily contain it in your centerpieces with the right vases. Go for something glass, so the sand can be shown off. Work seashells and other sandy elements into it. Every table will have a tropical beach vibe without anyone tracking sand home with them after your wedding.
6. Order a Vibrant Cake
While there will always be flowers at a wedding, tropical flowers have a distinct look to them. Often found in orange and red shades, they're vibrant and full of life. Order a cake that features flowers in this color scheme and style, so even your cake looks at home in a tropical paradise. You could even decorate the cake with edible flowers, just make sure you know which ones are safe to eat!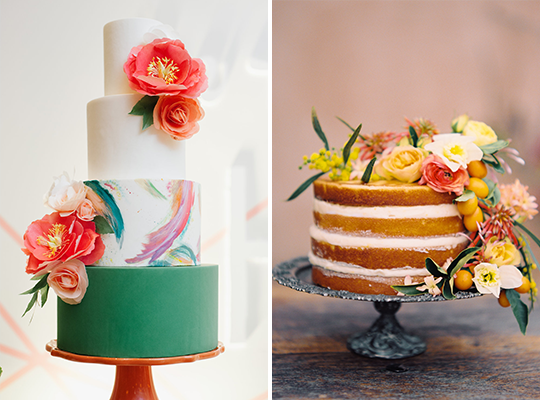 Photo courtesy Jessica Kettle (left) and Shane + Lauren (right)
7. Line the Wedding Aisle
The jungles that line your imaginary tropical beach are probably filled with a dense layer of undergrowth. It's a classic jungle feature in nature, and you can easily recreate it with ferns. Ferns are inexpensive and can often be found on sale at local farmers markets. Line the wedding aisle with them so you can glide through the underbrush up to your altar.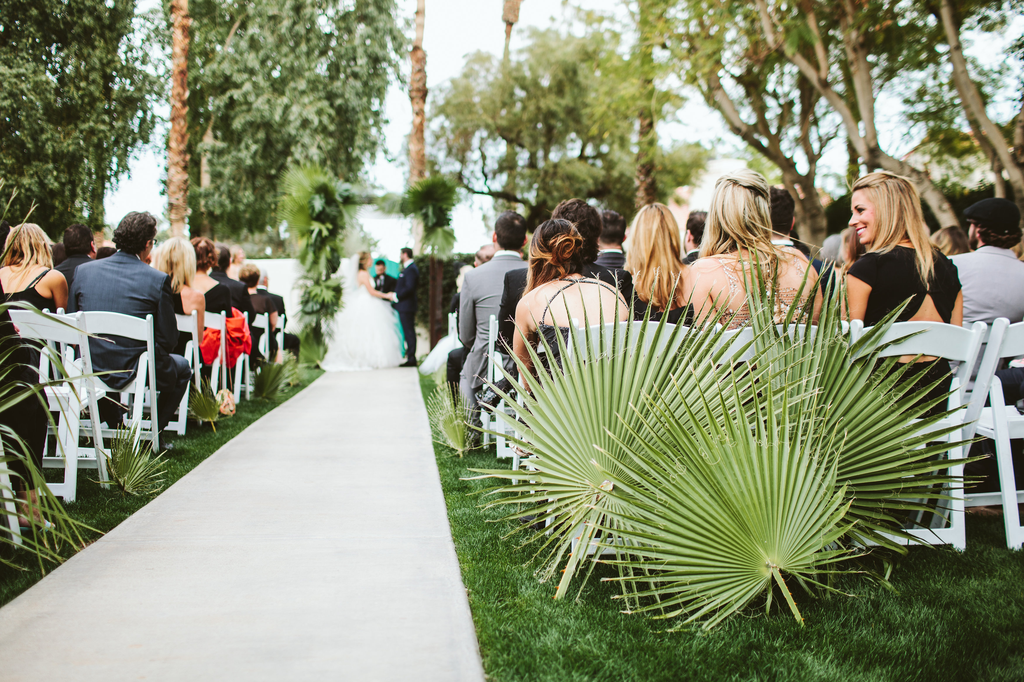 Photo courtesy Wild Whim
8. Look for Mossy Bark
A great way to work in more tropical plant features into your wedding is through place card holders. They'll help guests easily find their seats at your reception, and they can fit right in with the theme, too. Look for mossy bark you can lay name cards on, or cut card holding slots into. Mossy bark would fit right in with the jungle, tropical look of the rest of your wedding.
9. Create a Leafy Backdrop
It's a popular trend to have a photo booth for your wedding guests, even though you know they'll all be taking pictures and selfies without one. It gives them a place to take fun pictures with props or a background, which is where a backdrop comes in. You can create a leafy backdrop for people to pose in front of. They'll always remember the fun they had at your tropical wedding with a little touch of bold green leaves.
10. Use Overgrown Table Runners
If you're planning on having long tables for your guests to sit at during your reception, you'll need more than a few centerpieces to create a warm and welcoming place to sit. While you're shopping for vines, look for one that's a bit longer than the tables you'll use. It can stretch from one end of the table to another, and if it trails off to touch the floor, it'll create an overgrown tropical effect.
You can even lay many vines together to make them look like one if you prefer the look of shorter vines. Using the right tropical plants in your wedding will make your theme stand out. Look for ways to use them in your decorating by taking a second look at what you want your decorations to be. Hang strands of leaves, decorate your cake with bright flowers and even build a tiki hut or two for the full effect. Your tropical wedding will come together easily when you're inspired by nature.